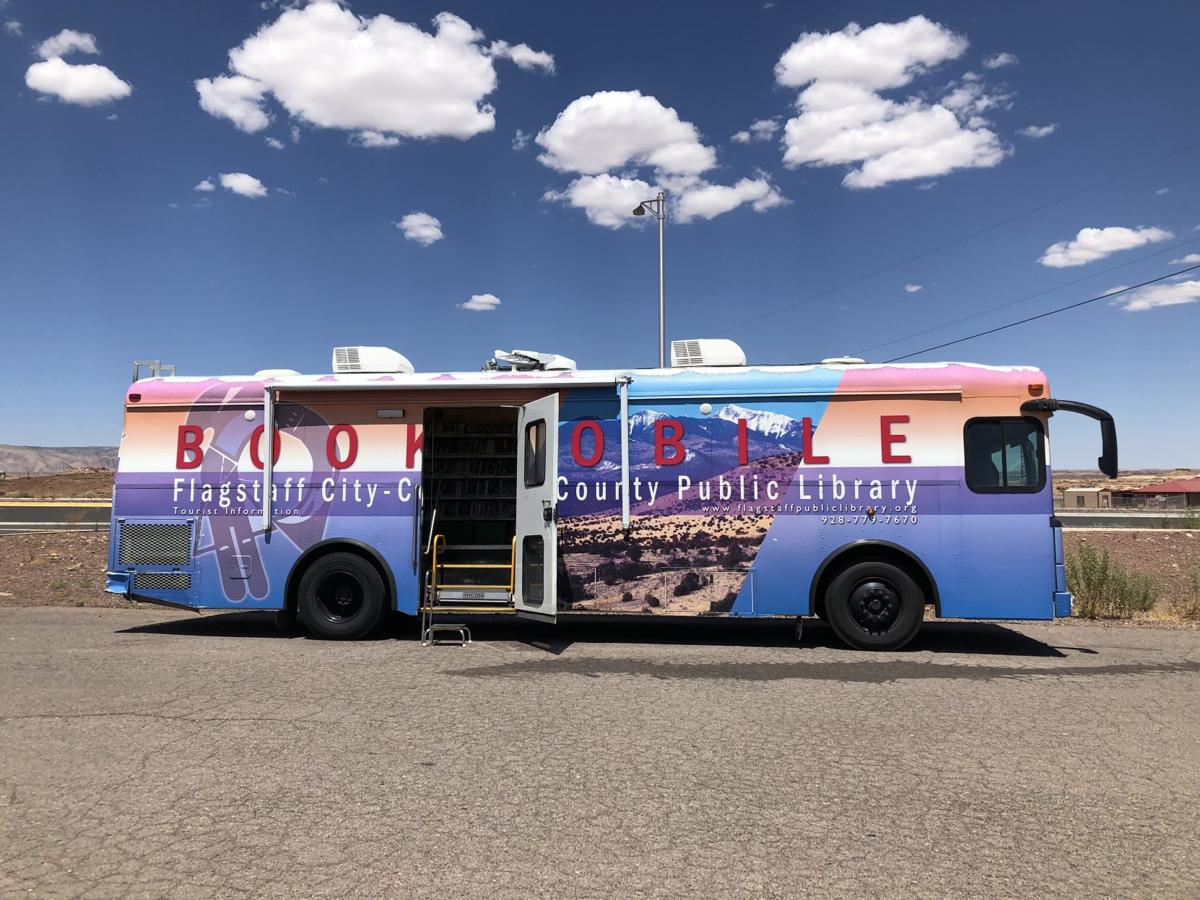 Punctual as always, at the stroke of 9 a.m., a transportable library comes rumbling into the parking lot of the Silver Saddle Center, just off Highway 89 and 9 miles north of the thoroughly stationary downtown branch of the Flagstaff-Coconino County Library system.
With the cough of the diesel engine and the hiss of brakes as a welcome, the library's mighty Bookmobile sets up for the first of four stops on this day that will take it along the Little Colorado River in Cameron, up near the Utah border at Kaibeto and to the tribal homestead of Bitter Springs.
In minutes, driver/librarian Ron Kelley opens the door with a blast of cold air, sets out a footstool to help patrons boost their way on board, then settles in behind the "checkout desk" that doubles as a comfy passenger seat when the Bookmobile is in motion.
And then, well, little happens.
Customers at the Union 76 station ($2.89 a gallon, unleaded) and the convenience store (Slim Jims and Hostess Donettes beckoning by the cash register) go about their business, blithely unaware of – or, perhaps, purposely ignoring – the hulking, multi-hued passenger bus brimming with arts and culture in the form of books, DVDs, magazine and CDs, a fine sample of the cornucopia of the library's full offerings.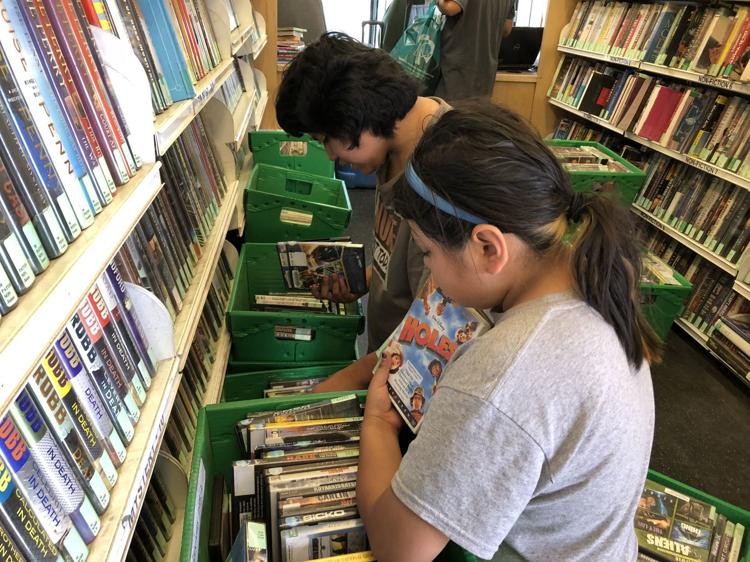 Perhaps it's the incongruity of it all, the idea of grabbing a Joyce Carol Oates novel and season two of "Breaking Bad" while gassing up, that accounts for this slow start.
Rest assured, though, the Bookmobile has long proven to be one of the library's signature attractions, a community resource patrons rely upon. The Bookmobile makes some 40 stops each month in rural areas throughout what is believed to be the second largest county in the U.S.
But on this morning, business remains slow until a red pickup truck makes a quick right off the highway and parks right in front of the foot stool. Norm Erickson slams the door and bounds up the steps. He turns to Kelley.
"Got any tech books, you know, on fixing engines?" he asks.
Kelley shakes his head, saying he's only got limited space and for something so specific he'd have to visit the downtown branch.
"No sweat," Erickson says. "I was just curious. I see you here every now and then. Do you guys still use library cards? I had a card six, seven years ago."
Kelley tries to get him to renew; Erickson defers, hops back into the truck and speeds off.
The wait continues until a woman and her daughter step in and head straight for the children's section. "Heather! Dakota!" Kelley exclaims. The two are regulars. After Kelley checks them out, he and Heather talk for a good 15 minutes about chicken coops and how to rid oneself of squirrels and prairie dogs from one's property.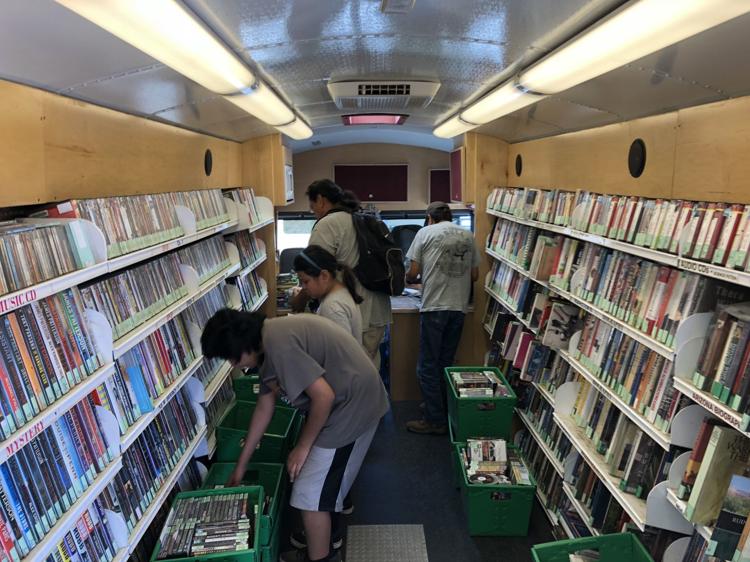 Heather is a big Bookmobile booster, saying, "This is an underutilized resource. People within the city limits don't realize how much isn't outside the city. They may not understand what something like this (the Bookmobile) means to everybody else that doesn't have a library close. A lot of people can't afford to drive even from here to town."
His appointed time up, Kelley closes up shop and moves on down Highway 89, hoping for more patrons at the next stop.
Cameron: Simpson's Market, 11 a.m.
Price at the Conoco station: $2.99 a gallon.
The family of four stands in the middle of the parking lot, heads craned left as they await the Bookmobile's arrival. And when Kelley found a prime landing spot parallel the highway, Ida and Tony Cody and their two kids, Eric and Niazhoni, pretend to jostle each other to be first in line.
It was a mile walk here from their residence behind Speedy's Gas Station up the road, but they caught a ride today. More often, they hoof it, or Tony rides his bike. Once aboard, Ida and the kids pounce on the green crates bursting with movie and television DVDs, but Tony heads right up front. He's reserved a set of movies, and Kelley zaps them with the handheld scanner.
"Hey, you got 'Lost in Space' season two or three, or both, man?" Tony asks.
Kelley jots down a note for next month.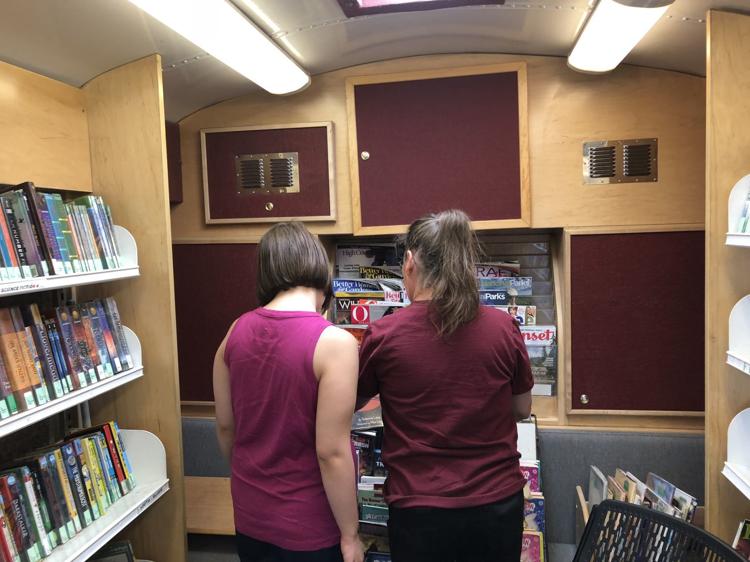 "Tony," Ida interjects, thrusting out a DVD box, "here's the final season of 'Longmire.'"
Tony waves her off and heads back to the magazine rack, thumbing through the latest issue of "Cowboys & Indians."
Cameron, pop. 885, is on the Navajo Nation and is 94% Native American. Ida says some residents rely on the Bookmobile, but others are indifferent. Every month, though, "We're always the first here. We love it."
Patronage remains light, however, but 10 minutes before Kelley is ready to hit the road to the next stop, a woman, Donedella Robbins, scrambles aboard and asks, out of breath, "How much longer are you here? I got a movie to return." Told, she hustles back to her white truck and drives off. Kelley waits 15 minutes, then starts the engine. He just puts it in drive when Robbins' truck careens into the parking lot. He pulls alongside the Bookmobile, her left arm out the window waving the DVD box.
Kelley checks in the DVD, then hits the road.
Price at the Spirit Gas station: $2.89 a gallon.
Gravel crunches as the Bookmobile comes to a halt in the parking lot. It's been a long haul from Cameron, beyond Tuba City, beyond the scenic Square Butte outcroppings, beyond the roadside jewelry kiosks and signs touting revival meetings.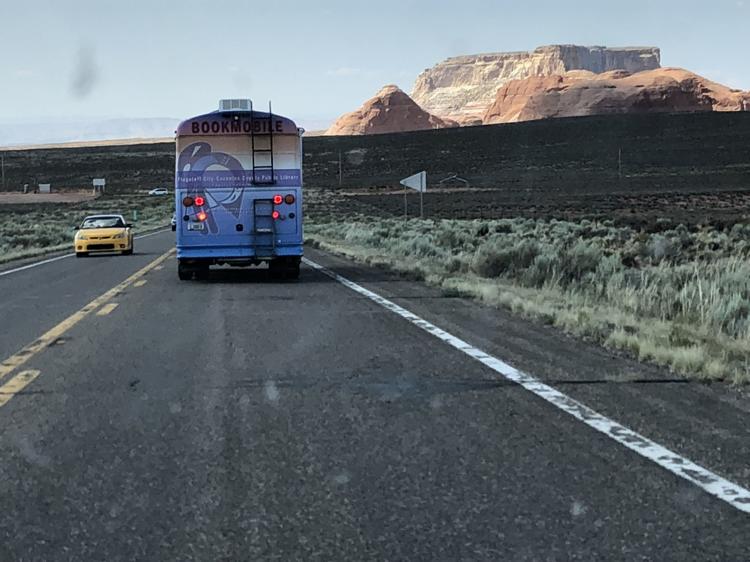 The wind has picked up, dust swirling in the lot all around Nathan Johnson, slumped over his backpack. He's been waiting a while, but is patient. He'd wait all day to get the boxed set of the History Channel series, "Ancient Aliens," which he reserved last month.
Nathan makes native jewelry, mostly beading, but his passion is all things aliens. He regales Kelley and other Bookmobile patrons with tales of sightings, and swears that someone from around these parts has seen Bigfoot.
"Bigfoots stink to high hell," Nathan says. "I heard the Navajo P.D. chased it down, but they won't tell. Government hides everything so people won't panic. I'm serious, man."
Nathan's soliloquy is cut short when Letasha Gishie and her young daughter, Daeshalobe Pizarro, enter. He doesn't want to scare the little one. They've just come from a church service across the way and need to stock up on kids' books. In minutes, several churchgoers stop by, including a woman selling yeast bread for $5.
Eric Agard, a missionary from Wichita, Kan., approaches Kelley, says he's never seen a Bookmobile before and asks if visitors can check out books. The problem is that Agard's 13-year-old daughter Elaine, a voracious reader, has already finished all the books she brought on their trip. Kelley tells him no, you must be a Coconino County resident.
"That's OK," Agard adds, "she got into the preacher's book at the church and found a couple to take there."
Bitter Springs, 3:49 p.m.
Temperature: 102 degrees.
The Bookmobile, chugging along, threatens to overheat on the pass from Page down into Bitter Springs, but Kelley takes it slowly. One of the rare breed who has both a master's of library science and a trucker's license, he's used to negotiating tricky situations with the Bookmobile. In fact, in 2016, Kelley published an essay in the High Country News, in which he details close calls, such as dodging buffalo herds south of Jacob Lake.
He pulls up in the three-block Navajo settlement of identical red stucco houses that make up Bitter Springs, pop. 452. There are no services, no parks or community centers, just houses. Kelley parks the Bookmobile in front of a boarded-up house with furniture and appliances strewn across the weed-infested yard.
No one is out in the heat, but Kelley vows to stay the entire 45 minutes. The air conditioning in the Bookmobile, icing at Silver Saddle, now blows tepid air. Finally, 20 minutes elapsed, a woman, Genevieve Tunney, enters and accepts a water bottle Kelley proffers. Kelley knows her. He's been trying to get her to write her life's story. She says she loves the Bookmobile: "I use it to chase away the boredom. We used to have a community building. Nobody kept it up."
The two chat for a half an hour, well past the time limit. But this is the last stop of the day, so Kelley's in no rush. He will spend the night in a lodge at Marble Canyon, then head to Jacob Lake the next morning to begin another route. Before Tunney leaves, Kelley confides that people like her is why he loves his job so much.
She smiles for the first time, then walks back home, a gardening book snug under her arm and a new spring in her step.