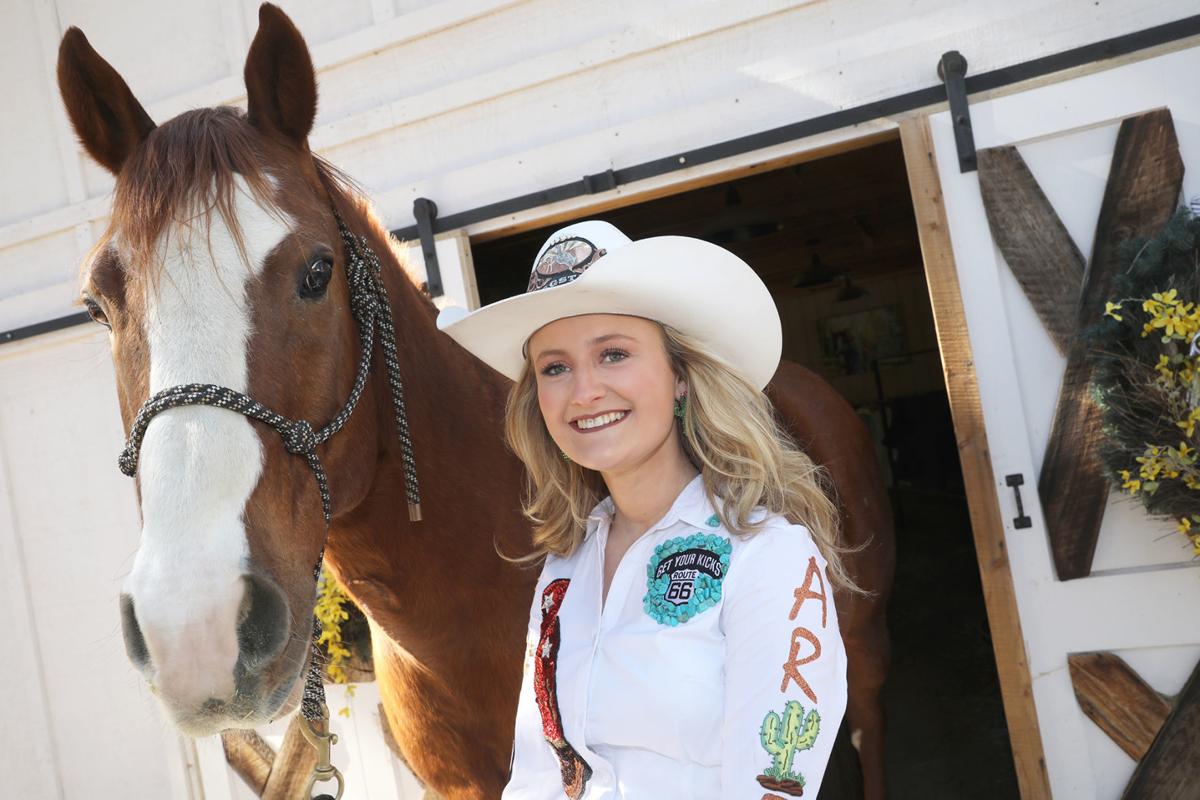 Most little girls go through a phase of wanting a pony. Morgan Riggs' phase lasted a decade.
The 2017-2018 Flagstaff Pro Rodeo Queen and 2019 Miss Rodeo USA first runner-up didn't grow up around horses, but fell in love with them at a young age.
When Riggs was 10 years old, she attended a California summer camp to learn how to ride, and spent seven summers there – four as a camper, and then three as a camp wrangler.
At 15, Riggs' parents finally "caved" and got her Hottie, a paint horse that Riggs said taught her everything. Now 19, Riggs rides her horses Diesel and George and mini pony Nellie around the land in front of her family's Doney Park home.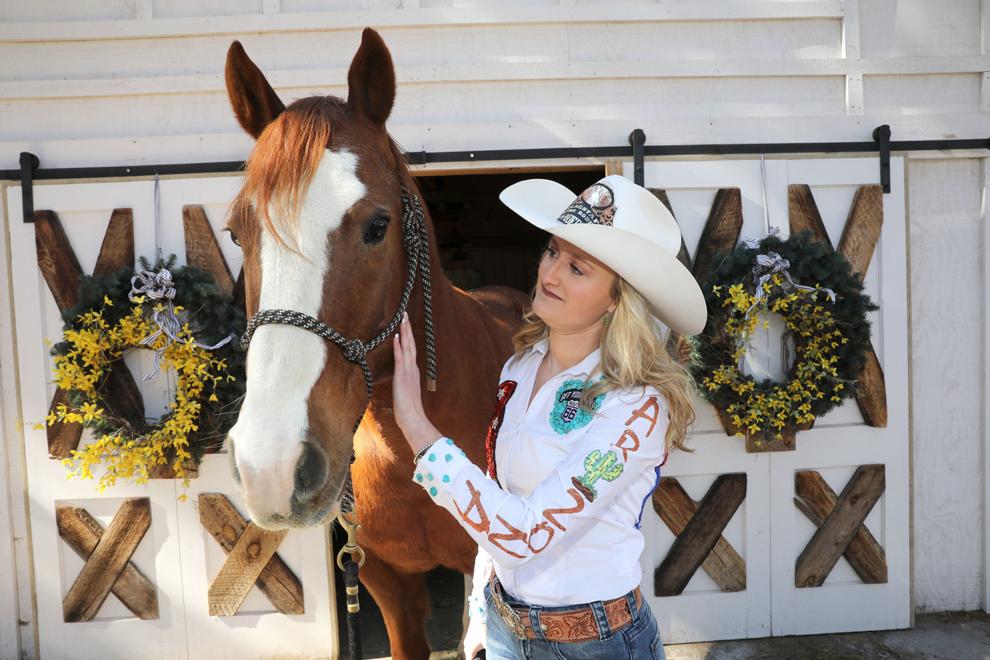 "Diesel is my go-to horse. I use him for almost anything," Riggs said. "I take him to rodeos, barrel races, ropings, gymkhanas, mounted shooting events and even trail rides."
In 2015, Riggs joined the Flagstaff Pro Rodeo Committee, which has put on the Flagstaff Rodeo at Fort Tuthill for the last five summers, taking over from the Flagstaff Pine Country Rodeo, which had hosted the local event for over 30 years before it lost its Pro Rodeo Cowboy Association title.
Events like bareback riding, saddle bronc riding, team roping, steer wrestling, tie-down roping, barrel racing and bull riding draw in a crowd of 9,000 to the Flagstaff Pro Rodeo with over 300 contestants and 50 vendors.
Kristen Daulton, president of Flagstaff Pro Rodeo, recalled how Riggs was by far the youngest member that had ever been on the committee.
"She was a really driven 14-year-old," Daulton said of Riggs. "She called me and asked if she could volunteer because she had to get her parents' permission to sign the liability waiver."
After two years, Daulton encouraged Riggs to apply for rodeo queen. "She knew all the inside information about our rodeo, so I knew she would be a great walking billboard for us," said Daulton, adding that Riggs was very positive and out in the public.
"Many people told me I should try out for it," Riggs said of the 2017 event. "I was absolutely terrified to compete, because I was a very shy girl."
Riggs said she was able to face her fear and put everything she had into competing, asking her teachers at Northland Prep if they could give her five minutes of class time to practice presenting her speeches in front of her peers.
"This was such a great technique and really helped me flourish," Riggs said.
Besides being rated on horsemanship, rodeo queens are judged on public speaking skills, knowledge of the rodeo, appearance and personality.
Since the Flagstaff Pro Rodeo Queen is, according to the Pro Rodeo website, a "representative, spokeswoman and an ambassador" that educates the public about the rodeo world, public speaking is a big part.
"Throughout my year as queen, I learned so much about rodeo and how important rodeo queens are in keeping the western heritage alive," Riggs said. "I attended 15 rodeos in Arizona, and at these rodeos I participated in flag presentations, hot laps, and pushing cows into their pens after their event."
Riggs said her favorite part about being a rodeo queen is being out in the crowd, getting people involved and signing autographs. In fact, Riggs said that many people in Flagstaff have recognized her when she is not in "rodeo queen mode" and wanted pictures or autographs, so she has started carrying autograph cards with her.
"I have gotten to put countless smiles on children's faces," Riggs added. "Outside of rodeos, I have participated in sponsor visits, school visits and parades."
The Flagstaff Rodeo Queen also works as a role model for young children, "demonstrating good character and integrity," according to the official website.
Riggs cited her strong desire to reach out to young girls and boys and help them achieve their dreams as her driving force for competing at the national level.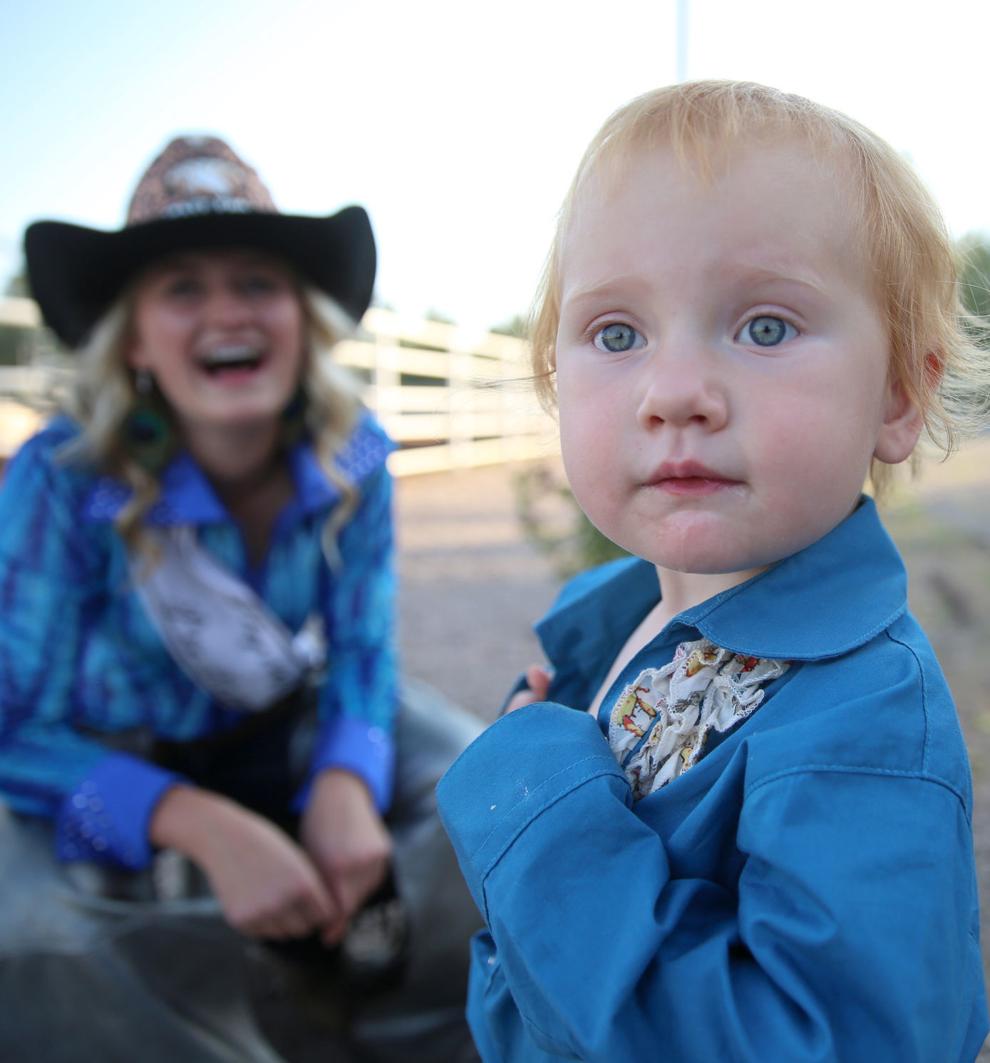 For the 2019 Miss Rodeo USA pageant, which took place in Oklahoma City Jan. 15-19, Riggs moved on from practicing her speeches in front of her peers to practicing for live video interviews and an audience of thousands.
"The Flagstaff Fire Department was so generous and went through mock interviews with me and listened to my speeches countless times until I got them right," Riggs said, adding that she is extremely grateful for the Flagstaff community's support.
"I developed the platform of 'take life by the horns,'" Riggs said. "What this means is to not be afraid to fail, because we develop our successes from our failures, and if we embrace our confidence, we have the ability to live life to the fullest."
The judges were impressed by Riggs' confidence, and after countless interviews, photoshoots, events, meals, speeches, performances and an exam, Riggs was announced Horsemanship winner and first runner-up at the Miss Rodeo USA coronation.
"The week of competition for Miss Rodeo USA was the best and hardest week I have ever experienced," Riggs said. "The most challenging part of the week was getting up at 5 a.m. to have everything ready for 8 a.m. interviews. I am not a morning person and we had many late nights, so getting up was a challenge, but worth it to not be late and unprepared."
Riggs added that she also became close with the other seven girls in the competition, including winner Heather Morrison from Iowa.
"Heather and I really connected during the week and I am so excited to watch her in her journey for this year," Riggs said.
Although Daulton and the Flagstaff Pro Rodeo Committee were hoping Riggs would take the crown, she said that they are all extremely proud.
"We watched all the live feed and everybody on our committee cheered her on," said Daulton. "She did an excellent job representing Flagstaff."
And Riggs plans to represent Flagstaff again in the 2020 Miss Rodeo USA pageant, although she may spend more time next year out of state.
Currently, Riggs studies biology at Coconino Community College and works at Continental Animal Wellness Center as a veterinary assistant. Riggs will transfer to Oklahoma State University to study animal science and plans to go to veterinary school there.
"I chose OSU because I fell in love with their community and it reminded me so much of how loving it is here in Flagstaff," Riggs said, adding that Oklahoma is known for its large equine industry.
"Even though life took me to Oklahoma, I will always be an Arizona girl," Riggs said.