It's difficult to measure a person's love for their community, but it would be hard to find a man more devoted to Flagstaff's present and past than Richard "Dick" Mangum.
Richard was a man of many talents. The author, outdoorsman, expert historian and former Coconino County Superior Court judge passed away on Friday from necrotizing pneumonia at the age 81. His next birthday was 10 days away.
With his second wife of 42 years, Sherry Mangum, Richard authored several editions of Flagstaff and Sedona Hikes guides. Together they also created the Flagstaff Historic Walking Tours, where they would dress up in costumes from the 1900s and walk around Flagstaff's downtown area teaching out-of-towners and locals about Flagstaff's roots.
The fair-skinned man with red hair stood at 6-foot-6 and was an imposing sight on the bench. But talk to those who knew him personally and they'll tell stories of his smart sense of humor and constant warm and welcoming presence.
Richard's father Harvey Karl Mangum came to Flagstaff in 1931, where he was a founding partner at what is now called Mangum, Wall, Stoops & Warden. Harvey was a Coconino County Superior Court Judge like his son Richard would later become.
Richard was born to Harvey and Jessie Mangum at the Flagstaff Medical Center in October 1936. He attended Flagstaff High School and the University of Arizona for undergraduate and law school like his father.
Legal precedent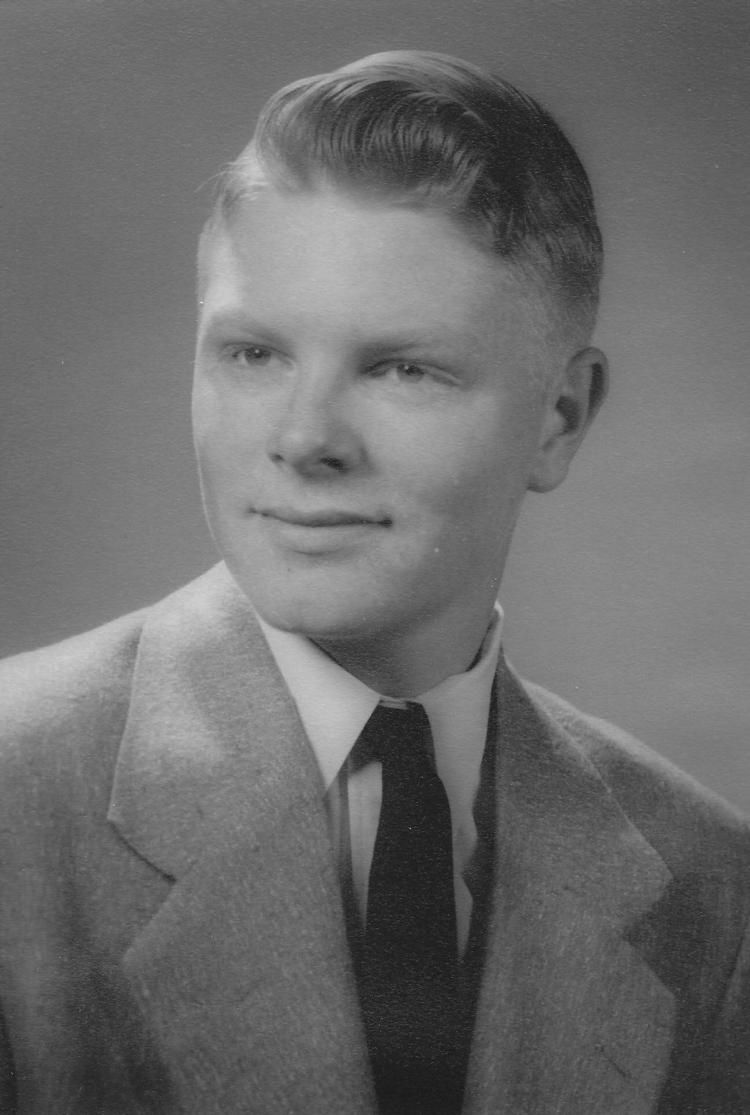 Richard hired former mayor Jerry Nabours right out of law school while working at Mangum, Wall & Stoops as an attorney. Nabours said that Richard created quite a reputation as a judge that kept attorneys on their toes.
"He knew the law better than most attorneys," Nabours said. "So you knew when you went into his court you better be prepared and you better not misrepresent the law to him -- he knew the law better than you did."
After Richard's first wife Joyce Mangum (now Joyce Stowers), a Coconino County Superior Court judge at the time, left Arizona for New Mexico, then-governor Raul Castro nominated Richard to be her replacement. Together, Richard and Joyce had three children, Karen, Ramona and Mark. Richard stayed as a judge until retiring in 1993.
As a county judge, Richard dealt with many high-profile cases and set new precedents.
On the bench he wore blue robes, a stark difference from the normal black robes that have become commonplace throughout the country. He reminded anyone who pointed it out that the black robes were adopted in the English and colonial courts for the mourning of Queen Anne who died in 1714.
"She's been mourned long enough," daughter Ramona remembers her father remarking on the topic. Ramona would often sit in the courtroom as a child and remark on how highly people thought of her father.
As a judge he presided over two of the largest criminal cases in the county that led to the death sentence -- William Mauro, who suffocated his son, and Ricky Bible, who raped and murdered a young girl out in the wilderness. The Bible case was the first Arizona case where DNA was admitted as evidence.
In another area, Richard started an innovation that is now commonplace throughout Arizona's judicial system: He was the first judge to allow jurors to ask questions of the witnesses during their deliberations.
Many people looked up to Richard for his brilliance and excellence on the bench, but his court reporter Marilyn Taylor also appreciated his off-the-bench personality.
"I remember usually in the springtime he'd come in and say that he had heard the first bird of the spring; he always liked when he could write that down in a journal, the first bird chirping in the spring," Taylor said. "He was such a remarkable man."
From judge to historian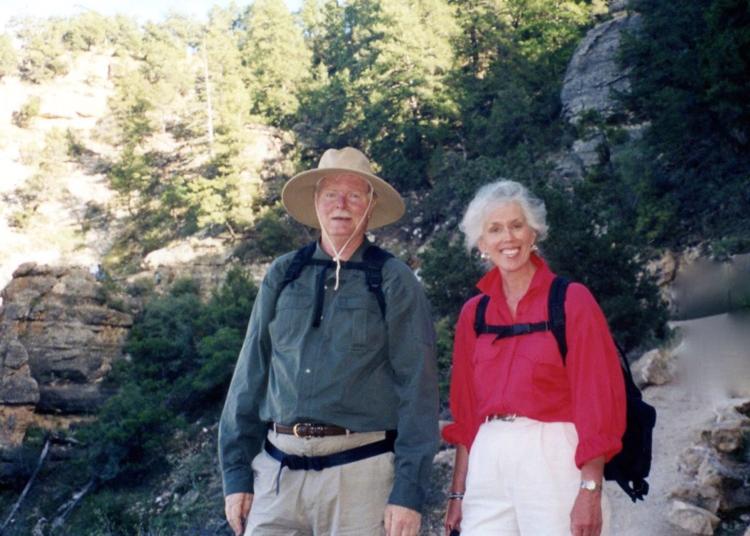 After his father died in 1993, Richard felt it was time to retire with the second-longest run as a judge in the history of the county.
He had authored several books while on the stand, but his retirement gave him more time with his wife to focus on their passion — Flagstaff's history and great outdoors. However, in 2010, Richard's son Mark passed away from pancreatic cancer. Mark had a similar sense of humor as his father and the two were very close. Ramona said she felt the loss was to some extent an "unrecoverable loss" for Richard.
With Sherry, they authored books like Flagstaff Hikes, Sedona Hikes, and the Grand Canyon-Flagstaff Stagecoach Line: A History and Exploration Guide.
While the two were married for 42 years, they worked after his retirement for close to 25 years. Sherry took many of the nature photos used in the books while Richard would lead a lot of the historical research and writing.
Sherry loved to work with her husband and called each book "a treat."
"I got to spend all that time with someone I really, really cared about and enjoyed his company. And besides that, he would carry my tripod for me, which was a big help," Sherry said with a laugh. "Bless his heart."
Altogether, by the end of their hiking excursions, Sherry and Richard crossed over 20,000 miles of trails hiking together for their books.
She enjoyed working with Richard to create one book in particular: the Grand Canyon-Flagstaff Stagecoach Line. To create the book, they had to track down the lost-to-memory stagecoach trail between Flagstaff and the Grand Canyon.
They sifted through the special collections at Cline Library and found that cyclists from an 1890s club used to ride one-speed bikes on the trail, which helped them locate the names of landmarks. The two of them eventually found a photo with the San Francisco Peaks in the background and romped into the forest to line up their view of the peaks with the view in the photo.
"It was fun. It was kind of like a mystery story, trying to find out what people meant by a certain phrase," Sherry said. "Using old maps, using modern day geo-maps and trying to combine the two. And we finally did. It took us quite a bit of doing."
Fritz Aspey, a partner of Aspey, Watkins & Diesel, remembers how Richard and Sherry would walk downtown telling stories about when downtown buildings were built and who constructed them. All the while the two dressed in costumes from the 1900s that Sherry had made.
"I would see them out in the street in downtown Flagstaff next to our building with 20 to 25 people. They would be walking them around downtown, describing the history of Flagstaff," Aspey said. "The tours were very interesting and very popular."
On their final tours, Sherry remembers that everyone who had put off seeing them had come up from Phoenix and around Flagstaff after articles in the Arizona Republic and Arizona Daily Sun.
"Our first tour was two people and a dog. Our last tour had 150 people," Sherry said with an air of excitement. "People were told it was full, but they didn't take no for an answer. We always split the group in half -- Dick would take one and I'd take the other."
Sherry looks back on her time with Richard with nothing but fondness and appreciation.
"I learned so much from Dick. Right from the beginning. It was just a dream come true to be able to be married to a man who was so intelligent and so curious about everything," Sherry said. "He taught me so many things. I can't even enumerate the exciting life that I have lived with him."
Many reached out to speak to Richard before his passing, which Ramona said Richard and their family appreciated.
"My dad forgot how beloved he was," Ramona said. "He was reminded of that at a time when it mattered to him and for that there aren't words."
Richard Mangum is survived by his wife Sherry, his daughters Ramona and Karen Mangum with significant other Greg Smith, his sister Lynda Ropes, her husband Lev Ropes, and nephew Michael Brubaker, her son's wife Natasha Mangum and his grandchildren Alex and Maria Mangum.
To plant a tree in memory of court Richard Mangum, dies at 81 as a living tribute, please visit Tribute Store.
Be the first to know
Get local news delivered to your inbox!