Bea Cooley and Macy Kiim unrolled a large map of Flagstaff on the table of Late for the Train while Macy's 6-year-old daughter Ysa practiced her cursive.
The two of them are looking for a piece of land to make their dreams come true: the community brought by Flagstaff's first cohousing project.
"We're building an intentional community that is designed to foster community," Kiim said.
Cohousing has seen growing popularity in the United States, with about 170 such communities already scattered across the country and almost as many projects at the same stage as the project Kiim, Cooley and about a dozen other residents have been working on for the last three years.
There are also four cohousing projects across the state, three in Tucson and one in Prescott.
As an alternative kind of living, cohousing brings individuals, families and couples all living together in the same community. Generally, this means the construction of a cohousing development with private residences clustered around a shared common space building.
"People in cohousing want the privacy of their own homes, but they also want more," Kiim said. "They want more connection with their neighbors, they want to be able to go into one of the shared spaces and have meaningful conversations with people they know and trust."
The physical structures really only make up half of a cohousing project. The rest is the community created by the residents, often made up of between 20 to 40 households including young couples, single people, families like Kiim's and seniors like Cooley.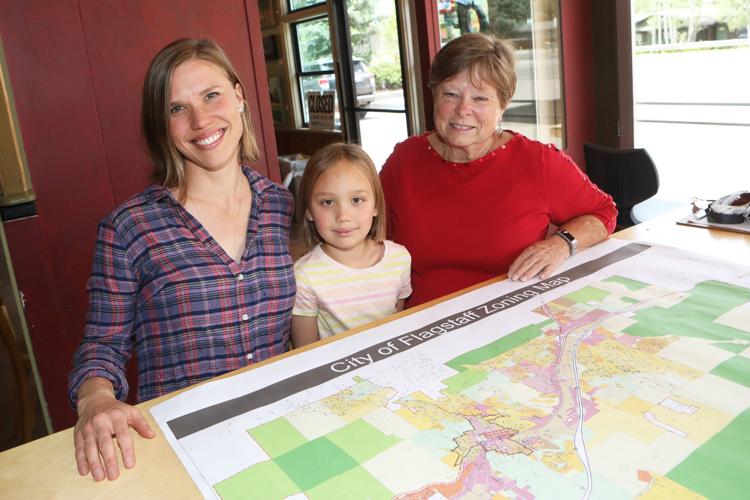 To this end, while the private homes in cohousing will have kitchens, residents will make and eat meals together multiple times a week, have activities such as movie screenings in shared common space, and divvy up the work of maintaining public and outdoor spaces.
Cooley lived in a cohousing project when she was younger, so she said when her husband died a few years ago, she thought cohousing would be a good way to continue living a fulfilling and even more social life.
On top of that, the creation of a cohousing development would provide the kind of community that Cooley said she grew up in.
"After the 1950s we all began to move away from each other," Cooley said. "More than just physically away, but it's divided. For a number of years I had my own garage, my own driveway, so I'd get home from work, drive into my garage, put the door down and that was it for socialization. But that's not the way I grew up."
You have free articles remaining.
Kathryn McCamant, president of Cohousing Solutions, which helps groups trying to start cohousing projects including the one in Flagstaff, said that is a sentiment she hears often from people seeking alternative kinds of living.
In cohousing, people are looking to create an authentic sense of community, not so different from how most people lived in America 100 years ago, McCamant said. Today, it's common that people don't know their next-door neighbors, let alone many of the people on their block.
So what she hears from people living in these kinds of communities is that they are looking for a better balance between privacy and community, McCamant said.
McCamant has been helping people start cohousing communities for 30 years and said Kiim and Cooley are in the most difficult period for such projects as they look for a piece of land.
Most Americans, even most homeowners, know very little about the real estate market and what it takes to develop in the United States, McCamant said.
Cooley said the group is still actively hoping to find about five acres of land to purchase and develop and are currently looking at three pieces of land that might work.
The nine households that are currently invested in the cohousing project have made a few offers on properties around Flagstaff, but so far they have not been successful. Cooley said they are hoping to have bought property within the next six to 12 months.
Then will come the next challenge of developing that property, which will have about 36 units. The group will need to get about $2 million together to help buy the land and pay for development fees.
Once built and established, cohousing generally costs about the same as buying any other market rate home, Cooley said. That said, costs can be somewhat lower as houses in cohousing communities tend to be much smaller because residents rely on common spaces.
Cooley said they are also discussing including rental units for those who may not be able to afford buying a house.
Cooley added they have a 400-person list of those who have expressed interest in living in and buying into the Flagstaff cohousing project but have not pulled the trigger on investing until land is purchased and construction may be occurring.
Of those on the waiting list, about 200 are local while the other half are people living outside of Flagstaff.