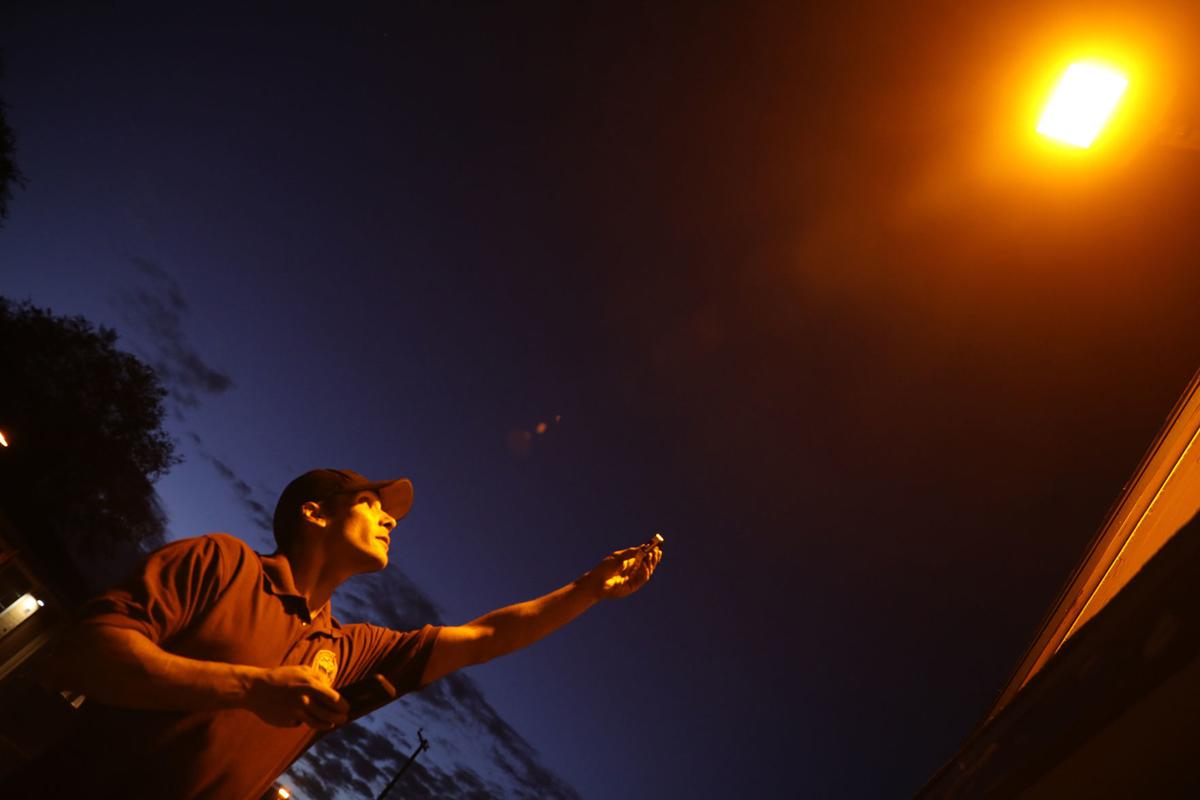 It was about 7:45 p.m. and already dark when City Code Compliance Officer Mark Stento stood, spectrometer in hand, in the parking lot of one of the dozen motels along Route 66.
The lights cast their amber hue across the parking lot and Stento lifted the spectrometer close to the bulb, taking a reading of the level and kind of light emitted.
For close to a year and a half, Stento has been going out about two nights a week, driving around Flagstaff as he measures the levels of light emanating from various businesses.
At this point, Stento said, he almost doesn't need the spectrometer -- just by looking at a light, he can have a pretty good idea if it is out of compliance with the city's lighting codes and if it is damaging Flagstaff's dark skies.
Flagstaff has been known for its dark skies for some time, but in recent years, that darkness has been under attack.
"The biggest issues are really unshielded lights and then a lot of white light," City Planner Genevieve Pearthree said.
White light is particularly damaging to dark skies and has become more common with the increased use of LED lights outdoors.
Offering more energy efficacy, LEDs have started to replace older kinds of lights that emitted amber spectrums of light. Amber spectrums are less damaging to dark skies, said Lowell Observatory Director Jeffrey Hall.
It's not just the kind of light most LEDs emit that is a problem, but also the amount of light.
"White LEDs create much, much more sky glow, so that would obviously be ruinous here in Flagstaff," Hall said.
That light washes out night skies and makes seeing stars and other celestial objects far more difficult. And that's a problem for a community with millions of dollars' worth of observatories right on the edge of town, Hall said.
But Hall added that doesn't mean LEDs are all bad -- if used properly, LEDs can be a powerful tool in protecting dark skies.
Some LEDs only emit a single spectrum of light, just like the older low-pressure sodium lights that were previously the city's standard. Because of this, as older lights become obsolete, the city can preserve the same effect using narrow spectrum amber LEDs. LEDs can also better direct light to exactly what needs to be illuminated.
To help push these appropriate kinds of LEDs, the city, the county and Lowell Observatory are funding a joint two-year position for a lighting specialist meant to work full time on enforcing the lighting code.
That position has yet to be filled, but in the meantime, Stento has added lighting to the list of codes he works to enforce. As just one person, the issue of noncompliance is overwhelming.
Pearthree said noncompliance is not restricted to one part of the city or one population. Across the board, numerous commercial businesses and residences don't follow the city lighting code.
But by focusing their time and effort on the most egregious cases, Stento said they have already been able to reduce millions of lumens in light pollution.
Parking lots are often the worst contributors to light pollution, simply because of their scale. Stento said most of his time has been spent addressing commercial properties.
For example, according to a records request, the Walmart on East Huntington Drive is one case of a business currently out of compliance, although the store is working to correct the lights. 
Stento said the city does its best to work with the businesses that light audits show are noncompliant. He said the businesses rarely know they are out of compliance.
Businesses and developments can become out of compliance when replacing lights after older ones burn out, or if a contractor installs the wrong lights even after a developer has created an approved lighting plan.
Because of this, after informing a business that they have the wrong kind of lights installed, Stento said the city does its best to work with the company to get the correct lights and the proper shielding.
Thus far, Stento said the city has not had to use any punitive measures to get businesses to comply.
When it comes to residential compliance, Stento said it will inevitably take more education and individual action.
"To maintain this, we will need voluntary compliance," he said.
Even though Flagstaff has been an official International Dark Sky City since 2001, City Code Compliance Manager Reggie Eccleston said until recently, the city hasn't had a good way of actually measuring the amount and kind of light emitted.
Mostly, that's because the technology to measure either the lumens or the spectrums of light emitted simply wasn't available in a practical way, said City Zoning Manager Dan Symer.
Instead, the city relied on making sure residents and businesses generally used the city's preferred kind of light bulbs, low-pressure sodium, and that lights were well shielded, Eccleston said.
Adrian Skabelund can be reached at the office at askabelund@azdailysun.com, by phone at (928) 556-2261 or on Twitter @AdrianSkabelund.
Be the first to know
Get local news delivered to your inbox!