The phrase "poverty with a view" has been used to describe Flagstaff more and more frequently in the past few years. The town's bright blue skies and snow-capped peaks draw in adventure-seekers, families and college students alike, but the rising cost of living makes it hard to thrive.
The most recent cost-of-living report available, compiled by the Council for Community and Economic Research from 2017, scored Flagstaff at 115. The number means Flagstaff holds a 15% higher cost of living than the national average (100).
Goods and services, housing, groceries, utilities, transportation and health care are all weighted differently to determine the Cost of Living Index. The housing cost index for Flagstaff scored at 142.5%, compared to 91.6% in Phoenix. Flagstaff groceries were at 115% while Phoenix was at 98%. Flagstaff utilities scored 101.5% with Phoenix at 98%. Flagstaff's goods and services, at 101%, were 4% higher than the Arizona average.
Although the average income for Flagstaff may rise as the minimum wage increases in the years to come, the real capita income average for the city in 2017 was $26,436. The state of Arizona's average stood at $29,420 and the U.S. average rated even higher at $32,397 according to the U.S. Census one-year survey.
"Everything is so expensive. When wages [went] up January 1, everything else went up with it," said Mountainaire resident Jeremie Dalaba, who works a total of 14 jobs to help his family get by.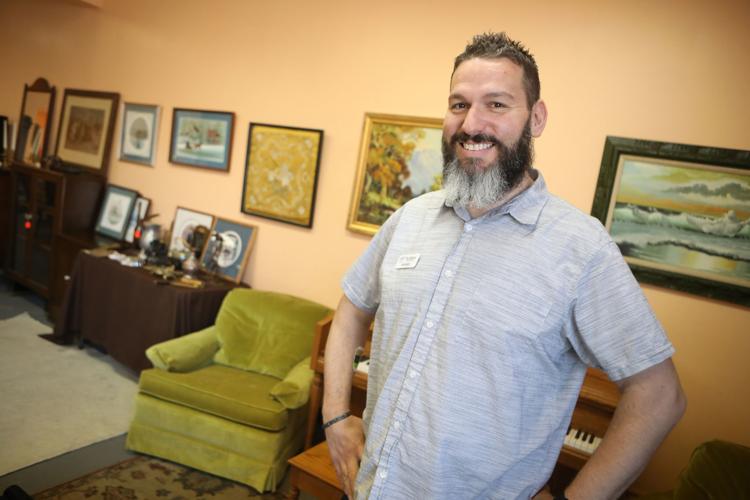 Flagstaff residents are beginning to ask themselves: is the beautiful view here really worth having multiple jobs, little-to-no extra spending money and numerous loans?
For Dalaba, who has lived in the Flagstaff area on and off for 11 years, the answer is yes.
"I love this town so much and I really wouldn't have it any other way," he said.
On Saturday, March 30, Dalaba worked the morning at Foster-Wright Floral Design delivering flowers and then immediately after started his shift at Two Sisters Estate Sales. In the evening, he bartended at The Orpheum, where he also helps plan events.
In between, he delivered food for Uber Eats and did promotional work for a vitamin company.
Dalaba also mans the Step Right Up photo booth for private events, is an officiant for weddings, does some handyman work, is a freelance video journalist, acts, does television and film production work for shows like "Food Paradise," and also manages his own small businesses.
Leslie Snickers, Dalaba's partner, works a normal nine-to-five job as a dental assistant, where she has been for nearly a decade. Dalaba said many days the two barely get in a high five before one of them is out the door.
"I still live check to check like most people in Flagstaff," Dalaba said. "Everyone's in the same boat."
Dalaba said that he enjoys all of his jobs, and prefers having multiple jobs rather than one full-time job. One of the perks of not having a full-time job, Dalaba said, is that he is able to stay at home when he needs to with his and Snickers' 6-month-old daughter, and is able to drive their three older kids to school.
"I'm not in it for me, it's for my family," Dalaba said.
Kris Hogge, who has lived in Flagstaff on and off for around 15 years, also has multiple jobs to support his family in Flagstaff, but said he would prefer it if he didn't have to work as hard as he did just to get by.
Hogge works at The McMillian as a cook five or six days a week, and has a side business as a graphic designer, working for local businesses, artists and musicians. Hogge is a musician himself with the hip-hop trio Boom Box Bros, where he gets paid intermittently for gigs.
If it weren't for Hogge's three jobs and his wife's job as an assistant manager at Safeway's bakery, they would not otherwise be able to afford to live in their Lower Greenlaw apartment with their two kids, ages seven and nine, he said.
"It takes a lot out of me," Hogge said. "Sometimes my jobs tend to bunch up and I end up working for eight or nine days in a row. Also, sometimes my schedule puts me at work when my children are home [from] school so I spend less time with them."
But Hogge said he wouldn't consider leaving Flagstaff now, despite the struggle.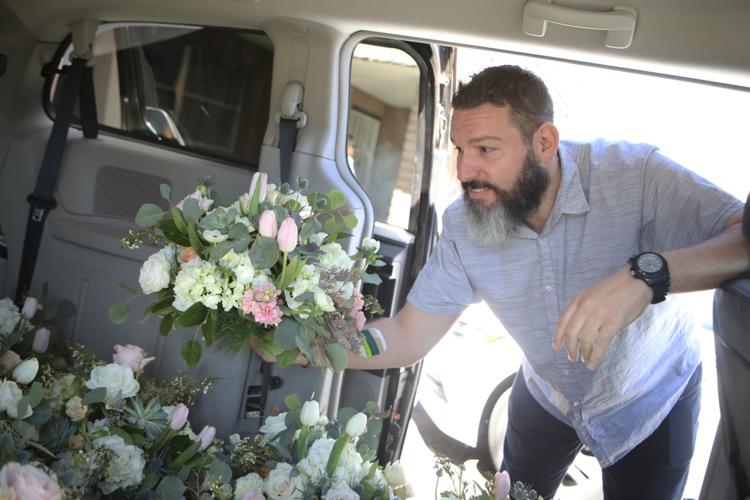 "When we lived in Kansas, we paid roughly $500 (rent and bills included) to rent a four-bed, two-bath. We also lived in Glendale, Arizona. Same situation, three-bedroom, two-bath house for $1,100. [But] the heat was unbearable," Hogge said. "We decided to live in Flagstaff because it's not too big of a city and the weather is not too hot, but it's not too little of a city that doesn't have anything for kids and families to do."
Hogge also cited Flagstaff's four seasons and beauty as reasons that he loves the town. On the other side of the spectrum, Audrey Deterding found beauty in the town too, but said it wasn't worth the cost.
"I mean it was pretty and I comment to people now that I loved the mountains, but at the end of the day mountains don't pay the bills," Deterding said.
Deterding originally moved to Flagstaff from Indiana in the summer of 2013, landing a job at Northern Arizona University as a lecturer. However, Deterding said the pay she was offered by the city's largest employer was not enough for the cost of living.
Despite having a part-time roommate in her manufactured Railroad Springs home, Deterding said she was left with very little to get by, and virtually no extra spending money. In the five years that Deterding lived in Flagstaff, she said she was able to go to the movies just once.
"After I paid the bills that I had to pay – mortgage, utilities – I didn't even have a car payment – I had about $300 left for everything," Deterding said. "I joked that when I sold my house I would not have been able to buy it back if I wanted to because it was out of my budget."
While Deterding said she knows living in Flagstaff is worth the sacrifice for some residents, she knew it wasn't worth it for herself.
In July 2018, Deterding moved to central Missouri and started a job at the university there. While her pay is similar to what she made at NAU, Deterding said the dollar goes much further in her new town.
"I have three-quarters of an acre here," Deterding said of the property where her framed home is. "The house that I bought was $90,000 less than what my Arizona house sold for, but it's a bigger house and a much bigger lot.
"The town doesn't work for the people that live there anymore," she added. "It feels like it's been built for students and people that have second homes and money."