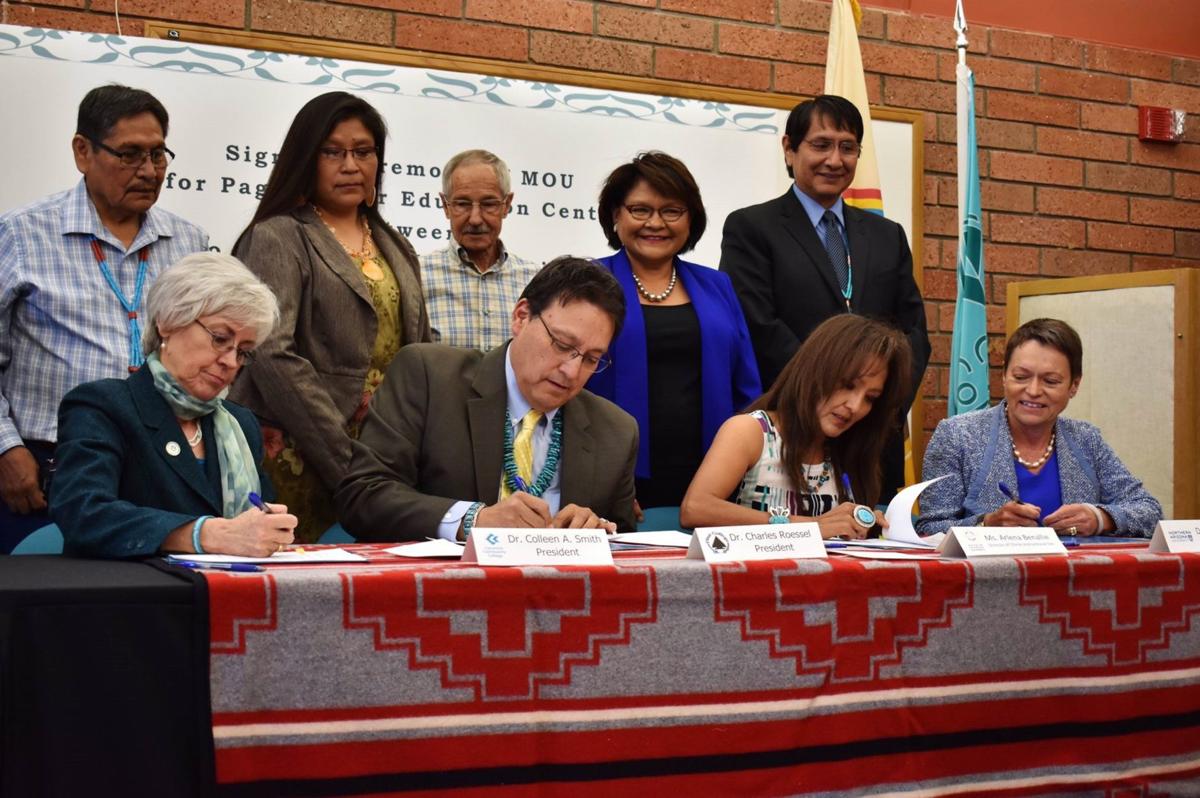 Three years after Coconino Community College reduced operations at its Page campus and in the face the nearby Navajo Generating Station's likely closure, a new higher education collaborative is taking shape in the northern Arizona city at the edge of Lake Powell.
Last week, Coconino Community College, Northern Arizona University, Dine College and Navajo Technical University signed an agreement to start developing a "Higher Education Consortium Project" to be based in Page.
Those involved acknowledged it's a first step to collaborate on the joint delivery of higher education instruction and education-related services and many questions have yet to be answered.
How the center would be operated, total costs involved, financial and resource commitments required of each educational institution and degrees to be offered are all details that need to be worked out, said Coconino County Supervisor Lena Fowler, who has worked to bring the project to fruition for about six years.
Fowler said the idea to create a higher education center came to her as CCC was discussing closing or reducing operations at its Page campus. At around the same time, the Environmental Protection Agency came out with its final action requiring Navajo Generating Station to shut down one of its generating units in 2019, which would affect dozens of jobs. Looking ahead to the future, Fowler said she worried for the region, its labor force and its ability to adapt economically if it didn't have a strong higher education program.
The initial agreement from the four educational institutions gives her hope for the future, Fowler said.
"This coming together and agreeing to work together in the best interests of the community and the best interests of education for these students, I think that's a big deal. That's a big commitment from four very different higher education institutions," she said.
A MELTING POT OF IDEAS
Officials with each institution gave various reasons for joining the partnership. It will provide the opportunity for students in the area, especially those with families, to pursue higher education while staying close to home, said Monte Roessel, president of Dine College.
"Rather than expect students to come to our campus we need to go where students are," Roessel said.
Each college or university has different strengths, and by coming together they can better benefit the community, Roessel said.
Officials with Dine College and Northern Arizona University reiterated the need for the education center considering the uncertain future of the Navajo Generating Station.
"With the closure of NGS in the near future, whether that's in 2019, 2029 or 2044, we need to come together now as academic institutions to assist the Navajo Nation and the greater NW Region of Arizona to transition away from coal to clean energy and other economic and job opportunities," Chad Hamill, vice president of NAU's Office of Native American Initiatives, wrote in an email.
Officials also had different ideas about what types of degrees and certificate programs their institutions might like to offer. Those include degree programs or certificates in teaching and early childhood education, hotel and restaurant management, culinary arts, nursing and healthcare, marina mechanics and long-haul trucking. Fowler and Arlena Benallie, with Navajo Technical University, emphasized the need to coordinate and communicate with local businesses to address their needs.
The hope is to train students for jobs available in the immediate area, Fowler said.
"We don't want to be the exporters of our students once they graduate. We're envisioning having them go to work here," she said.
Several officials said they would be looking at a "blended" teaching model that combines in-person classes with distance learning strategies like online teaching tools and classes conducted via webcam.
The center will be based at the CCC Page campus, and at this point there are no estimates for what it will cost to start or operate annually. Discussions so far have been about sharing all costs related to the facility and delivery of service, Fowler said. Dine College and Navajo Technical University both said they have not yet budgeted specific amounts for the project.
For its part, Coconino Community College is freezing one currently open position to hire someone dedicated to helping the higher education center become a reality, according to spokesman Larry Hendricks. Part of the employee's tasks will be to secure grant funding for the project as well as that person's position after the first year, Hendricks wrote in an email.
In working on the Page higher education center, Roessel emphasized that education leaders need to look beyond filling current workforce needs.
If companies are looking for places to relocate, high on the list is access to an educated workforce, he said. Training people to work in the nonprofit sector or create new businesses should be part of the plan as well, Roessel said.
"If we just go into this thinking how are we going to put a band-aid on the closure of Navajo Generating Station we're going to fail," he said. "It has to be a long term investment."
John Stigmon, president and CEO of the Economic Collaborative of Northern Arizona, has been studying the economic development potential in Page and echoed Roessel's thoughts.
"If new industry moves in as a result of NGS leaving, then the education sector is on the front line of being able to support the needs of those industries when they come in," Stigmon said.