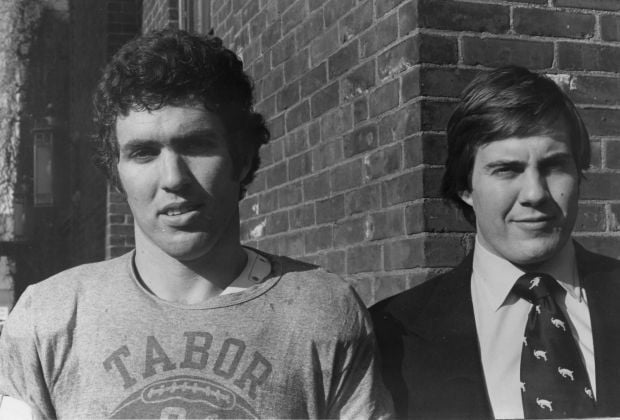 I wear a ballcap with a lifelike emblem of a cardinal on the front. During most of the year, it passes for an Arizona Cardinals cap. But during this Super Bowl week in Arizona, it is my New England Patriots cap.
That's because the cap dates back to my days as a letter-winning Cardinal athlete at Wesleyan University, a small college (enrollment 2,200) in Connecticut whose best-known graduate is Bill Belichick, Class of 1975. Since I am Class of 1974, I can say with near certainty I am one of only two people in Flagstaff (the other is my wife) who went to college with the winningest active coach in the NFL.
I relate this factoid mainly as a way to explore what it means to be a sports fan in America. In most cases, it starts with a virtue or habit of character known as loyalty, which as we all know can be sorely tested the longer it is honored. Friends change or move away, companies downsize – honesty and courage might be seen as no-brainers to uphold at all costs, but steadfast loyalty can be a big headache.
Except in sports --- possibly because, as entertainment, the stakes aren't really that high. We bind ourselves to a team usually out of pride in our hometown or attachment to an institution, then bond with other fans over the good times and try to ignore the bad. And unless you are a Chicago Cubs fan, there is usually some fellow fan alive in America today who can remember when your team won a championship.
So it is with me and Bill Belichick. His is the improbable story of an athlete at a Division III college whose best sport was lacrosse yet rising to Hall of Fame status as a football coach and earning $7.5 million a year. While most fandom is the triumph of hope over experience, those who root for Bill Belichick to succeed have not been disappointed. I suspect that nearly every Wesleyan alum who doesn't live in Seattle is rooting (perhaps secretly) for the Patriots this Sunday.
Wesleyan knows this and has awarded him its highest medal while inducting him into the inaugural class of its Sports Hall of Fame. It doesn't hurt the alumni office when trying to maintain fading memories of halcyon college days to have a graduate like Belichick showcasing his success nearly every season, even if your current college president is a philosopher.
But what price loyalty? Some see Belichick as a symbol of the NFL's "win at any cost" mantra that has meant brain-damaging concussions, domestic violence and steroid abuse. Belichick and the Patriots are linked to two high-profile cheating scandals that have cast some doubt on the coach's personal integrity, and a star former player is on trial this very week for murder.
None of this, of course, was foreshadowed by the Bill Belichick I remember from Wesleyan, which is where my fan attachment began and helps me understand why it persists today. At the time, lacrosse and football were far from the big sports on campus – Wesleyan was known for producing a series of runners who won the Boston Marathon (Amby Burfoot and Bill Rodgers), as well as an Olympic miler (Jeff Galloway). I was a runner myself (although not in their league), so I didn't have much contact with Belichick, even though I covered sports for the college newspaper and the sports information office. I still remember Wesleyan fondly, and Belichick benefits from being part of the afterglow.
In fact, his campus identity was more tied to the Chi Psi fraternity, where he was the president. It was a kind of minor league Animal House, and it was Belichick's job to renegotiate with the administration the terms for keeping it on campus after each weekend party prank.
It was only after I left Wesleyan and learned more about Belichick that I began to understand why he turned to coaching and how he had a better chance than most to be successful at it on a much bigger stage. One of my newspaper job postings took me to Annapolis, Maryland, where Belichick had grown up as the son of a longtime assistant football coach at the U.S. Naval Academy. It was the 1960s, when players like Roger Staubach and Joe Bellino won the Heisman Trophy and Navy annually finished among the top 10 teams in the nation.
His dad, Steve, had grown up outside Pittsburgh and played pro ball for the Detroit Lions, and he was well-known in Annapolis as one of the nation's top college scouts, even writing a book, "Football Scouting Methods." The Wikipedia entry for notable people with ties to Monessen, Pa.,  lists a Belichick, but it is Steve, not Bill. It's not hard to imagine how a boyhood of football shop talk around the family dinner table could result in a coach known as a master tactician with an encyclopedic knowledge of the rules.
That last factoid about Pittsburgh clinched it for me – I grew up there, and though I will always be a Steelers fan (loyalty to place and an industrial ethos now lost), I have a soft spot for athletes with ties to the Steel City. Later, 10 years spent in Maine exposed me to New England's fourth-favorite pro team (after the Red Sox, Bruins and Celtics), so my Belichick bond is cemented.
Loyalty, though, is strongest when rooted in family, so mine will be sorely tested Sunday. One branch of the Wilson family has relocated to Seattle, and when the Steelers aren't playing, they become diehard Seahawks fans. My relatives have even identified a few Seahawks players with Pittsburgh ties.
So will it be family or alma mater, with hometown caught in the middle? Or can I choose one for one day of the year and not be seen by the other as disloyal?
As Aristotle would say, the truly virtuous don't have the option of being truthful part of the time or dividing their loyalties. So Bill Belichick had better watch out -- once Super Bowl Sunday is over.
Randy Wilson is editor of the Arizona Daily Sun. You can reach him at rwilson@azdailysun.com or (928) 556-2254
It doesn't hurt when trying to maintain fading memories of halcyon college days to have a graduate like Belichick showcasing his success nearly every season, even if your current college president is a philosopher.
Catch the latest in Opinion
Get opinion pieces, letters and editorials sent directly to your inbox weekly!