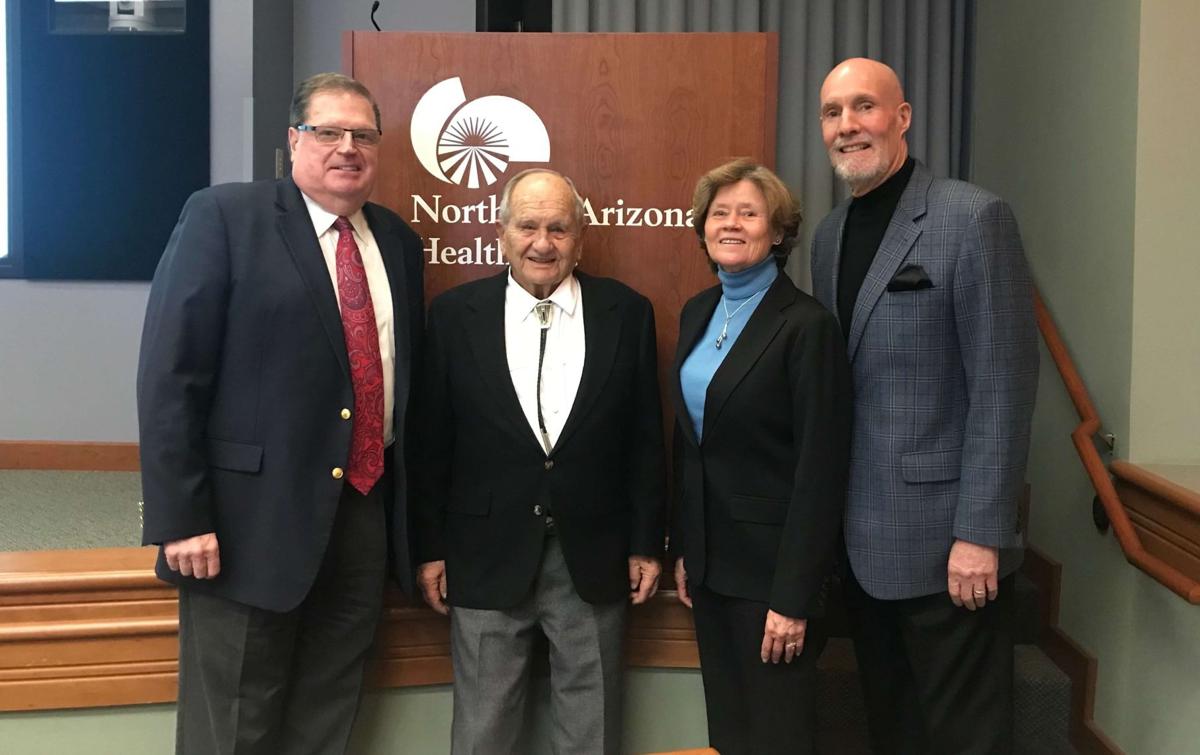 Northern Arizona Healthcare has allocated $300 million to facility renovation – much of which will occur at the Flagstaff Medical Center – as part of its New Era Strategic Plan to become a fully integrated, community-based health system.
Last week, certificate holders of FMC met with NAH President and CEO Florence Spyrow for the first community presentation of the plan since it was announced in early November.
Certificate holders are influential, civic-minded citizens nominated and elected by the foundation's Executive Committee to supply direct community feedback to the foundation and will be integral in ensuring the strategy is implemented over time.
Rick Smith, NAH Foundation president and CEO, said in a statement, "The certificate holders of FMC is an important group of ambassadors who serve as a two-way line of communication. We keep the certificate holders informed about what's happening with the hospital, and they keep us informed about what's going on in the community. This connection is essential for putting us in touch with what Flagstaff needs, wants, and expects from community healthcare."
Two new community leaders, joining approximately 110 existing ones, were introduced at the meeting: Chris Reed, Senior Pastor of Christ's Church of Flagstaff, and Tim Dodt, SVP and Senior Commercial Loan Officer at Alliance Bank. The group has existed since 1954, when it was created by Dr. Charles Sechrist, the founder of what is now FMC.
Facility projects
The $300 million will be divided among the entire NAH community, including FMC, the Verde Valley Medical Center and 33 outpatient ambulatory sites located in Flagstaff, Cottonwood, Sedona and Camp Verde.
Spyrow explained that FMC, which houses the fourth-busiest trauma center in Arizona, will specifically expand its trauma services, as well as vascular care and behavioral health provisions.
Ambulatory care, same-day care occurring outside of hospitals, will also increase with the creation of new facilities throughout the region, especially in east Flagstaff. The Children's Health Center, for example, will be expanded into the old La-Z-Boy Furniture Gallery just north of the Flagstaff Mall. Continuing health care and urgent care facilities will also be introduced in eastern areas of town.
"We need to bring our services more to the community than centralized locations," Spyrow said. "We need to be accessible and convenient to our communities."
Within the existing medical center, inpatient care will also be redesigned to create all private rooms, the catheterization laboratory and operating rooms will be expanded and a new medical-surgical unit will be established on the third floor.
Along with the other components of the plan, Spyrow said that facility projects will be added and adjusted over time through what the plan calls a "relentless pursuit of clinical excellence."
More than sick care
The strategic plan – the first of its kind for NAH – has been depicted as a triangle, with strategies playing an equal role as the organization's new mission, vision and values.
To achieve the mission and vision, a group of colleagues and partners determined five new values to be practiced in every facility: Do amazing work, respect differences, build community, show compassion and be better together.
Spyrow said these values are fundamental to every member of the NAH community and are necessary if the organization hopes to achieve the goals and initiatives established in the strategic plan.
"Values and beliefs within an organization really drive that culture and how everybody treats each other and the decisions they make every single day. By emphasizing the behaviors and recognizing staff that follows those values, we're going to drive that culture to then deliver that great experience at every location, every time, with every patient."
A large portion of the plan works to better integrate NAH's various facilities, allowing patients to move more fluidly between them when receiving care. Like the Mayo Clinic, whose success with similar integration has been a source of inspiration for NAH leaders, the organization will be implementing a system of service line leaders to oversee areas like orthopedics, oncology and cardiology throughout the entire region.
Valuing people
NAH says it will strive to treat all involved individuals with equal quality through this new plan.
Alice Gagnaire, RN, Chair of the NAH Board of Directors, said in a statement, "We were able to create a framework for NAH's leadership team that allows it to be focused on you -- our colleagues, providers and our communities -- as we embark on a new healthcare journey."
While patients will have the added benefit of new facilities and value-driven interactions with staff, employees themselves are already noticing differences after being awarded four hours of paid volunteer time annually to be used at one of a list of qualifying nonprofits that improve the health of their communities.
The initiative was launched at the beginning of this week and should benefit the community more than employees. Although half a standard work day may not be much for a single person, all employees at every level – totaling more than 3,500 individuals – were awarded this time, a potential 14,000 volunteer hours that can be used to improve health throughout the region.
"Many of our employees have already been involved in the community, so it's really easy now for them to continue," Spyrow said. "We hope to make this a fun opportunity for all employees and for us to share across the system how we're working to improve the health of our communities."
Through feedback from the public and its certificate holders and constant evaluations of community needs, NAH hopes to rank within the top national percentiles for colleague and provider engagement, service performance, patient experience and affordability.
"We want community members to feel like NAH is a critical and important fabric of each of their communities and that it serves them well," Spyrow said.
Be the first to know
Get local news delivered to your inbox!