There are now over 20 versions of Sesame Street around the world, with puppets that teach children native languages such as "Takalani Sesame" in South Africa, "Ulica Sezamkowa" in Poland and "Iftah Ya Simsin" in Kuwait.
Dr. Shawna Begay and Charmaine Jackson of Naalkid Productions hope that The Navajo Movie Time (Diné Bí Ná'álkid Time) will be the Navajo equivalent to the famed PBS show that has been educating toddlers for years.
The co-writers/creators have been working on producing the show since the idea blossomed while Begay was writing her doctoral thesis on Navajo media several years ago. Begay's thesis was for her degree in education technology from the University of Nevada and focused on Diné language and culture. Begay essentially developed a curriculum guide meant to teach Navajo through media after she realized there was virtually no research on indigenous educational media.
One thing that Begay learned through her research was that the Navajo ways of knowing and learning objectives are "completely different from Euro-Western schooling." So while the The Navajo Movie Time looks and feels like Sesame Street in many ways, "cultural relevance" sets it apart, she said.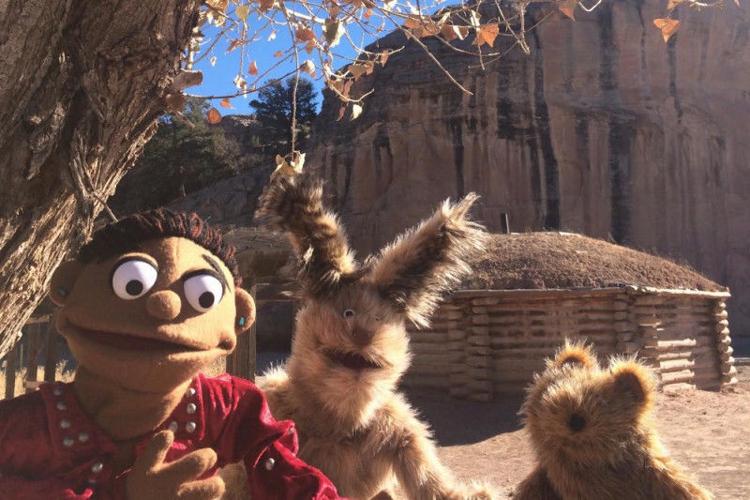 According to Begay's thesis abstract, the Navajo way of learning focuses on Nitsáhákees (thinking), Nahatá (planning), Iiná (living) and Siih Hasin (assuring). The four themes that she listed as the most crucial for teaching to Navajo children in her media guide were the Navajo kinship system (K'é), Navajo values, survival and language arts. These themes will presumably be the building blocks of The Navajo Movie Time.
"My research was conducted on the Navajo Reservation with community members, leaders, educators and cultural advisors," Begay said. "They informed what this show should look like when it is completed."
FORBIDDEN BEGINNINGS
Begay is originally from the Navajo capital of Window Rock, which is three hours west of Flagstaff. Despite growing up there, Begay was not taught Navajo like many others on the reservation at the time. 
"I never learned how to speak Navajo and still do not know. I know a lot of words, but I am not able to converse," Begay said. "I do want to learn and I feel this show will not only give me the access, motivation and experience, but it will also give me the opportunity to share this journey with the Navajo audience, who also may not have learned the language for the many reasons that exist out there."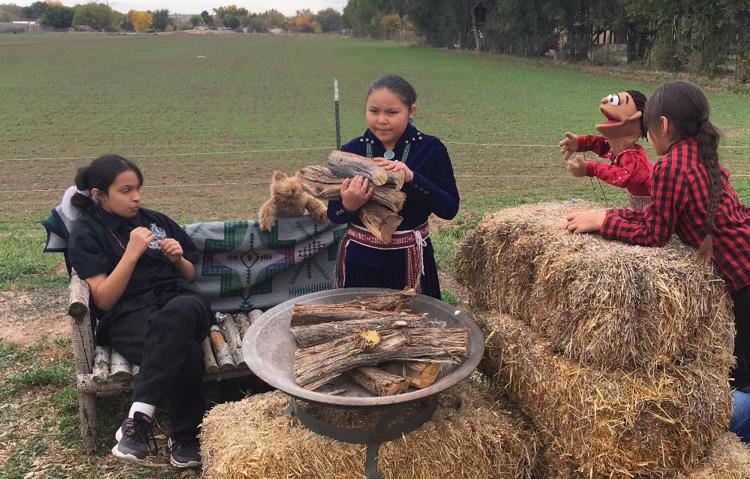 Jackson, the show's producer, has a similar story to Begay's. Although she grew up on the Navajo reservation in Shiprock, N.M., her parents purposely did not teach her Diné because they thought that would make her "more successful in life." According to a piece she wrote for The Washington Post, her parents "were forced to attend boarding schools in the 1950s and were not allowed to speak their own Navajo."
Robert and Genevieve Jackson were "traumatized by the experience of being abused or punished if they spoke Navajo," she wrote. Jackson was jealous of her Diné-speaking cousins growing up, she said, and eventually took Diné classes at the University of New Mexico in the late 1990s. She noted that at the time, Navajo was considered a "foreign language," even though native speakers only reside in the southwest United States.
Jackson and Begay met at the 2007 Sundance Film Festival while Begay was a reporter for the Navajo Times. They realized they shared strong views on reincarnating the Diné language, especially in children.
"While there are 7,600 traditional Diné-only speakers and about 169,000 Navajo-English fluent speakers still in the United States, the language will not survive if children are not learning it," Jackson wrote for the Post.
COMING TO LIFE
You have free articles remaining.
Register for more free articles
Stay logged in to skip the surveys
Whether The Navajo Movie Time reaches Sesame Street status or is simply played on public broadcasting networks or even YouTube, the show will definitely air on some medium and help children, as well as people of any age and race, learn the Navajo language.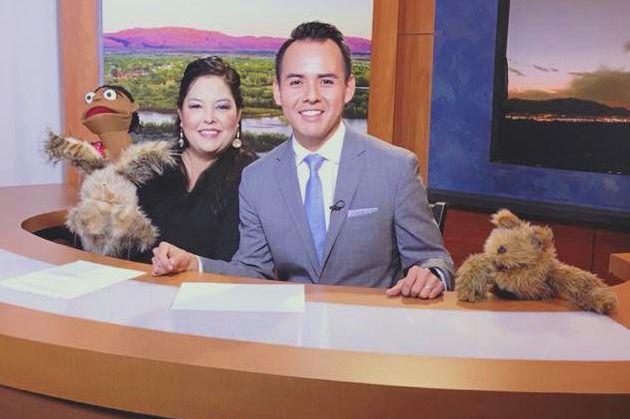 A one-minute, 30-second promotional video came out in January, with news anchor Colton Shone sharing the latest breaking news: "Do you and your children want to learn how to speak Navajo? There's a new kid's show on the horizon."
Transition to a clip of Nanabah, a tanned Henson-esque puppet wearing her black hair in a tsiiyeel bun, turquoise earrings on her felt ears and a puppet-sized traditional Navajo blouse and skirt. With help from her friend Dlǫ̀ǫ̀ the prairie dog, the 5-year-old translates the colors of a blanket being weaved by a native girl. Gáh the rabbit picks up a carrot out of a pile of vegetables from a woven basket and Nanabah tells him it is called  "Chąąsht'ezhiitsoh."
That 90-second pilot video alone cost $3,000 to make, Jackson said. But small donations from over 1,000 people across the globe who want to see the show air have added up. The show's GoFundMe goal of $50,000 has reached over $36,000 since November. The owners of the web's largest fundraising site even donated $1,000 to the cause in June.
Jackson and Begay are planning to use the money to create two 20-minute full-length episodes. Jackson said $36,000 might seem like a lot, but after working in the media and TV industry for many years, she knows producing the two episodes will be extremely costly.
"We need to pay for talent, on-set food, camera work, editing and music," she said. Begay added that because of the limited funds, they will film in the most economical way possible.
One way to save money was having a giant open casting call rather than going through a talent agency. The duo are searching all of Navajoland in Arizona, New Mexico and Utah for puppeteers, child actors, voice actors and show guests.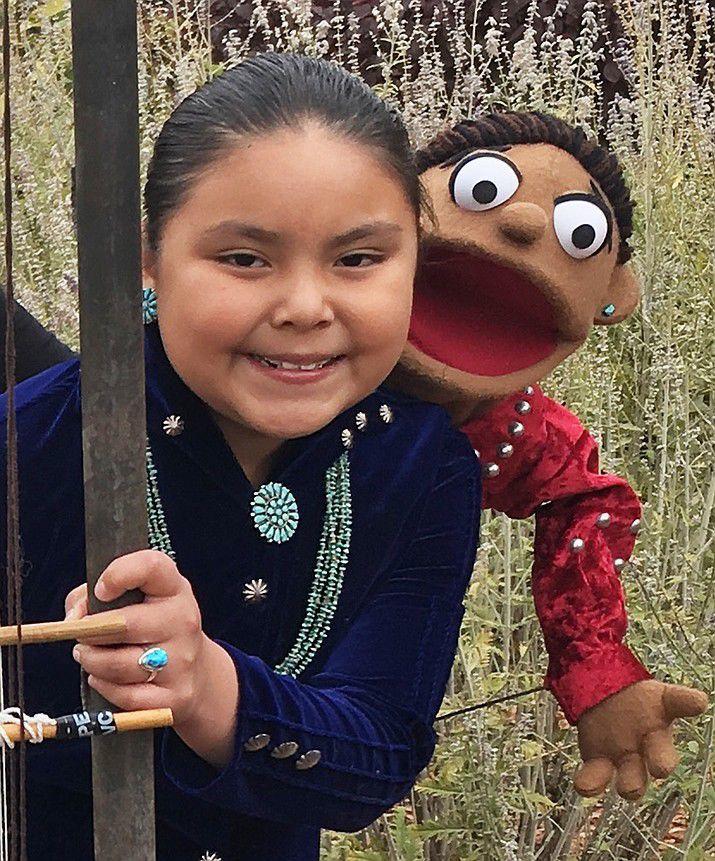 The Nanabah puppet will be voiced by a young fluent Diné speaker. Her yet unnamed braided male sidekick doesn't need to be completely fluent, as Nanabah will be teaching Diné to him throughout the show. Outgoing Navajo children around 5-8 years old are encouraged to audition for these voice roles as well as show guests. Like in the original Sesame Street, the puppets will interact with members of the community, Jackson said. Adult and child dance troops, singers and drummers are all being sought out for guest appearances.
Live auditions took place the weekend of Aug. 11 at the Navajo Nation Museum in Window Rock, and another one will soon take place in Albuquerque, N.M. Navajo talent can also submit their audition videos online.
So far, Jackson said she was impressed by "the best of the best" of Navajo talent that came to audition, including a violinist, a singer and a hoop dancer.
Since The Navajo Movie Time is just in the pre-production stage, there is still a lot for Naalkid Productions to do, including first finding the puppeteers and figuring out where the show will be filmed. "But ideas are already forming in the screenwriting of the show," said Begay. 
So will we eventually be seeing Nanabah toys in the hands of toddlers as often as we see Dora the Explorer or Paw Patrol? Begay hopes so.
"We want the learning to continue to take place after the TV is shut off with learning apps on cell phones and tablets as well as books and educational toys," she said. "We want children to co-view the show with their parents and family members. We want the show to be a tool for educators to use in the classroom and a tool for those who may not live on the reservation to have access to this educational content." 
When asked if the Diné language would lose any sacredness if spoken outside the Navajo community, Begay responded: "The language is already sacred and the only way that can be taken away is if we stop speaking it and we lose those precious words that hold meaning to the universe."