In August, 16-year-old Amari Jones approached a former teacher with a request. Amari, who lives 200 miles northeast of Flagstaff on the Navajo reservation in Red Mesa, Ariz., asked if she could borrow some textbooks to start work on the Navajo language app she wanted to create.
Charlotta Lacey, who teaches the Navajo language of Diné Bizaad to grades 6-12, was dumbfounded. It just so happened that at the time, Lacey was involved with creating the Navajo version of the popular language app Duolingo with a group of other educators and colleagues.
"I remember Mrs. Lacey saying 'you really want to do this. We're actually having a meeting at 4:30 after school today,'" Amari said.
After Amari explained her eagerness to help out with the Navajo version of the app, she soon found herself creating mini-lessons and catering them for the Duolingo audience with other students in Lacey's classes.
Lacey called the process a "collaborative team effort" between Duolingo, San Juan School District educators and San Juan High School students.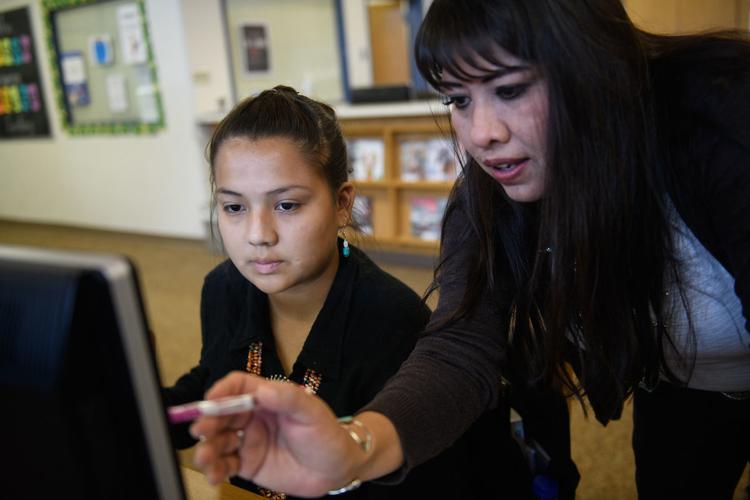 Students were assigned a group of phrases in English to translate into Navajo. They started with the basics: family, food and animals. The educators would then go through for quality control and double check to make sure the students had correct spelling, grammar and punctuation. Lacey said the amount of nasal hooks and diacritical marks in the language makes for easy errors.
The San Juan School District lies partially in the Navajo Reservation. According to Clayton Long, the bilingual education director, about half of SJSD students are Navajo and the other half are Native American Utes, Hispanic, Caucasian, or other races. The Navajo classes Lacey teaches at the San Juan High School are similarly mixed, with levels varying from students who didn't know any Navajo going in, to students who spoke Navajo with their family at home.
Amari said she learned Navajo at a young age from her grandmother, but began to lose it as she got older and used more English. Now she understands bits and pieces and can have basic conversations, but wants to become fluent.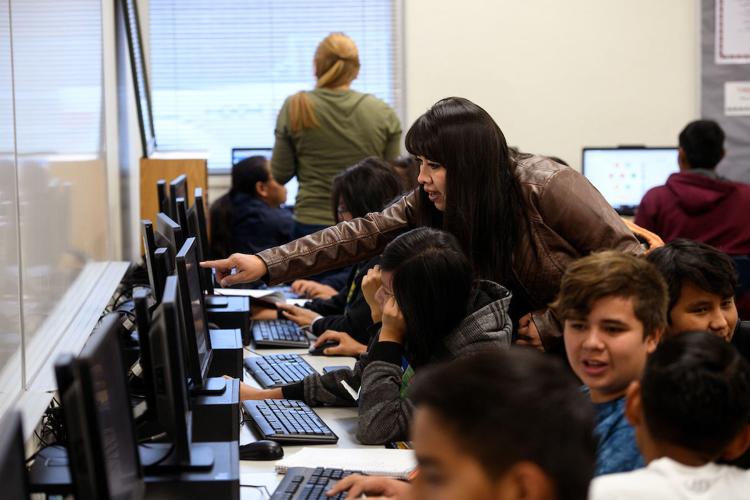 "Students here are thirsty and hungry to learn the Navajo language," Long said. "Because of that they are engaged and put forth the effort to learn it the best as they can."
"The mini-lessons caught fire from the students' motivation. It was a really neat process to see," Lacey added.
The project expanded out of the classroom to after-school meetings with the students over multiple days. "It is a process. Lessons cannot be created in one day," Lacey said.
Amari and many other San Juan High School students bus over an hour from the reservation to attend the Blanding, Utah school. For this reason, many students couldn't stay after school because they needed to go back home to do their chores on the reservation, Lacey said.
Still, Amari used what time she could find in between classes to help out, using the "leveled up" access that she was given by Duolingo. Amari said she was passionate about working with Duolingo because it is free and open to everyone. "There are some other Navajo apps out there, but they charge too much for the quality," Amari said.
Amari, who said she eventually wants to be a mechanical engineer and make an electric car company to rival Elon Musk's Tesla, wants to add more advanced features to the app. "I want to put in handling verbs into the lessons," she said. Learning handling verbs, she said, will allow users to understand the breakdown of where many Navajo words come from, especially the newer ones based on technology. For example, Amari referred to the word "television" – níłch'i naalkidí in Navajo. "It literally means moving air," she said.
Other students were excited by the fact that they were getting to create something new and share their native language with the world, using an app some were already using outside of school for fun.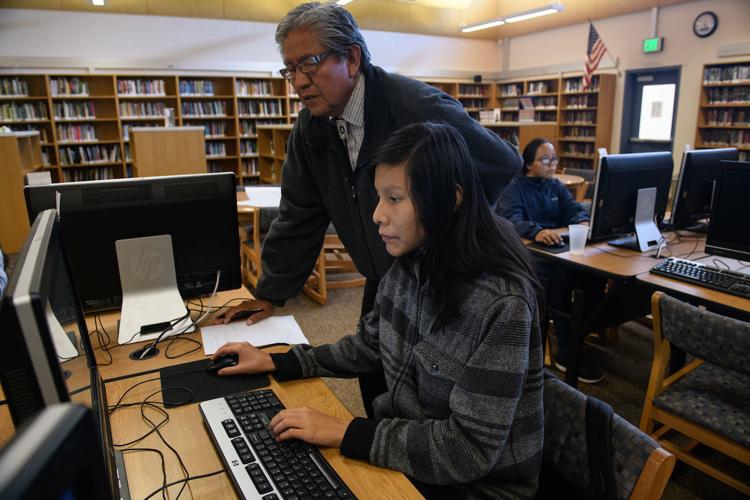 "Students already have a gravitation to technology and that was the key," Long said.
Long was initially contacted by Duolingo developers after they saw his YouTube channel, where he creates Navajo language lessons. "I've always wanted to work with a company that put Navajo on the map," he said.
When Duolingo launched the beta Navajo and Hawaiian versions on Indigenous People's Day on Oct. 8, it gave the app's some 300 million users exposure to the less accessible languages. According to a press release, "launching a Diné course is part of a larger initiative at Duolingo to add courses for languages that are considered at-risk and endangered."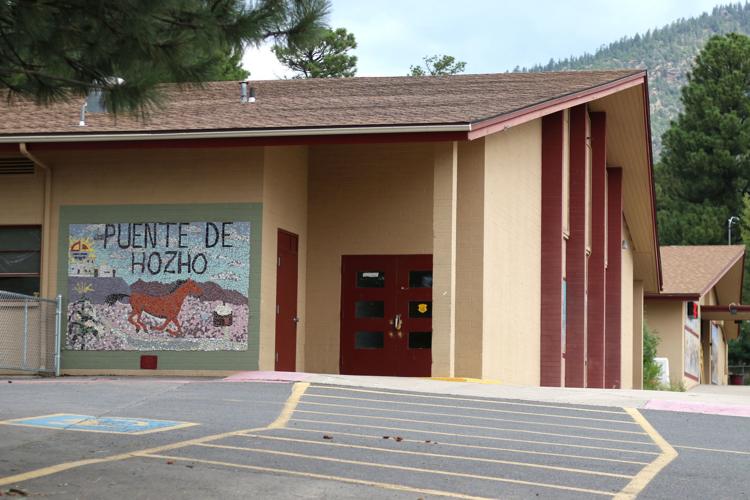 Principal Robert Kelty of Puente de Hózhó, an English-Spanish-Navajo trilingual magnet school on Fourth Street, said that the app is a "huge opportunity for indigenous language revitalization."
Kelty and James Jones, Puente de Hózhó's Navajo language chair, were initially "thought partners," with the Duolingo team. Over the past eight months, Kelty and Jones had four conference calls with Duolingo in which they were asked about their school's history and ideas on revitalizing Navajo. 
"To have a resource for our students to use at home is wonderful for us," Kelty said. He added that he is excited that students will be able to access the Navajo app when not in school and thinks it is an "excellent resource for families."
However, Kelty doesn't plan on integrating the app into the curriculum or asking students to go on it for homework. "The teachers here are so skilled," he said.
Right now, the Navajo version of Duolingo only has options to read or write in Navajo, but Duolingo's goal is to get original audio recordings of native Diné speakers. With the text-only version, it is hard for non-native learners to know what the words sound like, Lacey said.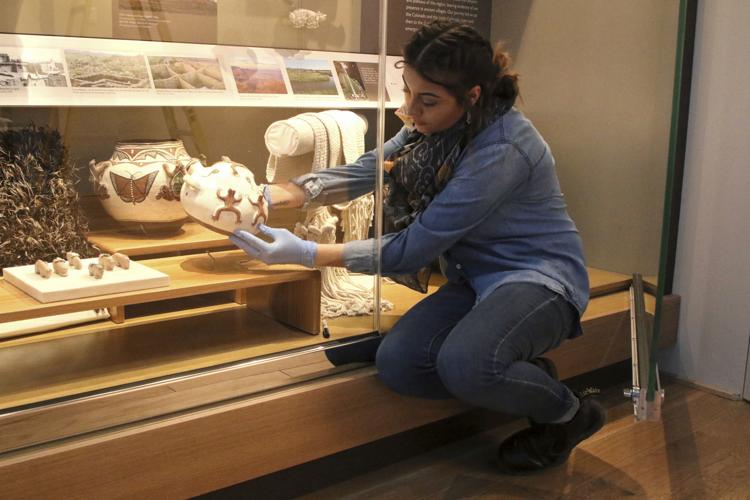 In April, the Museum of Northern Arizona updated its Native Peoples of the Colorado Plateau exhibit based on direction of indigenous people from 10 different tribes, including Navajo.
One addition is a welcome wall that displays a video with all the collaborators from the different tribes welcoming visitors to the exhibit and introducing themselves in English and their native languages.
Kristan Hutchison, director of marketing at MNA, said she personally finds the effect of having the audio and video at the entrance of the exhibit "immediate, real and powerful."
"One of the most powerful things is to see people who are modern people, not the stereotype, speaking in their own words with their own language," she said.
Hutchison knows that the media element makes the exhibit stronger, and if viewers were to see the native languages written without the attached audio, the sound of the language wouldn't come through because many viewers would have no concept of it.
"It's like hearing beautiful music I've never heard before. In speaking, I can hear the emotion and humanity that comes through," Hutchison said.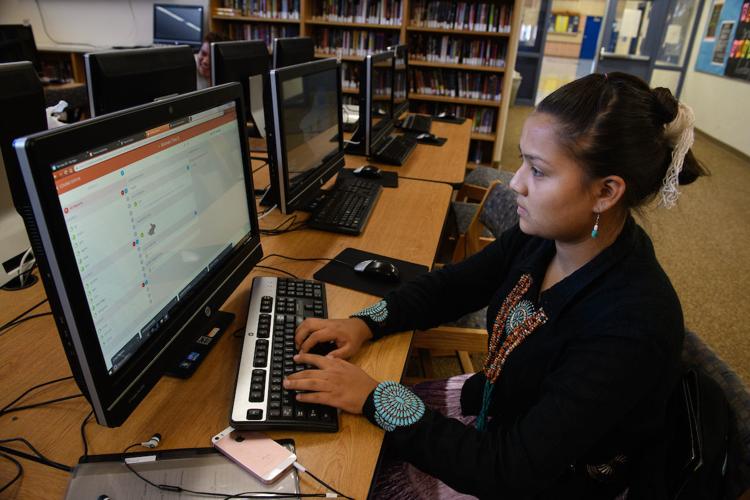 Michaela Kron, Duolingo's PR manager, wrote in an e-mail that the team is "working on a tool to allow native speakers to help record audio for the course." Kron also encourages both beginning and advanced learners to help improve the app by submitting feedback about missing translations or typos.