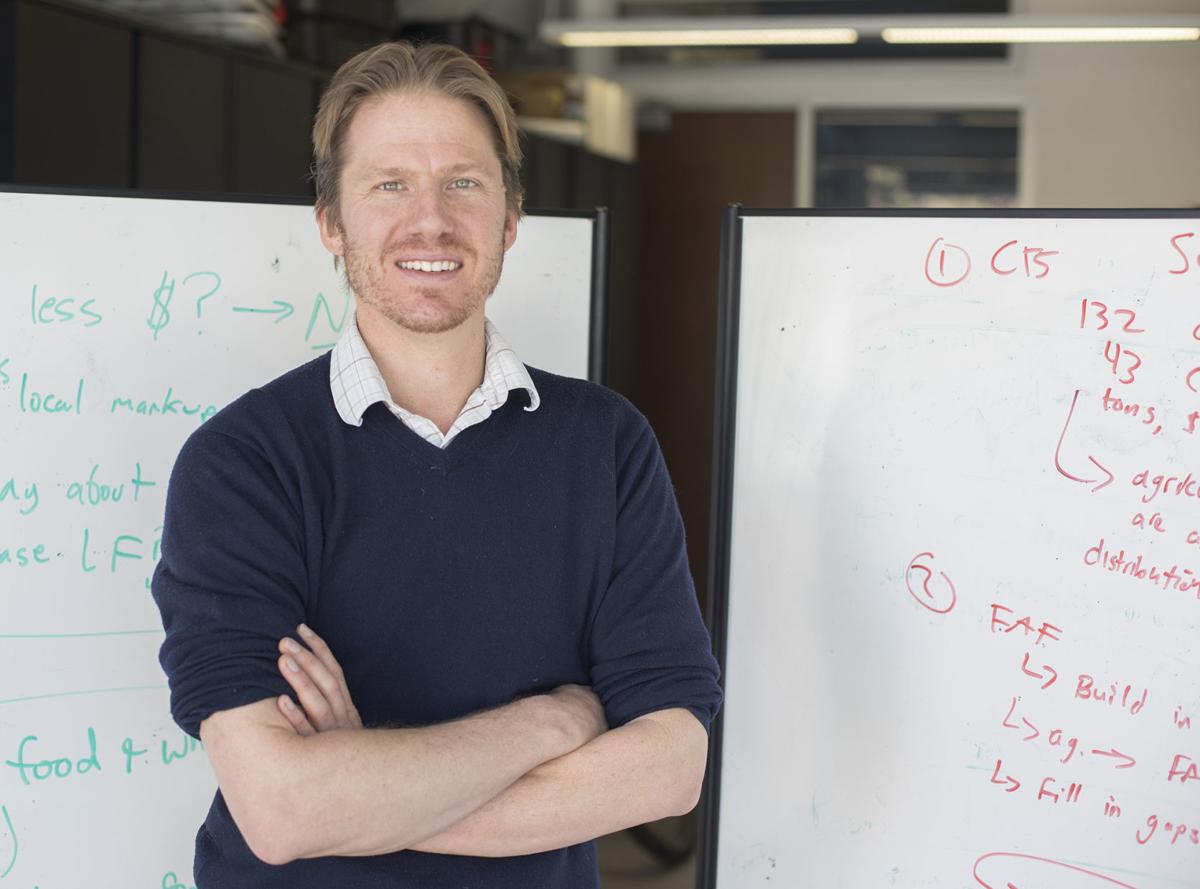 The second of a three-part series on NAU research.
Even nature lovers may sometimes find themselves behind a desk, using advanced technology to better understand study their field. This is the case for Northern Arizona University professor Scott Goetz and assistant professor Christopher Doughty, who use remote sensing and computer modeling combined with ecological data to study ecosystems, especially in the face of climate change.
In 2018, these two researchers collaborated with a team of scientists led by Oswald Schmitz of Yale University and who met at a conference hosted by the Ecological Society of America to discuss the major – but largely unrecognized – role animals play in the carbon cycle.
The resulting discussion, "Animals and the zoogeochemistry of the carbon cycle," published in Science in early December, describes the potential of remote-sensing technology in ecosystem studies, particularly in quantifying the impact of animals on nutrient cycling.
The discussion reveals that the grazing, predation and movement (among other activities) performed by animals of all types have important effects on the ecological nutrient movement and should therefore be included in ecosystem studies.
"Such zoogeochemical effects are not measured by current remote sensing, nor are they included in carbon cycle models. … This currently limits our ability to accurately calculate carbon budgets and predict future climate change," the team wrote.
The discussion also suggests that the integration of animal spatial ecology, ecosystem modeling and remote sensing are needed to improve carbon cycle research. This methodology can also be used to predict how animals will react to changing climates and provide methods to preserve biodiversity.
"We don't really understand how animals impact climate change and that's important to know," Doughty said of the discussion. "We want to be able to predict where they're going to move in the future and put our reserves there. If things warm up, current reserves may be too warm."
NAU ecological research
Goetz and Doughty have been members of NAU's School of Informatics, Computing, and Cyber Systems, for nearly three years, where they blend the natural world with the technological in their ongoing research of ecosystems and climate change, an integration essential to making a difference in climate change.
"The environmental issues of the day require an engineering solution most of the time," explained NAU President Rita Cheng.
Goetz specializes in satellite remote sensing, especially in arctic regions and high altitude forests. He is the science lead of NASA's Arctic Boreal Vulnerability Experiment to monitor ecosystem change throughout Alaska and Canada.
"What we can map and monitor changes through time with satellites. We've had satellite data for decades now, so we can monitor the changes that are taking place," he said.
Advanced sensors measure Earth's surface reflectants in all different parts of the electromagnetic spectrum, not just visible light, Goetz said. This data can be used to measure everything from deforestation and degradation to species' habitat preferences, such as which rainforest species live on different tree levels.
Research assistants of Goetz's lab, Global Earth Observation & Dynamics of Ecosystem (GEODE), and other field ecologists provide the on-site observations and measurements that supplement Goetz's research.
Doughty works with modeling programs based on this satellite data, as well as decades of ecological research on how animals interact and behave, to predict future ecosystem changes.
He said these programs can be run on an average personal computer, but require knowledge of advanced computer languages to navigate through the stores of accumulated ecological information required for such predictions.
"A lot of science is looking on a small scale, but with computer modeling and remote sensing, we can scale up to regional and global scales," Doughty said. "If we're trying to use these global models, they need to be informed by experts throughout the world."
Once these models are confirmed, they can be applied anywhere, including Flagstaff.
Teaching research
Maintaining experienced, researching faculty members is integral to the university's mission.
Cheng said, "Our goal is to create knowledge and pass that knowledge on in the classrooms and the labs to our students."
Both Goetz and Doughty agreed that continued research makes them better resources for their students. Although the two spend most of their time conducting research, they also teach a few small classes.
"We're always interested in working with students as researchers," Doughty said. "We want the students to see the world class science that we do and interact with it."
Doughty recently worked with undergraduate computer science students to develop AniMap, an app that allows users to pick any region on the planet to see current and extinct species and the ecosystem services they provide. The app is currently available for Android devices and is free to download.
This project was one of the school's efforts to get students and faculty of different fields to interact and, consequently, do better science, Doughty said.
Goetz has experienced similar developments in his teaching due to his own research and advancements in the technology he uses. He explained that, thanks to Google, satellite imagery data is becoming more accessible and easier to share with others, including his graduate students.
He said about half of his students' class time focuses on the larger view of Earth observation research, while the other half is hands-on learning with Google Earth Engine. He even brings in other members of his research group to help demonstrate the applications of the remote sensing data.
Doughty explained that many of his colleagues are often looking for students – even undergrads – to assist in lab research of various types and will either offer course credit or payment for these services.
Researching for the future
The research and teachings of faculty like Goetz and Doughty are aimed at preparing humans for the environmental future. Much of that goal depends on informing the public and inspiring students to enter this field.
"Because we are a new department, we want to get out this idea that we are for people that love the outdoors, love the environment, but want to gain these technological skills that are relevant for society in the future," Doughty said.
Goetz added, "There's some hope that we can bring about change and address some of the problems we face in terms of environmental change…The ones who will be most impacted by [climate change] can do the most about it."