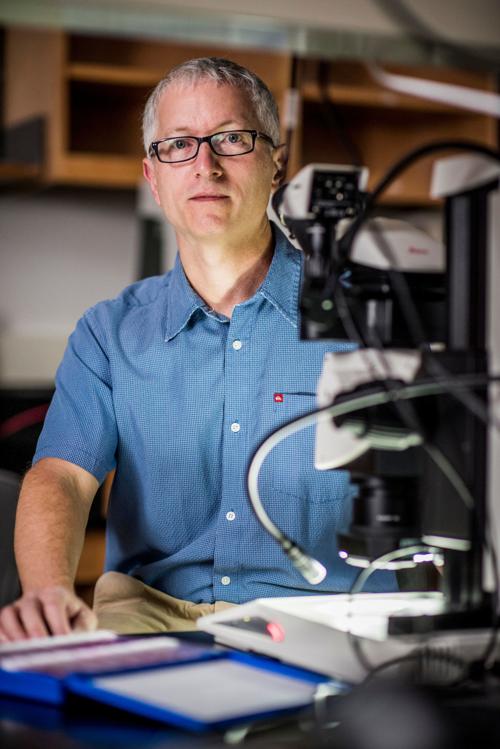 With the modern prevalence of smart devices and online sharing, almost anyone can make a podcast, the growing medium that allows users to listen to everything from news to dramas.
It takes something extra to make it succeed, though, and Northern Arizona University's Frank von Hippel seems to have found the right formula.
Von Hippel, a professor of ecotoxicology, released the first episode of his Science History Podcast in December 2017, combining his passions for science history and podcasts in a way that all science enthusiasts can enjoy. The episodes have reached listeners in 70 different countries and have been downloaded more than 5,000 times.
"Frank is just one of those people with a talent for interviewing because he is a curious guy," said Brian Rackham, director of the NAU Media Innovation Center and executive producer of the Science History Podcast. "Frank is able to bridge that gap and make the podcast accessible but very interesting and very cutting edge."
Each episode features a specific moment in science history by combining historical audio and interviews with scientists who helped make that history. Episodes often tie into current events, especially in politics, to inform listeners and therefore prevent historical mistakes from occurring again.
The podcast also serves as von Hippel's means to improve science literacy.
"We have to make decisions in our personal lives and our political lives every day that rely on knowing something about science," he said. "One of my goals of the podcast is to create citizen scientists, to enable people to be fluent in science at a level that allows them to make informed decisions, personally and politically, around science issues."
The podcasts typically range from half an hour to an hour each, featuring prominent internal scientific experts from all fields. Each month brings a new topic from British explorers to this month's episode, bioterrorism, which will be released Monday.
This upcoming episode is the longest to date, at approximately an hour and a half, and will be the first to feature another NAU professor: Paul Keim, a specialist in infectious diseases who helped find the origin of the anthrax attacks after 9/11.
ANATOMY OF A SUCCESSFUL PODCAST
The key to the podcast's success is a combination of an effective team, presentation, interviewees, sound quality and timeliness.
Von Hippel primarily works with sound editor Cassidy Zimarik, an NAU senior studying creative media and film, as well as Rackham, who advises on possible improvements.
Rackham introduced von Hippel to Zimarik, who has been his student assistant ever since, as well as to the necessary equipment such as high-quality microphones and a multitrack recorder.
"Brian knew how everything should work, Frank is the brain, and I'm just the student in the background who knows how to edit audio clips," Zimarik said. "I think all together, we've learned how to make a pretty incredible podcast."
Von Hippel's work has relied largely on his teaching. With 23 years of experience as a professor, his innumerable moments of presenting and responding to questions have translated to interviewing skills. His work has also allowed him to contact the foremost science experts, even in areas far from his own, and often to interview them in person during work-related travel.
"Scientists like talking to each other, so I'm able to schedule interviews with people," he said. "Because I'm a scientist, I can also ask questions at more sophisticated levels, the kind of questions that interest the scientist."
Though the podcasts can drift into scientific jargon at times, von Hippel says he does his best to define terms when possible. He says most of the material can be understand by anyone, so he encourages listeners to endure the brief sections they may not understand, before the conversation returns to the familiar. He often asks scientists about their personal lives for that reason.
For example, the most recent episode featured Nobel Laureate Peter Agre and revealed that this recipient of the 2003 prize in chemistry for the discovery of aquaporins – proteins that act as water channels in cell membranes – once moonlighted as a boxing ringside physician.
Once the interviews are completed, the next step is to edit them. Rackham said high technical standards are the biggest challenge and depend on good editing.
After working with von Hippel for more than a year, Zimarik said she now recognizes the waveforms of his audio clips, as well as many of his vocal mannerisms.
"I have been a professional radio personality since I was 16 years old, so I learned how to edit when I was 15. I can see where breaths are taken, I can see where fumbles happen without listening to the recording. It's like second nature to me," she said.
Zimarik's role includes removing repetitive words, coughs and background noise as well as matching volumes of different speakers and historical clips to make the podcast easier on the ears. The use of a multitrack recorder allows her to mute one person's audio while another is speaking and adds a level of professionalism to the final product, she said.
Together, von Hippel and Zimarik spend about 20 hours preparing a one-hour podcast.
All three team members agree that the quality of the podcast has increased significantly over the last year, and will continue to do so as they embark upon new topics. Von Hippel already has a list of 100 ideas he hopes to share with listeners, especially with relation to modern perceptions of science.
"I think it's particularly important in the last couple of years, when science has been under such attack by the Trump administration, that people understand what's under attack and what to do about it," he said. "In this country, science has been heavily politicized and we see that particularly around issues like climate change and they really shouldn't be politicized. They should be issues that everybody wants to solve because they affect all of us."