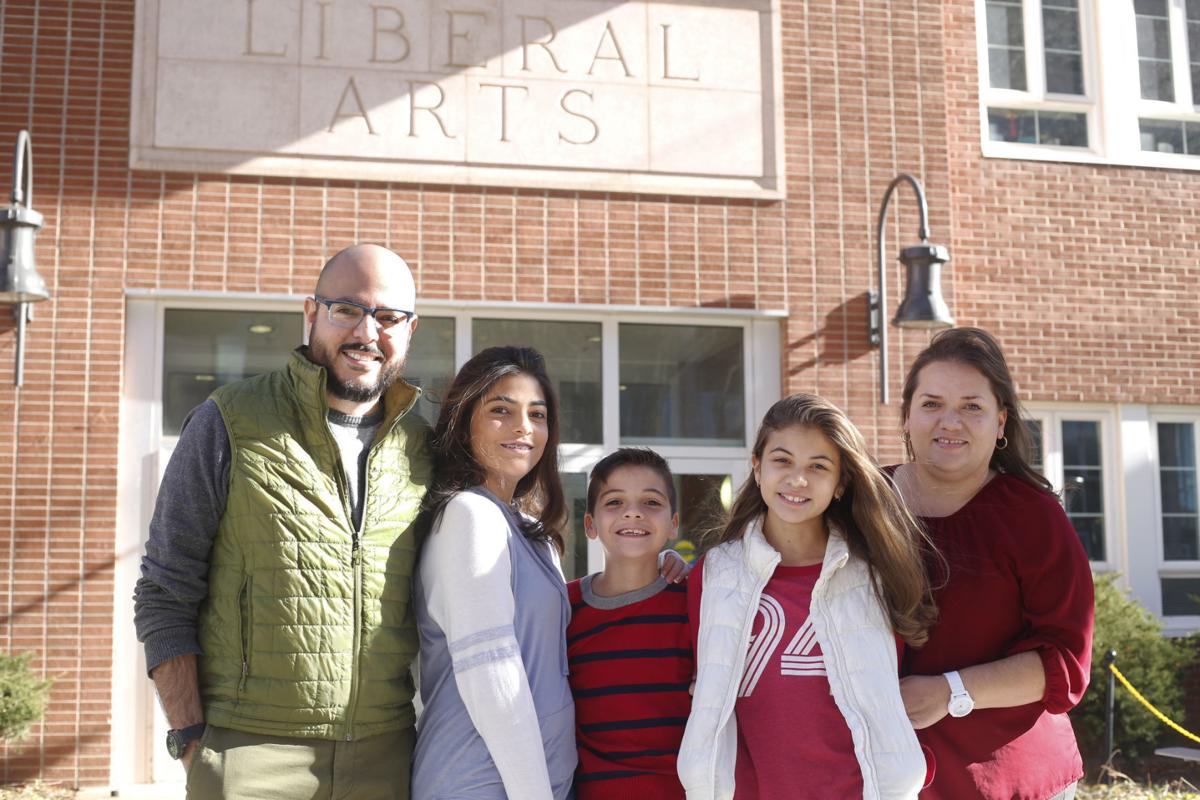 Jersus Colmenares sits in his office eating rice, beans and pork off of a paper plate, a lunch he purchased at the University Union on campus but one that would cost a small fortune in his home country.
Colmenares, who is graduating from Northern Arizona University's doctoral program on Friday with a Ph.D in curriculum and instruction, is from Venezuela, a country falling ever further into economic and political chaos. It's a place Colmenares and his family haven't seen in seven years.
Inflation in Venezuela now means a simple meal may cost thousands of dollars and as Venezuelan president Nicolás Maduro becomes more authoritarian, protests are as common as the violence police use to disperse them.
The situation can bring up mixed feelings, Colmenares said, as a student, a father and husband.
MISSING EXTENDED FAMILY
Both he and his wife's parents remain in Venezuela and it can be hard to raise their kids without them, especially when in Venezuelan culture even extended families tend to stick together.
"My kids don't have my parent's hugs or my mother's soup," Colmenares said.
Modern technologies like video chat can help bridge the distance, but they are not a sufficient replacement.
Knowing his family is so far away, and with the constant stream of news from the country, it can be difficult to be teaching classes or working on his dissertation, all the while knowing the struggles his friends, family and countrymen face back home.
"It is hard to wake up many mornings to the news that the streets have been taken by people protesting in Venezuela and then the people killing them," Colmenares said. "I think about my family, and I think about everyone else, honestly."
On top of working toward his graduation, Colmenares also teaches Spanish at NAU to support his family. When he can, he tries to send some home to his parents.
And now, with his homeland in chaos, more than most students Colmenares and his family have made Flagstaff and NAU in particular their home.
THE ROAD TO FLAGSTAFF
You have free articles remaining.
Colmenares first came to NAU in 2006 when he got his master's degree, and he and his family lived on campus in the university's south campus family-housing units.
"I always joke and say my kids have already been to college," Colmenares said, adding they are even more prepared because they also love Top Ramen.
His kids, Sarah, Juan Marcos and Isabella, have put in the hours, too.
Under his desk is a rolled-up sleeping mat that his three kids have used to use to take naps during the long hours when he would be writing his dissertation. They would often sit with him, doing their homework they have from Pine Forest Charter School.   
In 2008, he finished his master's and was accepted into the doctoral program at NAU. But having received his master's, the Venezuelan government cut him off, not giving its consent to continue his Fulbright Program at NAU.
According to the Venezuelan government, Colmenares said, "my country doesn't need people with education because well-educated people are dangerous. So I had to go back; I had no choice."
FINDING HIS WAY BACK
Back in Venezuela, life was completely different. For much of the time, the family lived out of their car until one of Colmenares' former NAU professors convinced him to reapply to the program and return.
He was accepted into the program again and in 2011, he and his family were once again home at NAU.
The fact that Flagstaff had become their home became truly clear during the summer of 2017 when he was invited to study in Lancaster, England, for a week.
Colmenares boarded a plane and flew to Lancaster for the week, only to find that an immigration snafu meant he could not return. With his family still in Flagstaff and his wife, Johanka, without the proper papers to work, being able to support the family had again become an issue.
It was only through the help of the friends they had made in Flagstaff, his colleagues at the university and his church that they were able to make it through that time, Colmenares said.
In all, Colmenares said he was stuck in the United Kingdom for two and a half months. All the while, his wife was able to work for friends to support the family. He was finally able to return, only about 10 days before the start of the semester.
"NAU has been a tremendous help, everything from food to pencils and paper, NAU has been very generous to me," Colmenares said.
And now that he is graduating, Colmenares said he wants to stay to work at the university as long as they will have him.
Adrian Skabelund can be reached at the office at askabelund@azdailysun.com, by phone at (928) 556-2261 or on Twitter @AdrianSkabelund.