LANSING, Mich. (AP) — Michigan Gov. Gretchen Whitmer said Friday that movie theaters and other venues can reopen in two weeks after nearly sev…
JEFFERSON CITY, Mo.. (AP) — An ad criticizing Democratic candidate for Missouri governor Nicole Galloway that aired on nine television station…
When Kamala Harris was picked as Joe Biden's running mate, the nomination was welcomed by many in Silicon Valley. However, big tech companies …
ATLANTA, Ga. (AP) — With fewer than 40 days left before the election, President Donald Trump unveiled his second policy plan in as many days a…
WASHINGTON (AP) — President Donald Trump is expected to announce Saturday that he is nominating Judge Amy Coney Barrett to the Supreme Court a…
BILLINGS, Mont. (AP) — A federal judge ruled Friday that President Donald Trump's leading steward of public lands has been serving unlawfully,…
RICHMOND, Va. (AP) — Virginia lawmakers unveiled budget proposals Friday aimed at mitigating the effects of the coronavirus with funding for m…
AUSTIN, Texas (AP) — A federal judge Friday blocked Texas from eliminating straight-ticket voting, a decision that would allow for choosing on…
MINNEAPOLIS (AP) — President Donald Trump will campaign in Duluth on Wednesday, his campaign announced Friday, marking his third visit to the …
GREENSBORO, N.C. (AP) — A North Carolina law making it a serious crime for convicted felons to vote before their right is restored, even when …
ISLAMABAD, Pakistan (AP) — Pakistani Prime Minister Imran Khan on Friday assailed India's Hindu nationalist government and its moves to cement…
NEW YORK (AP) — New York's attorney general on Friday recommended the New York Police Department get out of the business of routine traffic en…
PHOENIX (AP) — A judge has refused to give officials an extra 10 days after election day to count mail-in ballots for Navajo Nation members wh…
HARRISBURG, Pa. (AP) — A day before a rally in Pennsylvania, Gov. Tom Wolf on Friday accused President Donald Trump of blatantly disregarding …
SALEM, Ore. (AP) — Oregon Gov. Kate Brown declared a state of emergency Friday as she announced that state troopers and sheriff's deputies wou…
BISMARCK, N.D. (AP) — Dr. Paul Mariani resigned as North Dakota's top state health officer on Friday, one day after Gov. Doug Burgum reversed …
HARRISBURG, Pa. (AP) — The news release from a U.S. attorney in Pennsylvania was provocative: Nine mailed-in military ballots had been "discar…
WASHINGTON (AP) — Guest lineups for the Sunday news shows:
PARIS (AP) — A young man stabbed two people Friday outside the former Paris offices of satirical newspaper Charlie Hebdo, where 12 people were…
MINNEAPOLIS (AP) — A Minnesota congresswoman whose race has been roiled by the death of a third-party candidate urged supporters Friday to vot…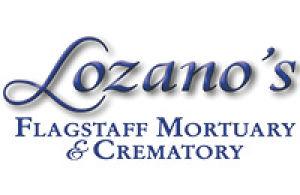 Lozano's Flagstaff Mortuary & Crematory
TOKYO (AP) — Japan's new prime minister said Saturday that he's determined to host the Tokyo Olympic Games next summer as "proof that humanity…
MILWAUKEE (AP) — A Democratic Wisconsin congressman on Friday accused his Republican opponent of sexual harassment over a 2015 memoir in which…
ATLANTA (AP) — Housing and Urban Development Secretary Ben Carson inadvertently made public his anger with the White House hiring office when …
MADISON, Wis. (AP) — An attorney representing Republican legislators warned Madison officials Friday to scrap plans to collect absentee ballot…
SACRAMENTO, Calif. (AP) — California on Friday created what supporters call its own nation-leading, state-level version of the federal Consume…
SACRAMENTO, Calif. (AP) — California next year will close a prison holding about 1,500 male inmates, Gov. Gavin Newsom's administration said F…
BILLINGS, Mont. (AP) — Judge removes Trump's public lands steward, says former industry attorney was in post unlawfully.