Fugitive says he'll surrender if people like wanted poster, and more of this week's weirdest news
A look at the stranger side of news from the past week.
Fugitive says he'll surrender if people like wanted poster
HARTFORD, Conn. (AP) — A Connecticut police department has reached a deal with a fugitive that would have him surrender if enough people respond to a wanted poster on social media, an agreement that at least one expert calls unethical.
Jose Simms, 29, who is believed to be somewhere in New York, has seven arrest warrants and is being sought as a fugitive after failing to appear in court on charges that range from breach of peace to risk of injury to a child.
Torrington police Lt. Brett Johnson posted on the department's Facebook page Wednesday that Sims had contacted him through the social media site and agreed to turn himself in if the post containing his poster gets 15,000 likes.
Johnson said he negotiated Simms down from 20,000 likes.
"It will be difficult but is doable," Johnson wrote.
He also suggested that if anyone knows where Simms is hiding they could let police know and save the department some suspense.
But Maki Haberfeld, an expert in police ethics and procedure at the John Jay College of Criminal Justice, said Simms is using social media to manipulate both the news media and police, who she said have no business negotiating a deal with a suspect, never mind one that involves likes on Facebook.
"It turns this into a joke," she said. "People will start looking at these various violations of law as a game."
Simms, contacted by The Associated Press through Facebook, said he is serious about the offer.
"I wanted to give them a little incentive for all the hard work they put in to catch me," he wrote.
Simms said the charges stemmed from domestic problems and he is tired of running from authorities.
"Looking over your shoulder every 5 seconds can cause a lot of stress," he wrote.
Torrington police did not immediately respond to a request for further comment.
Simms said he is prepared to live up to his end of the agreement, insisting he is a "man of my word."
Haberfield said Sims is clearly getting a lot of attention, and that is exactly what he wants.
"This is 100% manipulation," she said. "And for police, it's not an ethical thing to do."
Someone breaks into home, takes nothing, gives it good scrub
MARLBOROUGH, Mass. (AP) — Whoever broke into a Massachusetts man's home last week didn't take a thing. They did, however, leave the house spotless.
Nate Roman tells The Boston Globe that when he returned to his Marlborough home from work May 15, he could tell a stranger had been there.
Nothing was missing, but the 44-year-old Roman noticed the beds were made, the rugs vacuumed and the toilets scrubbed. They even crafted origami roses on the toilet paper rolls.
He called the experience "weird and creepy" and contacted police.
Sgt. Daniel Campbell says that the department hasn't heard of similar episodes and that there are no suspects.
Roman says he may have left his back door unlocked. He thinks perhaps a housekeeping service went to his home by mistake.
Teen finds prehistoric mastodon jaw in southern Iowa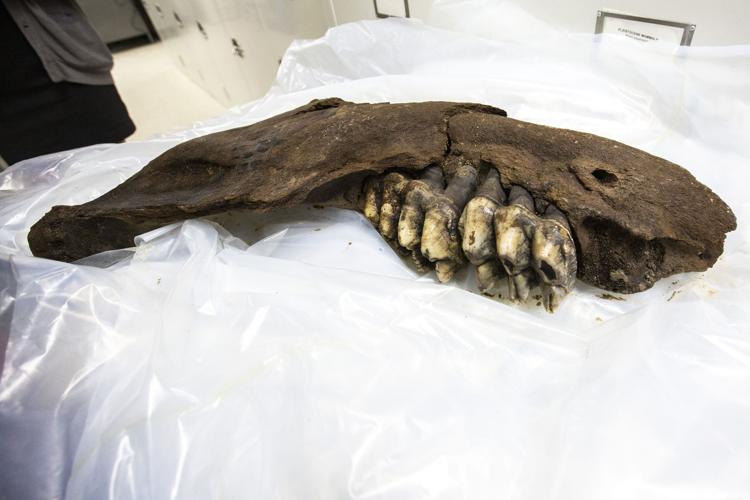 IOWA CITY, Iowa (AP) — A teen searching for arrowheads in southern Iowa found something much bigger: the prehistoric jawbone of a mastodon.
The Iowa City Press-Citizen reports that the 30-inch bone belonged to a juvenile mastodon, an elephant-like animal believed to have roamed Iowa some 34,000 years ago.
Officials with the University of Iowa Paleontology Repository, which now has possession of the bone found last week, say the mastodon might have stood around 7-feet tall.
The farmers who donated the jaw and related bones to the repository did so anonymously, saying they didn't want to encourage people to trespass on their property looking for fossils.
There likely are more fossils on the land, as the owners found other mastodon remains there decades ago.
Thief must pay $28K to fix stolen 'Dukes of Hazzard' Sno-Cat
EAGLE, Colo. (AP) — A Colorado man has been ordered to pay more than $28,000 to cover damages after he pleaded guilty to stealing a Sno-Cat painted to look like the "General Lee" car featured in the TV series "The Dukes of Hazzard."
The Vail Daily reports the owners of the Sno-Cat said Jason Cuervo damaged the tracks, axles and electrical system after stealing it last year.
Authorities say Cuervo hitched a trailer holding the Sno-Cat to his pickup truck in Minturn and hauled it along Interstate 70 to Grand Junction.
He was arrested a few weeks later at an auto shop.
Cuervo blamed the crime on his opioid addiction and is serving three years in a community corrections program after pleading guilty to aggravated motor vehicle theft.
Sea dragons captivate at California aquarium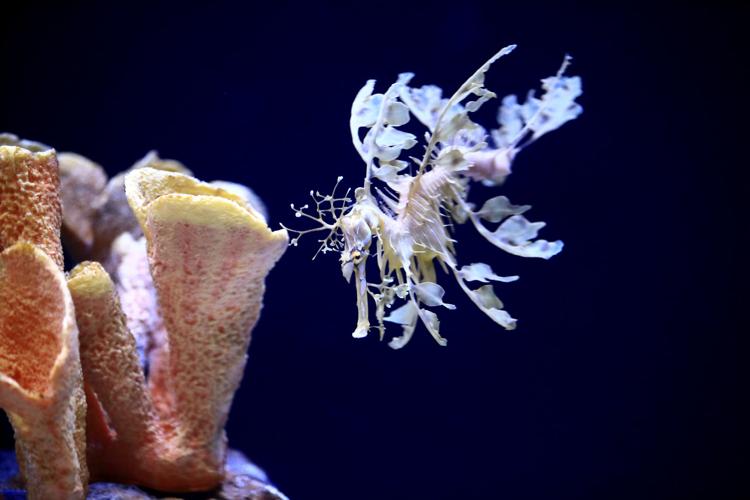 LA JOLLA, California (AP) — At first glance, it looks like a branch of kelp, but then an eye moves among its leafy appendages, and ridges of tiny, translucent fins start to flutter, sending the creature gliding through the water like something from a fairy tale.
A Southern California aquarium has built what is believed to be one of the world's largest habitats for the surreal sea dragons, whose native populations off Australia are threatened by pollution, warming oceans and the illegal pet and alternative medicine trades.
The Birch Aquarium at the Scripps Institution of Oceanography at the University of California San Diego hopes the exhibit, which opened this month, will lead to the leafy sea dragon, the lesser-known cousin of the seahorse, being bred for the first time in captivity.
"It literally just looked like a piece of kelp," said Steven Kowal, 25, who was visiting San Diego from Greensboro, North Carolina, and took time to see the exhibit. "It was crazy to me that it was, like, actually living and swimming around, so that's cool. I've never seen anything like that."
That's a common reaction.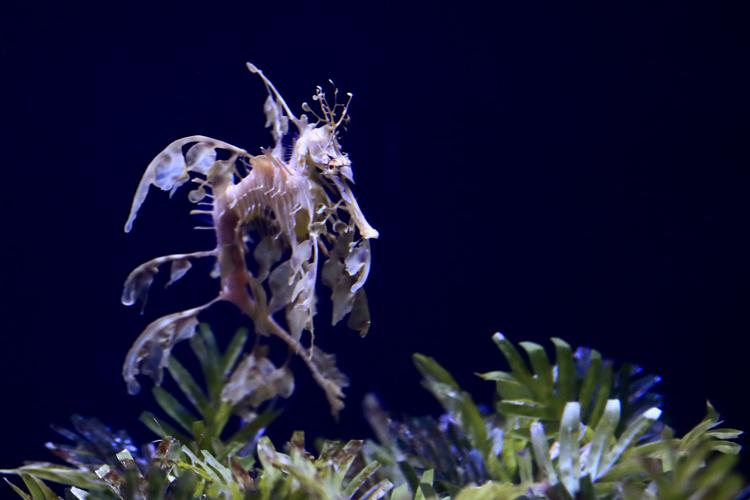 "They look like something out of this world," said Leslee Matsushige, the aquarium's associate curator, who noted the sea dragons' amazing ability to camouflage themselves. "When people see them move, you hear them say, 'What? That's alive? Wow! That's crazy.'"
Scientists like Matsushige hope the creatures' magnetic power will prompt people to read signs next to the tanks that outline ways to protect them and what can be done to make oceans healthier, such as picking up trash and stopping pollutants from going down the drain.
Few aquariums have sea dragons. There are only two types of sea dragons, the leafy and the weedy, each representing its own genus. Both are found only in a small area of temperate waters off the southern and western coasts of Australia.
Little is known about them because their populations are so small and in remote areas.
So far, only the weedy sea dragon, a bony fish that resembles seaweed when floating, has been bred in captivity, and only a handful of times.
The Aquarium of the Pacific in Long Beach was the first in the world to breed the weedy sea dragons in 2001. It also is trying to breed leafy sea dragons.
The Birch Aquarium's 18-foot-long (5.5-meter-long) tank has three leafy sea dragons — two males and one female — and 11 weedy sea dragons. The 5,300-gallon (20,062-liter) tank is a vast space, especially for the smaller leafy sea dragon, which grows to only about 14 inches (36 centimeters) in length. The tank has grassy plants, a sandy bottom and rocks.
Scientists hope the large space will foster breeding. Sea dragons mirror each other in a courtship dance, spiraling upward before the female deposits her eggs onto a patch on the underside of the male's tail. Like seahorses, the male carries the young and gives birth.
"We're already seeing great courtship behaviors, and so we're hopeful we can get some egg transfers really soon," said Jenn Nero Moffatt, director of animal care at the Birch Aquarium.
The exhibit is the latest effort by the aquarium that is a world leader in seahorse propagation.
Sea dragons swim by spinning translucent fins while their tails act as rudders. They have no natural predators, in part because their slender bodies are covered by bony plates.
If both types of sea dragons can be bred, scientists believe that could reduce the number being taken illegally from the wild.
—By JULIE WATSON, Associated Press
Chimpanzees spotted cracking open tortoises for meat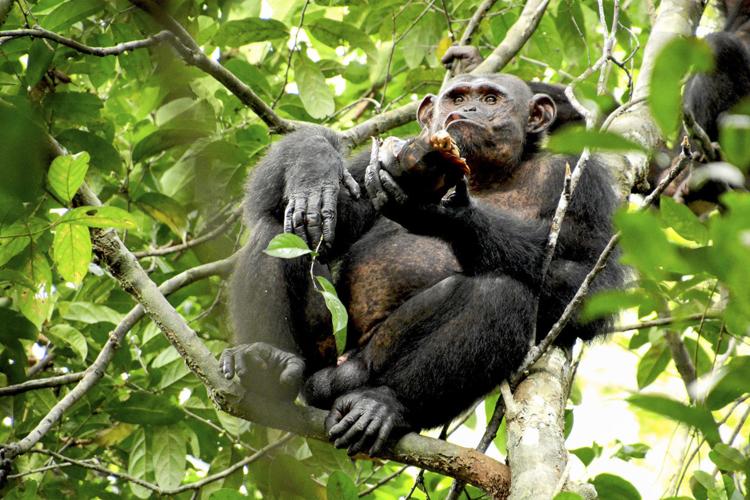 BERLIN (AP) — Scientists have observed wild chimpanzees tucking into an unusual snack: tortoises, whose hard shells they crack against tree trunks before scooping out the meat.
In a paper published Thursday by the journal Scientific Reports, researchers from Germany say the behavior they spotted dozens of times in a group of chimpanzees at Loango National Park in Gabon bolsters the notion that humankind's distant cousins develop their own distinct cultures.
Tobias Deschner, one of the authors of the paper, said that while chimpanzees and tortoises coexist elsewhere — and other primates such as baboons and mandrills are known to feed on young, soft tortoises — scientists have never before spotted any that crack open and eat the reptiles.
One explanation could be that the Loango park region also has abundant hard-shelled fruit, like that from the strychnos tree, that also needs to be whacked against trees to open, prompting some enterprising chimpanzees to try the same on passing tortoises, he said.
"They see this is a hard-shelled object with some interesting thing inside and I need to crack it open," said Deschner, a primate researcher at the Max Planck Institute for Evolutionary Anthropology in Leipzig. "If I can do that with the fruit and have the same problem with a hard-shelled animal with something inside that I want to get access to, then I can say 'OK, why not do it in exactly the same way?'"
Some scientists dispute the idea that chimpanzees are capable of this kind of mental leap, much less of passing the trick on to others in such a way that it becomes an established 'cultural practice' among the whole population.
But Deschner and colleagues from the University of Osnabrueck said their observations in Loango suggest that's what happened.
"They all use exactly the same way of doing it," he said. "This suggests to me that they really look at how others are doing it and then copy the movements."
Other researchers agreed. "This fits into previous observations that are interpreted as traditional behavior, which some have broadly described as culture," said Dietmar Zinner, a zoologist at the German Primate Center in Goettingen who wasn't involved in the study.
The authors also noted that weaker chimpanzees often pass their tortoises to stronger adults who are able to break them open and then share the meal among the whole group.
In one case, a male was even spotted eating half a tortoise, then tucking the shell it into a tree fork and coming back the next day to finish the leftovers, suggesting chimpanzees are capable of planning ahead, the authors said.
Deschner said such acquired practices may be lost if particularly groups of chimpanzees are wiped out, even if the area they inhabited is repopulated again later.
"We see chimpanzees disappearing all over Africa due to habitat destruction and poaching," he said. "What disappears there is not only sheer numbers but with each population that goes there is a unique culture that is lost."
6-week-old kitten rescued from Cupertino storm drain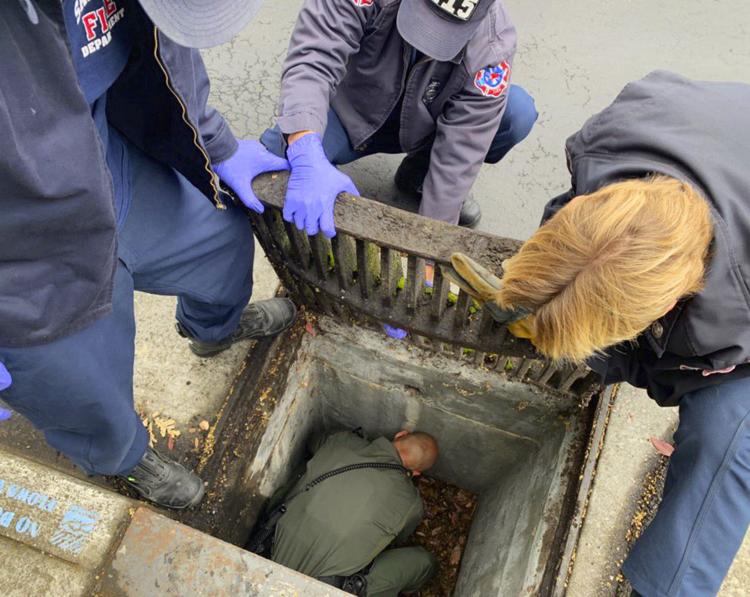 CUPERTINO, Calif. (AP) — Authorities in the San Francisco Bay Area have rescued a 6-week-old kitten from a storm drain.
A woman walking in Cupertino heard meowing and looked down to see the tiny ball of fur at the bottom of the drain Tuesday morning.
The Santa Clara County Sheriff's Office says members of the San Jose Fire Department lifted the heavy metal grating on the drain and a deputy jumped down to rescue the orange and white calico.
The tiny kitten was examined and fed and will be held at an animal shelter for possible adoption.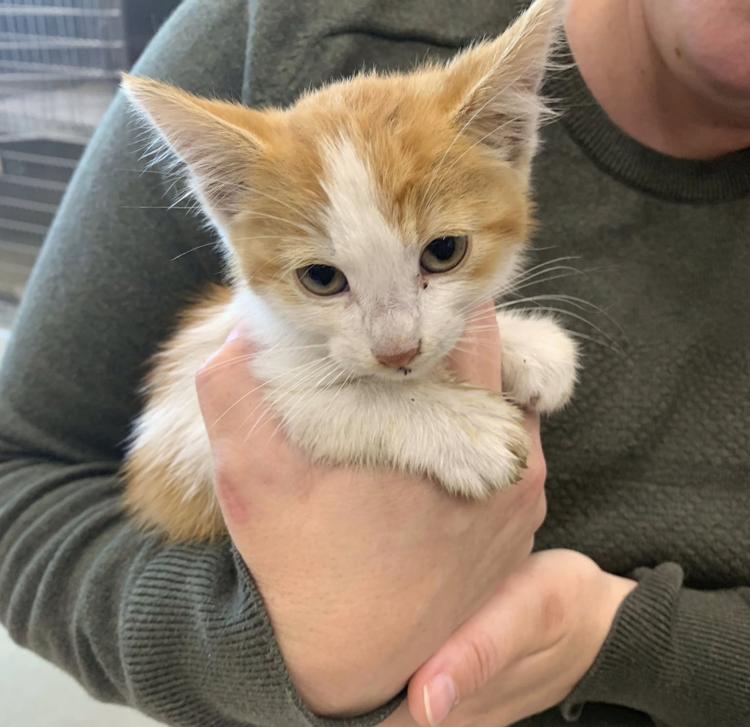 Israeli scientists brew beer with revived ancient yeasts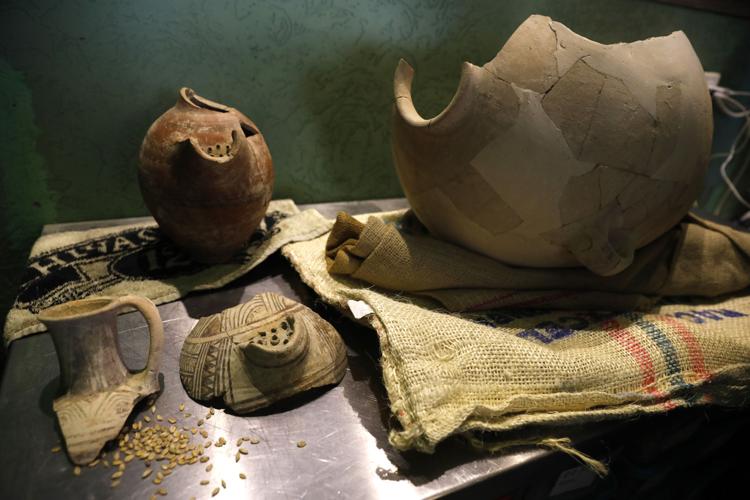 JERUSALEM (AP) — Israeli researchers raised a glass Wednesday to celebrate a long-brewing project of making beer and mead using yeasts extracted from ancient clay vessels —some over 5,000 years old.
Archaeologists and microbiologists from the Israel Antiquities Authority and four Israeli universities teamed up to study yeast colonies found in microscopic pores in pottery fragments. The shards were found at Egyptian, Philistine and Judean archaeological sites in Israel spanning from 3,000 BC to the 4th century BC.
The scientists are touting the brews made from "resurrected" yeasts as an important step in experimental archaeology, a field that seeks to reconstruct the past in order to better understand the flavor of the ancient world.
"What we discovered was that yeast can actually survive for a very, very long time without food," said Hebrew University microbiologist Michael Klutstein. "Today we are able to salvage all these living organisms that live inside the nanopores and to revive them and study their properties."
Beer was a staple of the daily diet for the people of ancient Egypt and Mesopotamia. Early Egyptian texts refer to a variety of different brews, including "iron beer," ''friend's beer," and "beer of the protector."
The yeast samples came from nearly two dozen ceramic vessels found in excavations around the country, including a salvage dig in central Tel Aviv, a Persian-era palace in southern Jerusalem and 'En Besor, a 5,000-year-old Egyptian brewery near Israel's border with the Gaza Strip. The project was spearheaded by Hebrew University microbiologist Ronen Hazan and antiquities authority archaeologist Yitzhak Paz.
Other researchers of ancient beers, such as University of Pennsylvania archaeologist Patrick McGovern, have concocted drinks based on ancient recipes and residue analysis of ceramics. But the Israeli scientists say this is the first time fermented drinks have been made from revived ancient yeasts.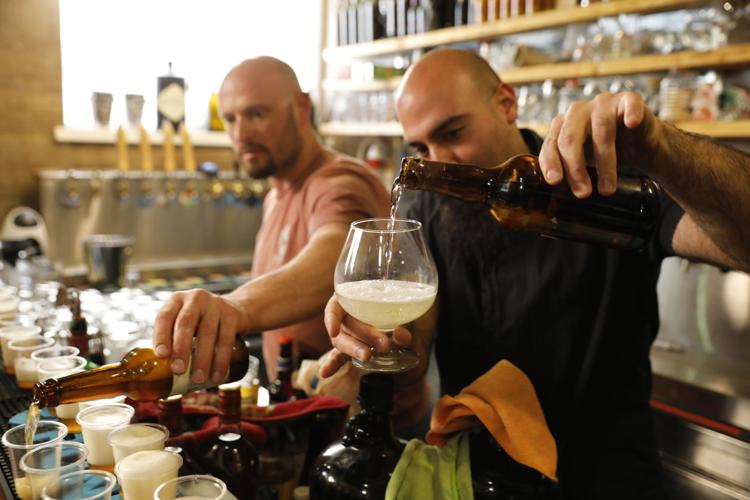 Aren Maeir, a Bar Ilan University archaeologist, excavates at Tel es-Safi, the biblical city of Gath, where ancient Philistine beer pots yielded yeasts used to brew a beer offered to journalists. He likened the revival of long-dormant yeast to the resurrection of ancient beasts fictionalized in "Jurassic Park," but only to a point.
"In Jurassic Park, the dinosaurs eat the scientists," he said. "Here, the scientists drink the dinosaurs."
"It opens up a whole new field of the possibility that perhaps other microorganisms survived as well, and you can identify foods such as cheese, wine, pickles," opening a portal into tasting cultures of the past, he said.
For this initial experiment, the team paired up with a Jerusalem craft brewer to make a basic modern-style ale using yeast extracted from the pots. The ale had a thick white head, with a caramel color and a distinctly funky nose. The mead, made using yeast extracted from a vessel found in the ruins of a palace near Jerusalem that contained honey wine roughly 2,400 years ago, was champagne bubbly and dry, with a hint of green apple.
The beer incorporates modern ingredients, like hops, that were not available in the ancient Middle East — but it's the revived yeast that provides much of the flavor.
"We tried to recreate some of the old flavors that people in this area were consuming hundreds and thousands of years ago," said Shmuel Naky, a craft brewer from the Jerusalem Beer Center, who helped produce the beer and mead. Yeasts, he said, "have a very crucial impact on flavor."
Naky described the beer as "spicy, and somewhat fruity, and it's very complex in flavor," all attributes produced by the ancient yeast.
Genome sequencing of the yeast colonies extracted from the pots showed that the ancient strain of yeast was different from the yeast used in beer-making today, but similar to those still used to make traditional Zimbabwean beer and Ethiopian tej, a type of honey wine.
The researchers said their next aim is to pair the resurrected yeasts with ancient beer recipes to better reproduce drinks from antiquity.
Construction workers find dinosaur fossils in Denver suburb
HIGHLANDS RANCH, Colo. (AP) — Construction workers have unearthed fossils in a Denver suburb that experts say could be from a rare horned dinosaur.
The Denver Museum of Nature and Science said Monday that it is exploring the construction site near a retirement community in Highlands Ranch where a dinosaur's lower leg bone and several ribs were found.
Fossil expert Natalie Toth told KDVR-TV the fossils could be from a torosaurus — a dinosaur similar to the triceratops but differentiated by three bones.
Toth says the fossils seem to be intact, so crews are hoping to uncover the entire dinosaur.
The fossils are embedded in a 66- to 68-million-year-old rock layer.
Toth says fossils in the Denver formation are from dinosaurs that were among the last "walking around before the big extinction."