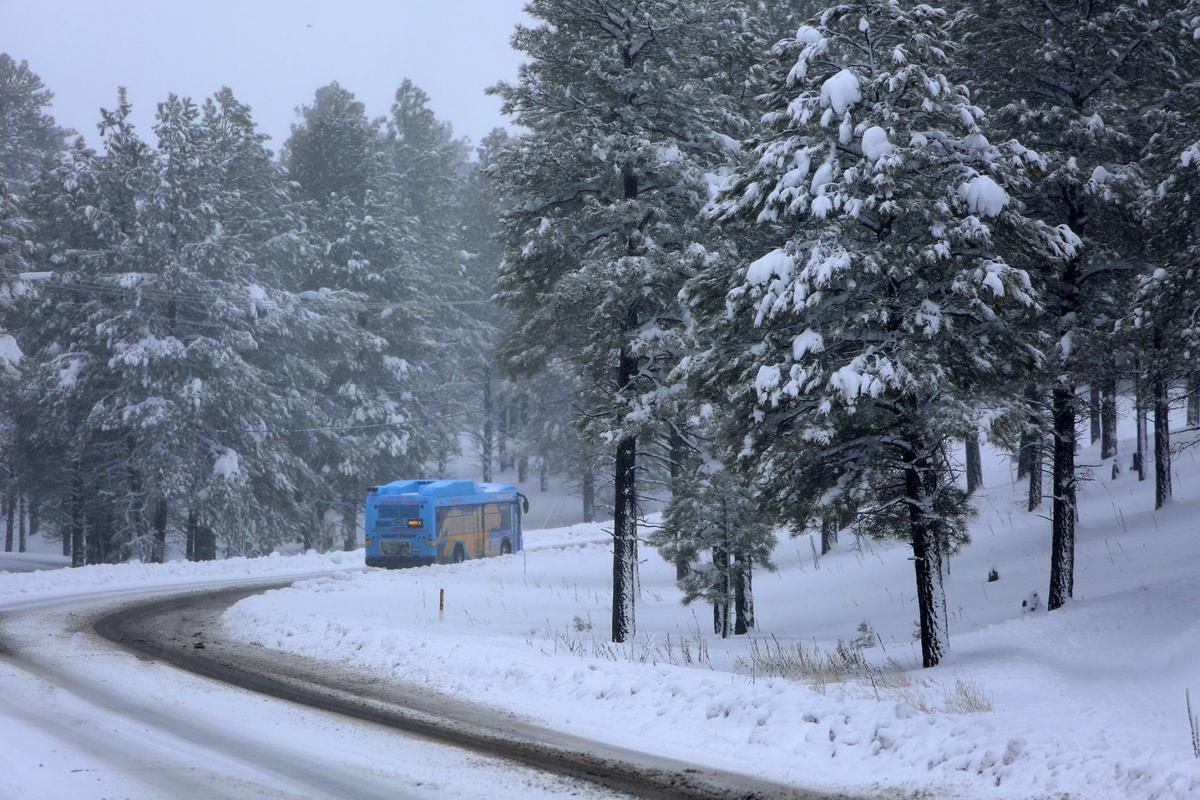 Christmas is coming early for the Mountain Line public transit system, which secured the largest single grant they have ever received from the Federal Transportation Authority, said the organization's president, Erika Mazza.
The $17.3 million grant will help fund two projects, the construction of a new downtown connection center and begin the transition to an all-electric bus fleet, Mazza said.
"We're really excited about this project moving forward. We're really excited for this stage were in," Mazza said.
In a statement, Flagstaff City Councilmember and chair of the Mountain Line board Jamie Whelan agreed and said the effects of the grant will be far reaching.
"A grant award of this magnitude will impact not only Mountain Line, but this entire community for many years to come," Whelan said.
Of the grant money Mountain Line received, $15.6 million is devoted to construction of the downtown connection center, Mazza said.
That leaves $1.6 million for the purchase of at least two electric vehicles that will replace two buses nearing the end of their service lives within the next few years.
Still, Mazza said the agency has a lot to do before they are ready to operate those electric vehicles on their routes, let alone transition the entire fleet to electric.
Mountain Line is studying what steps the agency will need to take before transitioning to the all-electric fleet. That includes figuring out the basics, like what new infrastructure they will need to accommodate and charge such vehicles, how often they will need to charge them and at what time of the day, Mazza said.
Mazza added that they want to make sure they will be spending less money to run the electric buses than they already spend on fuel.
In that time, they are also looking at how similar vehicles are performing in other towns and cities across the inter-mountain West that, like Flagstaff, see harsher conditions.
Because of that, the $1.6 million will stay unspent until the agency orders the vehicles.
Likewise, it is still early for the downtown connection center project. The work of planning and designing the building is being paid for with an earlier $6.7 million grant from the Arizona Department of Transportation.
So the $15.6 million Mountain Line now has can be saved to pay for the future construction of a facility, Mazza said, likely at the same location of the current downtown connection center on Phoenix Avenue between Beaver Street and Milton Road.
Since the current facility was built in 2008, ridership has increased 150 percent and the number of buses accessing the facility daily has increased by 125 percent, according to Mountain Line.
On that project, "there's still a public process that needs to happen and there's still an analysis needed of what is best suited for this particular site," Mazza said. "What kind of partnerships, if any other than between the city and us, can be realized."
She said to that end, Mountain Line is involved in the downtown master plan being developed by the Downtown Business Alliance and the city.
In May, Mountain Line Development Director Kate Morley said they would like a new facility to accommodate at least 15 buses and include offices and customer amenities such as kiosks, bathrooms, and a lost and found.
"I think everyone realizes the importance of having a facility like this," Mazza said. "But then also what it could potentially provide for regional connectivity if we are able to co-locate Greyhound, Amtrak, FlixBus, Uber, Lyft. I can really see this being a transportation hub for many systems, not just ours."
Both Mazza and Whelan thanked leaders on the federal and state level who wrote the Federal Transportation Authority in support of the projects, including Rep. Tom O'Halleran, Senators Kyrsten Sinema and Martha McSally, and Governor Doug Ducey.
Updated for correction at 11:36 a.m. on November 26.
Adrian Skabelund can be reached at the office at askabelund@azdailysun.com, by phone at (928) 556-2261 or on Twitter @AdrianSkabelund.