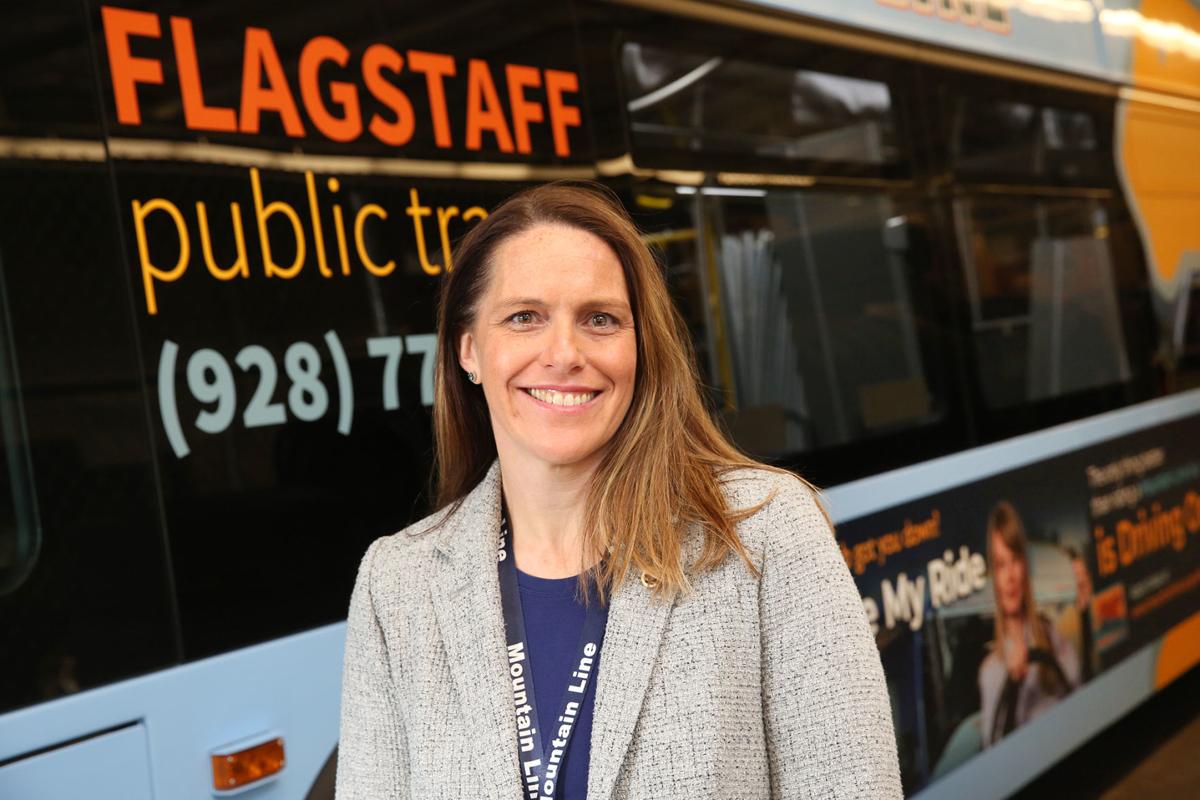 The Mountain Line is implementing a number of route changes on multiple bus routes across Flagstaff this month with the hope of improving efficacy and providing service.
In addition to the service changes, Mountain Line is also in the planning process for an additional Bus Rapid Transit route connecting Woodlands Village to the Flagstaff Medical Center.
As the potential route is still in the planning stages, it's not known exactly what it could mean, but CEO of the Northern Arizona Intergovernmental Public Transportation Authority Erika Mazza said the route could bring innovations like bus only lanes.
It's also possible the additional rapid transit route could push NAIPTA to implement the ability to pay for a bus ride via phone across the Mountain Line system as a whole, Mazza said.
The route could also include other changes like having first priority at intersections where, in some circumstances, the light might turn green for the bus before it would for the vehicles around it, Mazza said. On top of that, Mazza said it the route comes to fruition, it would also be important to have it tied in to existing bicycle and pedestrian paths.
This would be the second rapid transit line on the Mountain Line system with the first line, route 10, connecting Woodlands Village to the Downtown Connection Center through Northern Arizona University, Mazza said.
Officials with Mountain Line are holding an open house focused on receiving feedback about the new rapid transit route. The meeting is being held on August 6 at the Murdoch Community Center. Mountain Line officials ask those interested to stop in at the meeting to provide feedback any time between 4 to 7 p.m.
Other changes to bus routes are taking effect on August 4 and effect route 2, route 3, route 4, route 7, route 8 and route 66.
Mazza said the changes they are implementing come from the agency's last five-year plan which was laid out in 2017. The changes are designed to improve service as much as possible without the need for additional funding.
As voters shot down a proposed new tax that would have provided further funding to the agency so they could increase frequency on most routes, Mazza said these improvements encompass what they are able to do without additional money.
And in short, that encompasses one additional route to provide better service to Sunnyside and better connecting that neighborhood with downtown.
On route 2, the morning and afternoon deviations of buses to stop at Basis Flagstaff will be consolidated to better coincide with the start and end of the school day. Because of the change, route 2 buses traveling to the downtown area will arrive at bus stop 23a in the morning at 7:07 a.m. and in the afternoon at 3:47 p.m.
Route 2 buses bound for the Flagstaff Mall will arrive at bus stop 6a in the morning at 7:14 a.m. and in the afternoon at 3:54 p.m.
On route 3, a new bus stop will be added at Route 66 and Country Club between the existing stops 15 and 16. This will also be a shared stop with Route 66.
On route 5, weekday evening service will extend by one hour. The last bus will depart the Downtown Connection Center at 9:15 p.m. and go out of service at Flagstaff Medical Center at 9:46 p.m.
Route 7 will see extensive changes. Route 7 will be split creating a new route 8. Because of this, route 7 will start and end at the Downtown Connection Center and will include the existing stops carrying passengers within the Sunnyside neighborhood. As such, the existing bus stops 10 through 32 are unchanged on the route.
The change means buses arriving at stops every 20 minutes on weekdays and every 60 minutes on weekends and in evening hours.
Route 8 will now also start and stop at the Downtown Connection Center and bring passengers to stops on the southwest of town. That will include bus stops 1 through 9 that were previously serviced by route 7.
Bus stop 2 near Barnes & Noble will also move slightly to the west, nearer to the intersection of West Route 66 and Riordan Road, although that change is only taking effect as of August 24.
Buses on the new route 8 will arrive at stops every 30 minutes on weekdays and every 60 minutes in the evenings and on weekends.
On Route 66, there will also be some adjustments to how buses stop to stay on schedule in case they are ahead of time, but the actual timing of the route will not change.
Adrian Skabelund can be reached at the office at askabelund@azdailysun.com, by phone at (928) 556-2261 or on Twitter @AdrianSkabelund.
Be the first to know
Get local news delivered to your inbox!