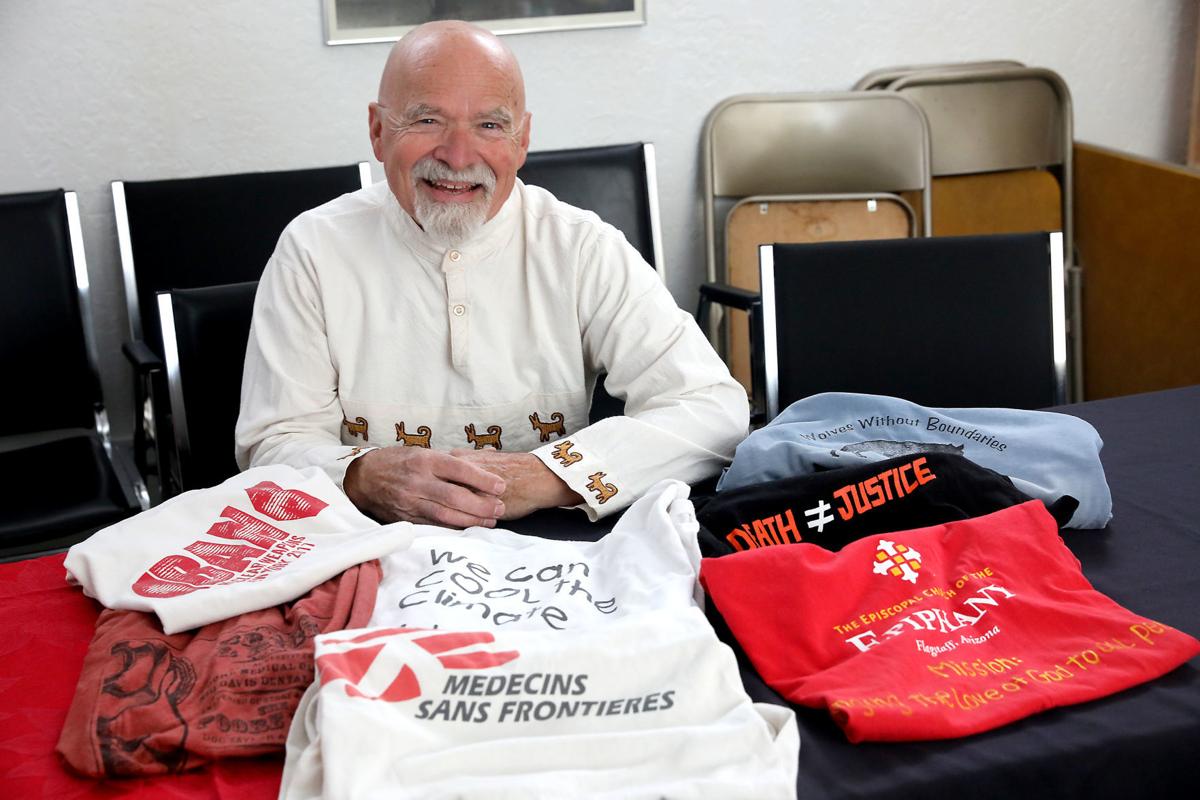 Retirement from the medical profession hasn't stopped Dr. David Spence, the Daily Sun's male citizen of the year for 2019, from saving lives and working to make the world a better place.
Despite retiring, Spence still works as a volunteer physician at the Poore Medical Clinic, something he has done since 2012. He has completed four missions with Doctors without Borders, including a trip to Sierra Leone in 2015 during the height of the ebola epidemic.
In fact, given how many organizations and issues he is involved in, it is hard to believe that Spence is retired at all. He works on issues of nuclear disarmament, climate change, ending the death penalty and protecting the endangered Mexican gray wolf.
On top of all that, for the last three years Spence has been the Junior Warden at the Episcopal Church of the Epiphany, said Sue Martin-Kaskey, the Senior Warden at the church.
"From my point of view, he is one of the most altruistic men in the world," Martin-Kaskey said.
That's not something Spence would say about himself; he said he is no superhero, he is just trying to do work he cares about.
"I guess I've gotten involved in a lot of things, maybe more things than I'm capable of," Spence said. "So am I doing any good? I don't know."
Nonetheless, Martin-Kaskey said during his time as a warden, Spence has worked tirelessly improving the church, comparing him to the Energizer Bunny.
But perhaps the best example of how he is compelled to do what he can to improve the world came on Oct. 14, 2003, when Spence had one of his kidneys voluntarily removed.
Surgeons at the University Medical Center in Tucson removed the kidney from his abdomen and, after trimming off bits of fat and cutting the tube that connects the kidney to the bladder, walked it across the hallway.
In the next operating room was a 35 year-old-man who Spence had never met. The man had been living on dialysis as he waited for a new kidney for three years.
Just 30 minutes later, the kidney that had been in Spence was making urine in the recipient's body.
The event represented the first non-directed kidney donation in the state of Arizona. Most kidney transfers from live donors come from friends and family of the recipient, but Spence had decided to simply give his kidney to whoever was next on the waiting list, a practice that makes up only about 2% of live kidney donations.
Spence said he hopes more people look to donate a kidney in a non-directed way. He suggested the only reason most people don't undertake the low-risk surgery to donate a kidney is simply that they don't know they can.
At least that was the case for Spence, who learned about the possibility of non-directed donation only four months before the operation.
Spence's decision to go into surgery and give a piece of himself to a complete stranger is not the reason he was chosen as Flagstaff's male citizen of the year in 2019.
You have free articles remaining.
But the story of how Spence gave up a kidney seems to exemplify his world view and how his life has revolved around doing what he can to make the world better than when he entered it.
Spence said when he was growing up on his family's Nebraska farm, he originally wanted to go into veterinary care in developing countries.
But as he approached going to college, Spence said he came to believe that most people are unlikely to care about the health of their animals if their own health is at risk.
"So I finally decided to go into human medicine," Spence said, attending medical school in Cleveland, Ohio.
After graduating, Spence began working with for the federal government at the Indian Health Service. He spent almost his entire career working with underserved populations with either the Indian Health Service or various state health services.
His first assignment with the Indian Health Service was in Alaska in the small interior village of Tanana doing what he called "frontier medicine."
"The hospital was a converted army hospital, on the banks of the Yukon River. It had a wooden floor, it had sawdust insulation in the walls; it was a unique experience," Spence said.
Every day, Spence said he and the two other physicians would call surrounding villages on a short wave radio, speaking with the village's health aid, diagnosing the symptoms described and suggesting treatments based on what the aid had in their medicine chest.
About twice a year, Spence said they would also travel between all the villages, either by plane or boat as there were no roads.
As one of three physicians overseeing about 60 villages, Spence said they had to be well-rounded.
"I was prepared to take care of children, do the tuberculosis work, deliver babies and take care of [ear infections] which was a big problem," Spence said.
Spence eventually trained to become a pediatrician, but he said looking back on it, the general practice skill required in Alaska prepared him well for later work he did with Doctors without Borders.
"My career really prepared me for working in a developing country," Spence said, where doctors may need to treat any variety of patients and illnesses often without all the convinces of a modern hospital.
Still, Spence said working on so many issues, at times he worries he is like Don Quixote charging at windmills.
"I've gotten involved in all these things because I care about them. I guess one could ask the big question, does it make any difference?" Spence said, pointing to issues he has worked on like climate change and the death penalty that are far from over.
But those doubts disappear when he is hard at work, Spence said.
"I'm not discouraged," he said.
Adrian Skabelund can be reached at the office at askabelund@azdailysun.com, by phone at (928) 556-2261 or on Twitter @AdrianSkabelund.