With two renewable energy measures on Arizona's ballot this year, a new poll has found 86 percent of voters in the state favor investments in the development of renewable energy sources. The Winning the West 2018 poll gauges how Arizona voters will likely vote for Democratic or Republican candidates on issues related to public lands, parks, and wildlife.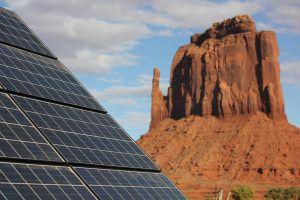 The poll, conducted by the Center for Western Priorities, found recent Trump administration proposals on public lands are unpopular. For example, 71 percent of Arizona voters oppose reducing the size of Bears Ears and Grand Staircase-Escalante National Monuments. Arizona voters also are against removing restrictions on uranium mining near the Grand Canyon by a margin of more than 2 to 1.
According to the poll, Arizona voters place a heightened importance on supporting the outdoor recreation economy. Over three-quarters think outdoor recreation will be important to the future of their state's economy. Similarly, 77 percent believe the presence of public lands and the local outdoor recreation lifestyle are important to attracting good jobs and innovative companies to the state.
Other findings for Arizona voters:
61% of voters are unlikely to vote for a Democrat who prioritizes energy development over conservation on public lands, while 71% are unlikely to vote for a Republic with the same priorities.

57% of Arizona voters will vote for a Democrat and 58% for a Republican who says conservation is key to the success of the economy in the West.