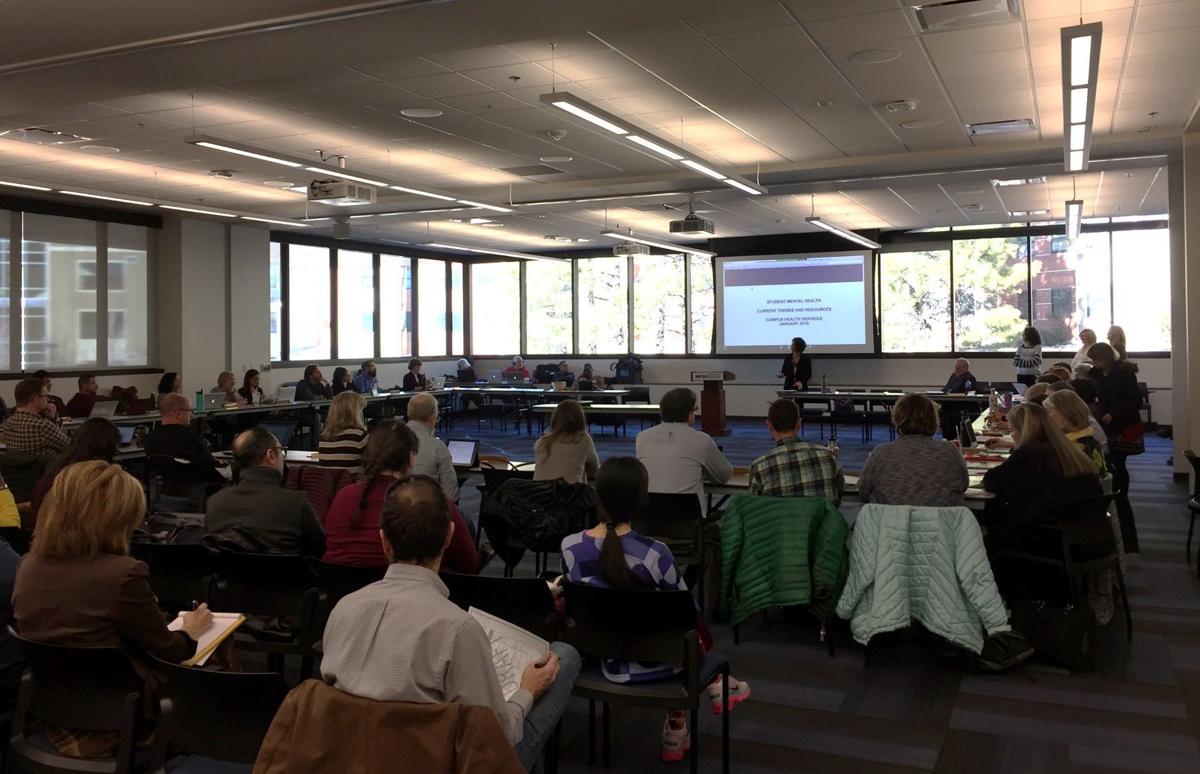 Unfulfilled lofty projections have caused an $11 million shortfall in the Northern Arizona University budget this year – funds departments across the university must return before June to avoid ending the fiscal year with a deficit.
Student tuition and fees, which comprise 40 percent of the university's revenue, suffered this year due to a drop in both enrollment and retention.
NAU missed its target enrollment by at least 800 tuition-paying students, resulting in $10 million in lost tuition and fees that have already been allocated. First- to second-year retention also decreased by 2.5 percent, resulting in an initial net loss of just over $1 million, university representatives explained at a Faculty Senate meeting Monday.
Overall retention rates at the Flagstaff campus decreased this year, with losses across all university areas and student demographics – small differences that together have created an expensive problem.
A statement from Bjorn Flugstad, vice president for the university budget office, revealed that he and members of the executive team have been visiting departments "to determine what non-personnel monies could be spared, what plans and programs we can hold off on and what funds are not yet encumbered."
NAU departments – academic and otherwise – each have their own defined amount to be returned before the end of the year.
The budget projection was made in spring 2018 based on anticipated revenues and expenditures and must now be upheld within all areas of the university, explained NAU spokesperson Kim Ott.
"Based upon projections reported to the Arizona Board of Regents in November, the university must operate within a lower level of resources available for this fiscal year. … This year, NAU will adjust to the reduced revenue, which amounts to approximately 1.5 percent of NAU's overall $627 million budget," she said.
Brian Levin-Stankevich, interim provost for Academic Affairs, said, "[The projection was] perhaps a little ambitious given the solution of the extended campus structure and recent hiring of Meredith Curley as dean in the middle of the cycle."
The news of this costly miscalculation has spread since it was announced to department leads at the end of the fall 2018 semester, leaving many faculty members and employees fearful of losing their jobs. However, deans of various colleges have assured their teams that, though returning these funds is not optional, the goal is to maintain all current employees.
Karen Pugliesi, dean of the College of Social & Behavioral Sciences (SBS), wrote in a college-wide email that $100,000 of their state budget and between $325,000 and $350,000 of their Central Instructional Funding (CIF) must be returned; however, "Neither of these budget reductions will affect employment status of regular, full-time personnel."
Similarly, Valerio Ferme, dean of the College of Arts & Letters (CAL), said in a meeting last week that his primary goal to preserve current employees of all levels as the college works to return its $150,000 of state funds.
While faculty positions may be secure, in the worst-case scenario, part-time and student worker positions could become collateral damage.
Ferme explained that, in the case of CAL, if the $150,000 cannot be found within the state budget, collectors will dip into the college's local budget, a grave prospect for employees.
"We have people that are on salary on our local budget. If we were not to find the money from the state budget and they came after our local money, we would have to consider not keeping those people," he said.
Both Pugliesi and Ferme displayed confidence, though, that their colleges will be able to return the funds requested if they remain mindful about the budget restrictions.
At the senate meeting, faculty members expressed concern regarding consulting, hiring additional vice-administrators, rebranding, new mailers and other high-cost-generating activities; however, the executive council revealed no one culprit of the shortfall has been determined.
"There was no mulligan answer," Gioia Woods, senate president, said of the council's recent budget discussion with administrators, who stated NAU would move forward with a more conservative budget plan next year.
Be the first to know
Get local news delivered to your inbox!