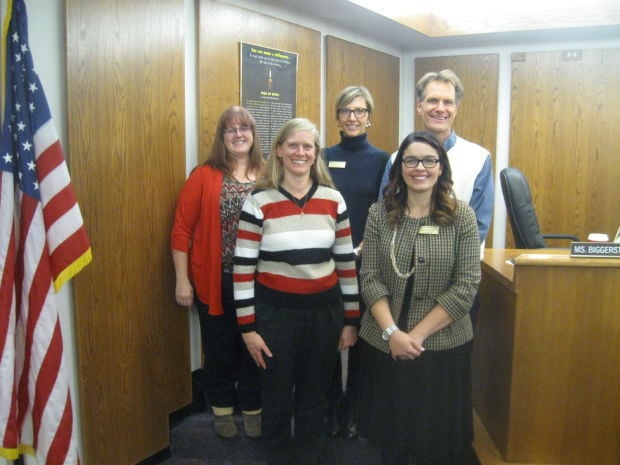 With political endorsements at stake, who speaks for Flagstaff Unified School District teachers and other employees?
The governing board let a 20-year agreement with the Flagstaff Education Association expire at the end of the 2014-15 school year on a 4-to-1 vote.
"Their membership is low, and I felt that missing direct feedback from that many of our district staff and teachers was coming at the cost of overall district engagement," Sarah Ells, current board member, explained in an email.
FEA President Derek Born said that 41 percent of FUSD employees are dues-paying members, which he said is considered high in a right-to-work state although he wishes that number were higher. He also mentioned that in a petition sent out to all schools, between 70 percent and 80 percent of staff said they supported FEA.
The previous agreement, which was outlined in Subsection H of the FUSD Policy Manual, allowed the FEA to negotiate salary and working conditions with the district on behalf of district employees. Revisions were adopted in April of 2015 to reflect a new district-wide employee communication and input system that included a voice committee along with a negotiations committee.
"The board was aware that while we had a mechanism to hear feedback from FUSD employees who were FEA members, we did not have a mechanism in place to hear from the rest of the employees," Ells said. "Because it is a board priority to have district-wide feedback, the voice and negotiations structure was created as a more inclusive and transparent process."
Now in its second year, the committee is comprised of representatives who are elected from a pool of employees throughout the district. Two representatives are chosen from each school, one from classified staff and one from certified staff.
"There's accountability to it and every year they have to re-run," said Dietrich Sauer, director of Human Resources and chair for both committees.
All of the seats on the negotiations committee are currently filled by FEA members.
While the negotiations process is the same, Born said the FEA has lost some other rights, such as speaking at faculty meetings and using district buildings for association business. He said the FEA felt it was no longer integrated into the district despite providing it with volunteer hours and the combined expertise of its members.
Born recently announced FEA's endorsement of three candidates running for the school board seats up for election this year, which notably did not include either of the current members running who had voted to end the original agreement.
One of those incumbents, Paul Kulpinski, dropped out of the race this week after resigning his governing board post to take a position with a local education advocacy group. Kulpinski had served since 2004.
While the vote to dissolve the board/FEA agreement was a factor in whom they endorsed, Born said, it was not the only thing they looked at.
"As professional educators, we care much more about the future of our district and our work with children to endorse based on one stance or issue," Born said.
He said that FEA's political action committee came up with a plan to determine whom to endorse. They conducted a candidate forum, then each candidate was given a questionnaire as a follow-up and asked to come in for a one-on-one interview with members. Association representatives from each building involved in membership then unanimously endorsed Carole Gilmore, Kara Kelty and Dani Lawrence to serve on the school board based on their various qualifications.
Incumbent Christine Fredericks is still running for re-election. Kulpinski's name has already been printed on ballots for the Nov. 8 election, but because he has formally withdrawn, votes for him will not be counted, Coconino County Recorder Patty Hansen said.
"We had a mechanism to hear feedback from FUSD employees who were FEA members, (but) ...not ... from the rest of the employees"

--Sarah Ells, FUSD governing board member
Get local news delivered to your inbox!
Subscribe to our Daily Headlines newsletter.