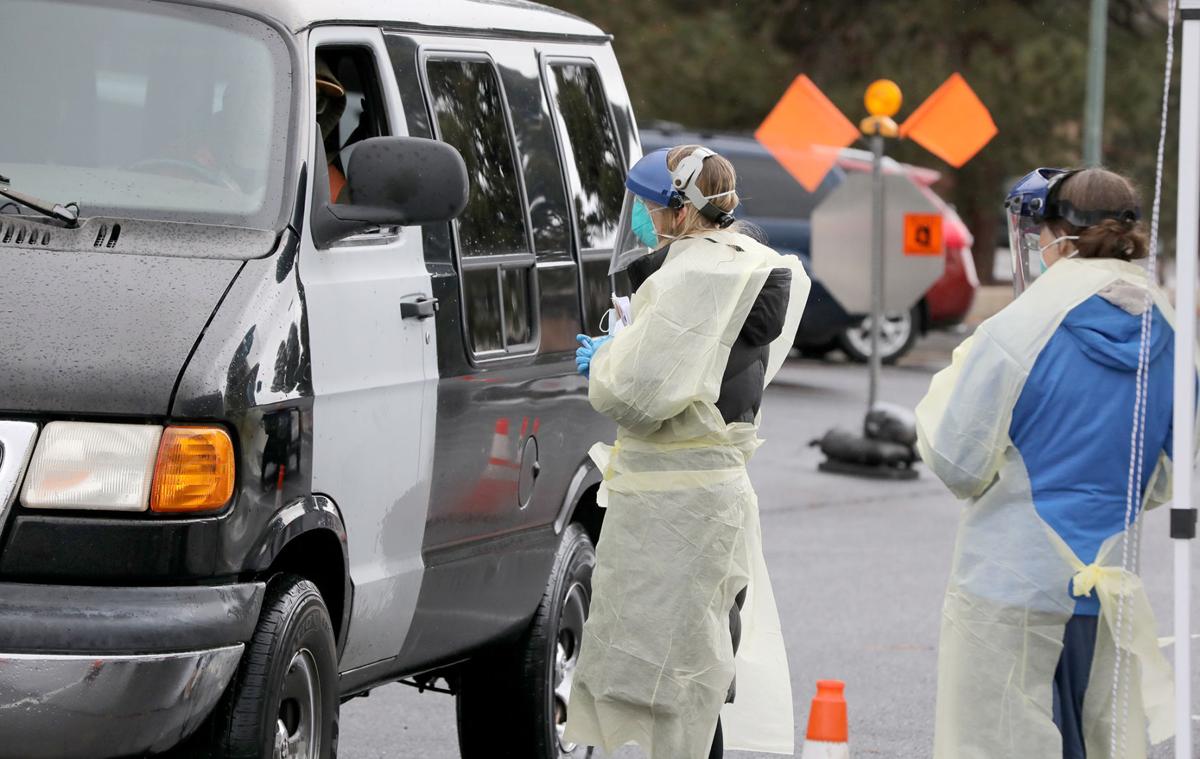 The future of COVID-19 testing and contact tracing, two critical operations that help local officials track the severity of the pandemic, could be in jeopardy.
That was the message from the Coconino County Board of Supervisors to the Flagstaff City Council during a joint meeting on Monday.
The news comes as the number of new coronavirus cases in Coconino County once again begins to escalate. Centered in Flagstaff, the county recorded nearly 200 new cases last week and 113 the week prior.
County Chairwoman Liz Archuleta said the county's contract with Arizona State University to provide saliva testing ends on Saturday, Oct. 10, and because of financial constraints, after that contract is up the future is uncertain.
During the meeting, Archuleta hoped the city could financially partner with the county to continue COVID testing.
"We find ourselves in a situation where we are not sure about future operations in terms of COVID testing, contact tracing," Archuleta said. "Frankly, we are in a situation which, unless we have partners, we will not be able to continue the operations as we know them today; something will have to change."
The county has now spent about $3.5 million responding to the pandemic and expected to receive reimbursement from the state and federal governments for providing those services, Archuleta said.
It is not uncommon that local governments receive reimbursement for spending during emergencies. The county, for instance, is expecting a $745,000 reimbursement for flood control efforts stemming from the Museum Fire.
But Archuleta said it now appears that it is unlikely the county will be reimbursed for its testing and contact tracing operations, and she instead expressed hope that the city could help bear some of that financial cost.
That's not likely, according to Flagstaff Mayor Coral Evans, who told the county supervisors that the city has its own financial struggles to deal with.
Like numerous local governments, including Coconino County, Evans said, the city's revenue streams have been devastated by the economic downturn the pandemic caused. As residents look to save and travel less, transportation tax and sales tax revenues have fallen drastically, and all the while the city has seen its own COVID-related expenses, she added.
Instead, Evans placed the responsibility of paying for testing and tracing efforts with the Arizona Department of Health Services and Gov. Doug Ducey.
"[Ducey] has federal money and he also has state money that was allocated to address the COVID issue that he has not yet expended," Evans said. "We would be more than happy to lend our voice, to lend our weight, to really help go and advocate for the money that you all need to do your job correctly, but at this particular time, we don't have $1.5 million."
Evans also pointed out that the city has already provided money to the county to assist with the COVID response. The city directed $1,001,716 from Community Development Block Grants and the CARES Act to organizations working to address the pandemic -- including $164,000 to Coconino County Health and Human Services for rent relief and eviction prevention.
That allocation was on top of $59,000 Council redirected to the county for the same purpose during the budget retreat last month.
But Archuleta said offers to advocate on the county's behalf likely won't be enough, especially in the short term.
"I'm afraid right now that advocacy is not going to get us through the next few weeks," Archuleta said. "Both the city and county have this great history and strong history of being solution-oriented and working together and doing what we need to do to meet our community's needs, and so I have no doubt that we will do that with this [issue] as well."
Get local news delivered to your inbox!
Subscribe to our Daily Headlines newsletter.