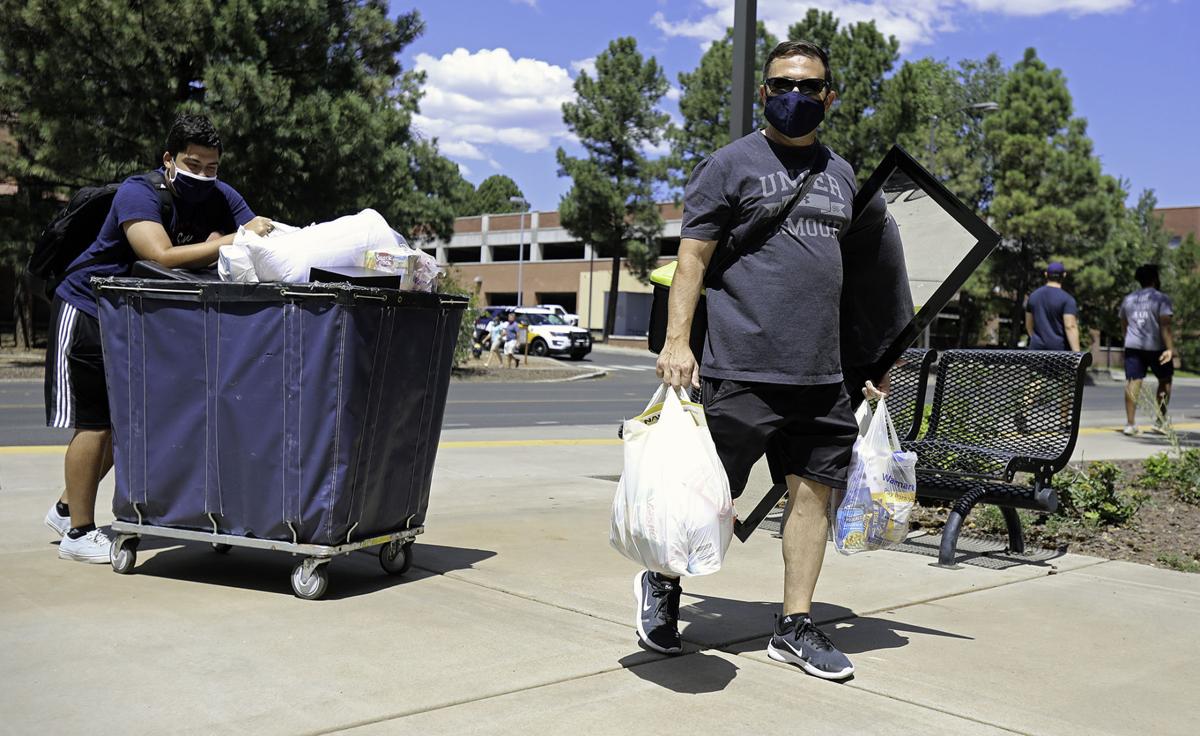 With in-person classes set to begin at Northern Arizona University on Monday, officials at the school have provided the first set of hard numbers regarding current COVID-positive students.
In an email to the Arizona Daily Sun, NAU spokesperson Kim Ott said the university is aware of seven students who have tested positive for COVID-19 in the last two weeks.
The students live both on and off campus and are currently in isolation care, Ott wrote.
The news comes as the number of NAU students having moved into on-campus housing has reached 7,000. Those students were not allowed to move in without first providing a negative test.
The university had previously kept the exact number of known positive cases vague. Officials had said the university had seen a "small number of cases since the spring" and that less than 3% of student-athletes on campus had contracted the coronavirus, but had avoided providing exact numbers.
Earlier this month, officials announced the university would begin testing 1,000 randomly chosen students, faculty and staff each week. That is set to start next week, but in the meantime, surge testing has been set up in the University Fieldhouse.
Trish Lees, spokesperson for the Coconino County Health and Human Services Department, said that testing site, which began on Aug. 10 with plans to continue until Aug. 30, has already processed 2,151 people as of Friday.
Of those, 42 positive cases have been found, Lees said.
Lees was quick to point out that number isn't necessarily associated with the university community. Like the other county-run sites, the testing site on campus is open to anyone regardless of where they live.
In the same way, Lee said if a student tests positive at another testing location such as Fort Tuthill, NAU is notified regardless of whether they live on campus.
Ott said the university plans to provide updates on the number of COVID-positive students throughout the semester but will primarily rely on Coconino County to provide that information. So far, the county has been providing the number of cases by zip code.
In regards to faculty, many of whom will be seeing students in person on Monday, they have been encouraged but not required to be tested.
"Faculty and staff of NAU are members of the Flagstaff community first and foremost and employees of NAU. These individuals have the ability to choose where to be tested should they exhibit COVID symptoms," Ott wrote. "In the timeframe that NAU has been largely remote, only employees reporting to campus were required to report a positive test to a supervisor in order to provide campus management and contact notification."
Ott said the university is also working with the city and county to prevent the virus from spreading through other ways such as parties.
Last week, the university announced a website through which residents could report concerning student conduct. Ott said if the university receives reports with identifiable information on students violating university policy, they would take "swift action."
The university will soon be implementing the COVIDWatch app to allow individuals to anonymously report a positive test result -- which will contact anyone with the app installed of potential close contact. Another app, NAU Healthcheck, launched this week and contains a screening assessment students and campus employees must complete daily.