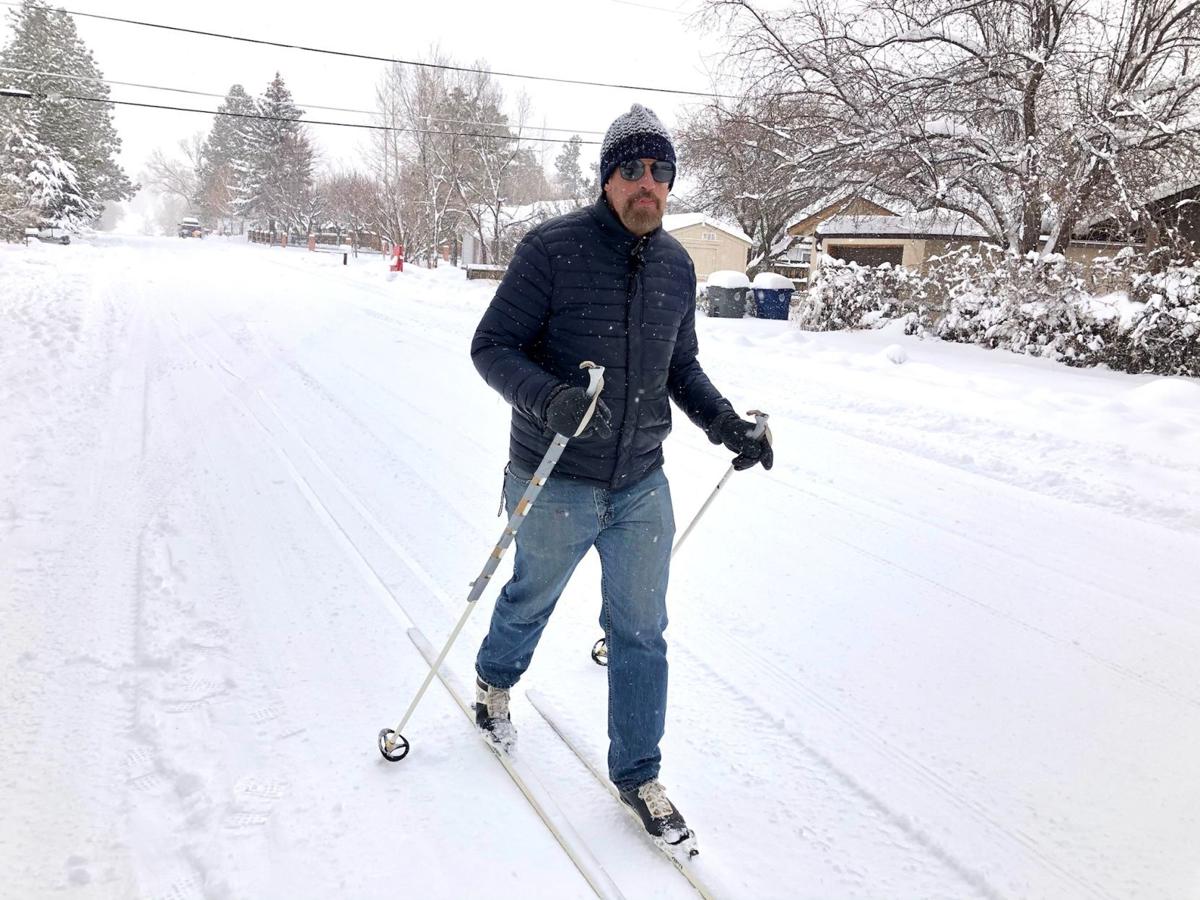 5 p.m. update: Postal truck freed from snowbank by residents, fire department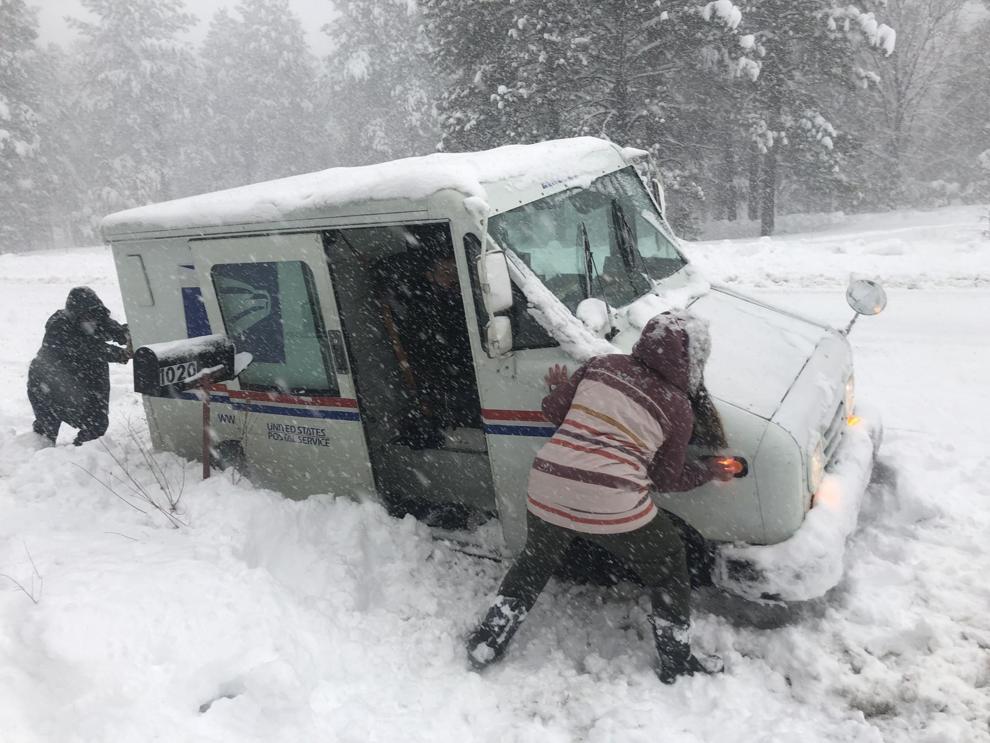 When a local postal truck found itself entrenched in a snowbank this afternoon, residents Molly Muller and her husband Jordan Muller sprung into action to help.
The Muller's described a nearly hour-long effort on North Turquoise Drive that involved a passing-by ambulance and the Flagstaff Fire Department. 
"We worked at it for quite a while," Molly Muller said. "They had chains on and everything but they still weren't going to get out without some help."
Molly Muller said many vehicles passed by, including snow plows, but it was not until an ambulance from the Flagstaff Fire Department stopped that the fire department was informed. 
Eventually, the Mullers and emergency personnel were able to free the delivery truck from the side of the road. Molly Muller said the driver was "grateful" for the assistance.
4 p.m. update: Interstate 17 is now closed northbound at State Route 179, according to a press release from the Arizona Department of Transportation.
Extreme winter conditions have resulted in very difficult driving conditions. Motorists are urged to postpone travel in the high country until the storm has passed. Those who decide to travel in the storm should be prepared for an extended time on the road and use chains or 4-wheel drive. Remember to slow down, leave extra room behind the vehicle ahead of you, and pack an emergency kit containing a fully charged cell phone, warm clothing, blankets, food and water, medications and sand or kitty litter in case you get stuck in the snow.
Other closures as of 4 p.m.:
State Route 260 is closed between Star Valley and Heber
State Route 87 northbound is closed north of Payson
State Route 89A is closed between Sedona and Interstate 17; and from Jerome to Clarkdale
State Route 89 is closed from north of Peeples Valley to just south of Prescott
State Route 260 is closed from Cottonwood to Camp Verde
As winter storms continue to move throughout northern Arizona, forecasters are warning of heavy snowfall, slick roadways and low visibility.
The National Weather Service projects areas above 4,000 feet in elevation to accumulate anywhere from 6 to 25 inches of snowfall over the next 24 hours, prompting a winter storm warning that will remain in effect until 11 a.m. Tuesday. Heavy winds up to 40 mph could create "near whiteout" conditions, according to the NWS.
Snowfall rates will continue to pick up throughout the day as storm systems move north through the state. Recent forecasts predict the heaviest precipitation to occur in Flagstaff between noon and 5 p.m, with 2 to 3 inches of snowfall per hour.
The forecast calls for another 2 to 4 inches early Tuesday before the storm gives way to mostly sunny conditions on Wednesday and Thursday. There is a 60 percent chance of another round of snow showers on Friday.
As snow continued to fall on Monday, Coconino County also announced that it would be canceling all vaccination appointments at Fort Tuthill after 1 p.m. for the remainder of the day. In a social media post, the county told residents whose appointments were canceled that they would be contacted through email to reschedule their vaccination appointment. Appointments for Tuesday were expected to continue as planned but were subject to change.
The COVID-19 testing site at Coconino Community College closed at noon. Appointments can be rescheduled the ASU registration portal at www.coconino.az.gov/covid19. 
Travel conditions
The Arizona Department of Transportation warned of road conditions that are "difficult to impossible' to traverse. State officials are asking commuters to "avoid the storm," and recommend chains, snow tires and 4x4 vehicles for any necessary travel.
State Route 89A is closed in both directions between Flagstaff and Sedona, with no estimate for reopening. Additionally, State Route 260 is closed between Star Valley and Heber and State Route 87 is closed north of Rye to just north of Payson.
The Mountain Line public bus system announced that as of mid-morning, the winter storm would result in reduced service on Route 10. Service on that route, which travels through NAU's campus between downtown and Woodlands Village Boulevard, would be reduced to only two buses for the rest of Monday.
"Weather conditions should ease later this week, so if people can put off travel until then, we advise them to do so. We are also asking commercial vehicles to avoid travel northbound on I-17 today and tomorrow," said Bart Graves, Arizona Department of Public Safety (DPS) spokesperson.
The DPS has responded to 49 non-injury slide-offs along Interstate 17 and Interstate 40 in the Flagstaff area since Sunday morning. The department has not reported any major injury collisions or fatal crashes at this time.
Since Thursday, the Flagstaff Police Department reported 52 vehicle crashes, including two serious injuries, and responded to 16 calls for service related to parking violations, obstructions of the roadways and other related hazards.
The FPD is also handling other incidents, such as transporting individuals to local shelters and assisting with slide-offs. The department has currently responded to 69 calls for public assistance and received several complaints related to vehicles being parked adjacent to roadways while people played in the snow.
"We would like to remind the community that safety is all of our responsibility and parking on the roadway creates an obstruction that could lead to a crash," FPD spokesperson Charles Hernandez said.
The winter parking ordinance in Flagstaff remains in effect until April 1. Violations will result in parking citations and could lead to the vehicle being towed for snow removal operations. The FPD is reminding the community and visitors to adhere to seasonal parking restrictions to avoid receiving a citation and vehicle removal fees.
School and public service closures
Schools throughout Flagstaff have closed and canceled remote classes for a snow day Monday.
Flagstaff Unified School District and Coconino Community College made their announcements first on Sunday evening. Later in the evening and early Monday morning, other local schools including Basis Flagstaff, Flagstaff Arts and Leadership Academy, and Northland Preparatory Academy made their own announcements canceling classes for the day.
All Northern Arizona University classes for Monday are being offered remotely using NAUFlex, but the university is operating on a normal schedule. Campus Health Services, dining services and appointments for COVID-19 mitigation testing and vaccinations are continuing as scheduled.
Basis will be resuming classes online Tuesday, regardless of weather. As of 11 a.m. Monday, other schools have not yet announced their plans for Tuesday.
The City of Flagstaff put a hold on all trash and recycling collection services until conditions are safer. Workers were re-allocated to assist the city with snow operations.
Slide Rock State Park and Tonto Natural Bridge State Park were deemed inaccessible by the state because of the snow and both parks were closed. Jerome State Historic Park was also closed Monday.