The soft-spoken music teacher from Williams High School was visibly holding back tears when she discovered hers was the name hidden inside the envelope declaring the 2019 Coconino County Teacher of the Year.
"We [teach] because we love it and because we have the ability to help our students become better than what they think they can be. And that's why I do what I do and why we do, as teachers, what we do," Beverly Stearns said after accepting her award.
She was joined by Jordan Morales, a second grade teacher from Kinsey Inquiry and Discovery School who took home the title of Rookie Teacher of the Year, and Coconino High School's Kelley Smith, the STEM Teacher of the Year.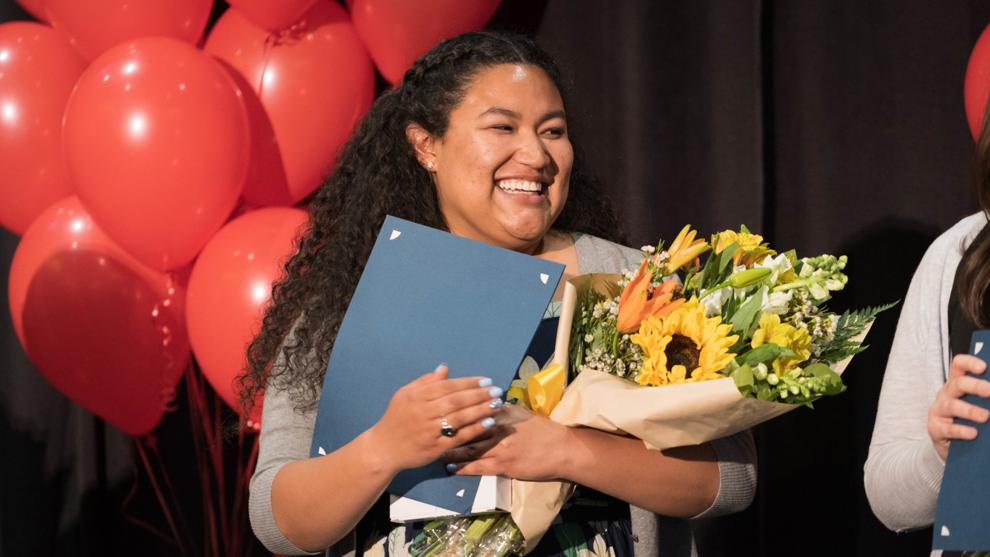 Stearns graduated from Northern Arizona University with a degree in music education. She lives in Flagstaff and teaches both band and choir at Williams High School.
In a video about Stearns' work, students praised her ability to comfort them and give them a feeling of belonging; on the school campus, they have named her "Mom."
Colleagues noted Stearns' passion for music, ability to inspire confidence in her students and her continued personal sacrifices, sharing that Stearns traded her prep hour years ago for a middle school choir time slot because the students needed one.
Stearns also sacrifices convenience, waking up at 4:30 a.m. each school day to make the 45-minute commute from Flagstaff to Williams, but said she loves to do so for her students.
"We're a small district, we're a small town and we can do amazing things," she said.
A handful of her students, foregoing school clothes for formal wear, returned the favor by driving to the ceremony at the High Country Conference Center to support her.
As the winner of this award, Stearns has received $2,000 cash, a truck from Findlay Toyota to use for the year, one three-credit course from Coconino Community College and a spot in the Flagstaff Fourth of July Parade. She will also be able to apply for Arizona Teacher of the Year.
"Sometimes, teachers don't get honored enough, and this is an opportunity we have to showcase wonderful people who have one of the most significant careers, period. What they do to help mold and shape kids and community is phenomenal," County Superintendent of Schools Risha VanderWey said.
The runners-up for the award were Brad Houston from Grand Canyon High School and fourth grade teacher Lauren Likovich from Knoles Elementary. They each received $1,500 cash, one three-credit course from CCC, a spot in the Flagstaff Fourth of July Parade and the opportunity to apply for Arizona Teacher of the Year.
Rookie Teacher of the Year Morales, who is in her second year teaching, said she sometimes used the award she has now won as motivation throughout this year. The rookie award goes to a teacher who has completed only one full year as of the time when the application is submitted.
"I used to joke around with myself when I was tired, 'Jordan, would the Rookie Teacher of the Year give up right now? Would the Rookie Teacher of the Year stop?' That was my favorite little mantra. I always had to have something to push myself," she said.
Morales was awarded $1,000 cash, two Theatrikos season tickets, a pass to Bearizona, one three-credit course from CCC and a spot in the Flagstaff Fourth of July Parade.
Biology teacher Smith credits his own success in the classroom to other locals.
"I'm so fortunate because, teaching science here in Flagstaff, we just have a really strong and supportive scientific community here. You've got to reach out to the community and get them involved in your classes. There is so much talent and so much expertise in our own community," he said.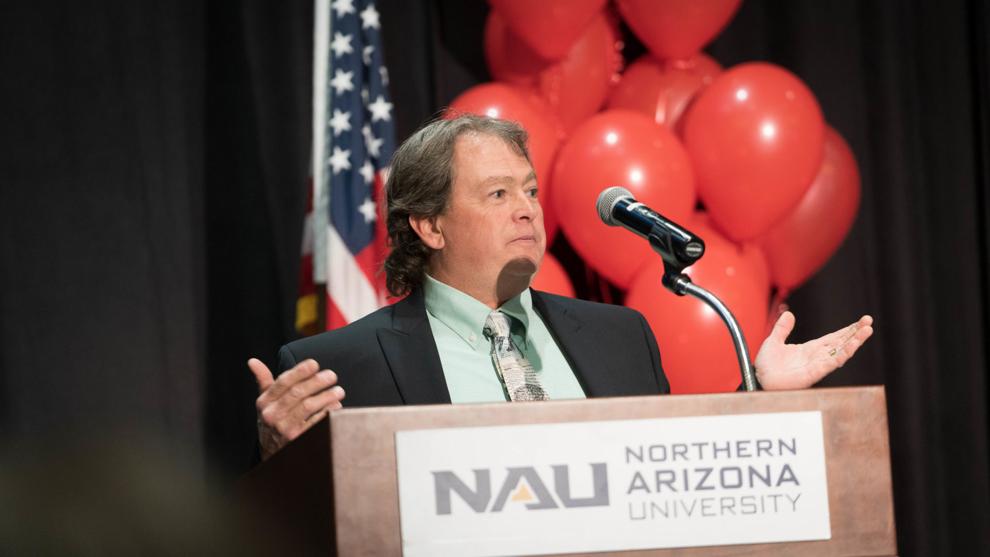 The Teacher of the Year recognition is awarded to public or charter school teachers with at least four years of classroom experience. A panel of five community judges selected Stearns among 13 other nominees.
"Being a teacher is amazing and it's a huge responsibility because we have the power to influence generations. If we use that for good, we will make the world a better place," Stearns said.