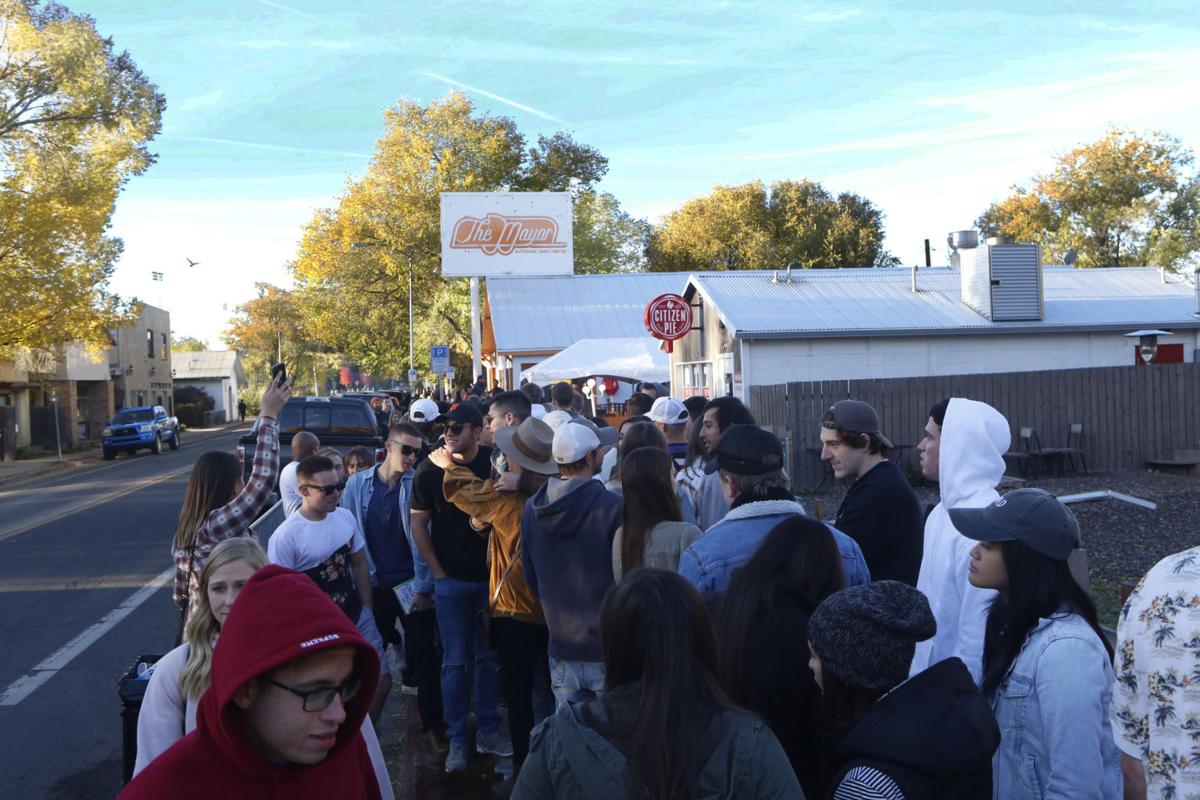 The yearly sunrise drinking tradition is known locally for its controlled chaos as alumni and students hit the streets at the crack of dawn before the parade and Homecoming game.
This year Northern Arizona University's Homecoming celebration has gone virtual on Nov. 5 due to the pandemic, so where does that leave Tequila Sunrise?
Many bars and some restaurants said they were going to open later in the day trying not to entice people to travel downtown for Tequila Sunrise. The Flagstaff Police Department is hoping to dissuade people from going out that morning to honor public safety and reduce the spread of the coronavirus. For the downtown business sector, it's one of their busiest days of the year.
Eddie Karner, general manager at Collins Irish Pub & Grill, said this year would have been his 11th straight Tequila Sunrise, but they're going to open around noon and not hold any drink specials besides happy hour on Nov. 5.
This year has been a difficult one for Collins as they have laid off 17 people from their door staff and cut 30 bar shifts. The owner also parted ways with The Market Bar & Kitchen down the street, Karner said.
"I'm a pretty healthy individual. I don't have preexisting conditions. It might not be fun, but I think I truly would be OK [if I caught COVID-19]," Karner said. "But I'm not going to be responsible for somebody's kid. I'm not going to be responsible for somebody's parents or grandparents."
Colin Seay, Flagstaff Police Department officer leading the response to Tequila Sunrise, said there won't be special event permits from the city, no in-person football game, and he hoped no reason for a normal Tequila Sunrise during a pandemic.
"If you are going to go out, do it safely," Seay said. "If you are a restaurant and bar owner, please follow those rules for establishment owners."
The department's concern is that a large event could entice people to come out in large gatherings -- which during the COVID-19 pandemic could contribute to a spike in community transmission. As of Friday, Coconino County has 4,553 positive cases with 141 deaths and 3,629 people recovered.
Coconino County is trending downward in its weekly positive cases, going from the second-largest weekly case reporting of 307 cases on Sept. 19 to 201 during the week of Oct. 10.
"I've had downtown officers go to every bar and restaurant on the north and southside of downtown," Seay said, adding that only a few if any bars will be open early in the morning.
The Mayor has opened at their new location at 101 S. San Francisco St., in the building formerly owned by Root Public House, with its new rooftop eating area. Audrey de Guzman, general manager, said the business would open at 11 a.m. with social distancing and masks.
The general manager was personally concerned that people who may be carrying the virus could bring it to Flagstaff during Tequila Sunrise.
"The only goal is to keep everybody safe, to be honest. I don't want anyone to get even more sick. We've already been in this pandemic for too long," de Guzman said.
Tequila Sunrise has typically been a large undertaking for the city, requiring massive officer deployment in the downtown and southside area for community safety. The scores of students, young adults and alumni that stagger downtown at the crack of dawn in Flagstaff for early-morning drinks can sometimes cause traffic reroutes for cars in the area.
In previous years, NAU's Homecoming parade would march through downtown Flagstaff, mixing bar crawls with a family oriented parade atmosphere before it was moved on campus.
Seay said the department is anticipating many house parties, but hoped gatherings would still keep the numbers low. In 2014, when Tequila Sunrise moved to The Grove area nearly 1,000 students were drinking and partying in the middle of the streets. Flagstaff police made close to 30 arrests that day, attracting national media attention.
Seay said that all the current restrictions on large gatherings, enforced social distancing, required cleaning and mask mandates would remain in place.
Many expected the Coconino County Health and Human Service's inspectors and the Department of Liquor Licenses and Control to be watching the area closely for violations.
"Hopefully we'll get some compliance before taking enforcement action, which is the last thing bars and restaurants would want," Seay said. "The department will take action if there is a gathering that is unsafe for the public."