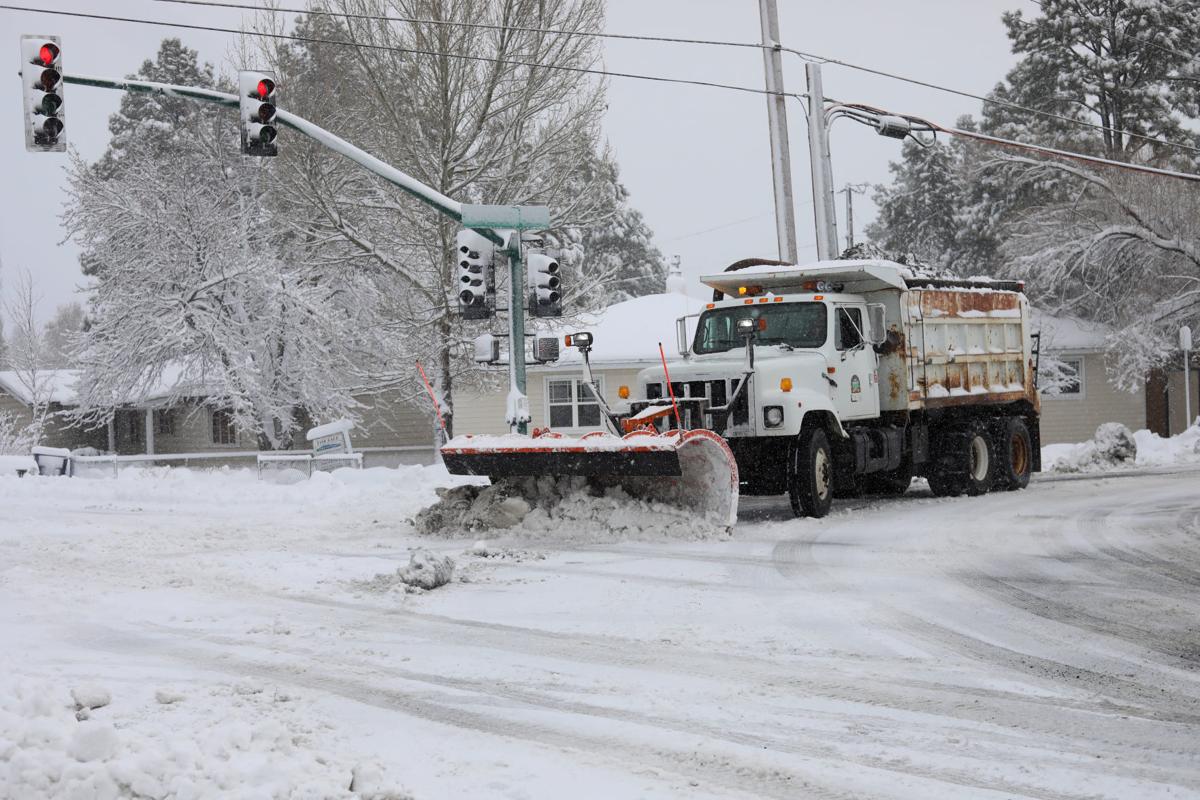 Updated: 9:15 p.m. on Nov. 29, 2019: State Route 87 from Payson to Winslow, State Route 260 from Camp Verde to Cottonwood and State Route 89A from Sedona to near Flagstaff are all closed, according to ADOT.
Updated: 8:45 p.m. on Nov. 29, 2019: I-40 westbound east of Flagstaff at milepost 224 was closed due to a jackknifed semi truck, but reopened an hour later, according to ADOT. In addition, the westbound 40 has reopened at milepost 113.
Updated: 4:45 p.m. on Nov. 29, 2019: The town of Tusayan has declared a state of emergency due to substantial snow (almost two feet), lack of electrical power since 3 a.m., unsafe and impassable roads, and shortages of fuel, according to a press release from Coconino County.
"We are working to arrange emergency shelter at the National Park, in buses, and at other locations," said Mayor Craig Sanderson. "We are working with the County Emergency Management team, ADOT, APS and the National Park Service with a priority on clearing roads."
More than 1,000 people and tourists are now in Tusayan with no power or heat.
"Getting the roads open is the main thing we need," Sanderson said. "The County and ADOT are working to make it possible to safely travel State Route 64."
The American Red Cross has deployed staff and are ready to assist. They have set up an emergency shelter at the Horace Albright Training Center located inside Grand Canyon National Park. Persons needing a shuttle ride to the shelter should call 928-638-7302.
Updated: 4:25 p.m. on Nov. 29, 2019: Westbound I-40 is now closed at milepost 113 because of a crash involving a semi truck, according to ADOT. Before that, only the left lane had been closed.
Updated: 2:28 p.m. on Nov. 29, 2019: While the roads remain open, traffic on the westbound Interstate 40 is moving slow to the point of stopping.
Arizona Department of Public Safety (DPS) officials report that a collision between two vehicles happened at milepost 195 on the I-40.
One semi-truck rear-ended a second semi-truck and led to a minor injury, according to DPS spokesman Jonathan Montes. The injured driver was not transported to the Flagstaff Medical Center.
Arizona Department of Transportation snow plows are currently working with tow trucks to get to the scene to tow the disabled vehicles. It is not clear when the interstate will reopen.
Original article: 12:30 p.m. on Nov. 29, 2019.
Eastbound and westbound Interstate 40, as well as northbound Interstate 17, have reopened following a winter storm in northern Arizona, according to the Arizona Department of Transportation. Southbound I-17 had already reopened a couple hours prior.
Interstate 40 had been closed between US 93 and Winslow and northbound Interstate 17 between State Route 179 and Flagstaff since Thursday night. Additionally, State Route 89 has reopened between Drake and Ash Fork; US 60 has reopened between Globe and Show Low; and State Route 66 between Kingman and 20 miles west of Seligman.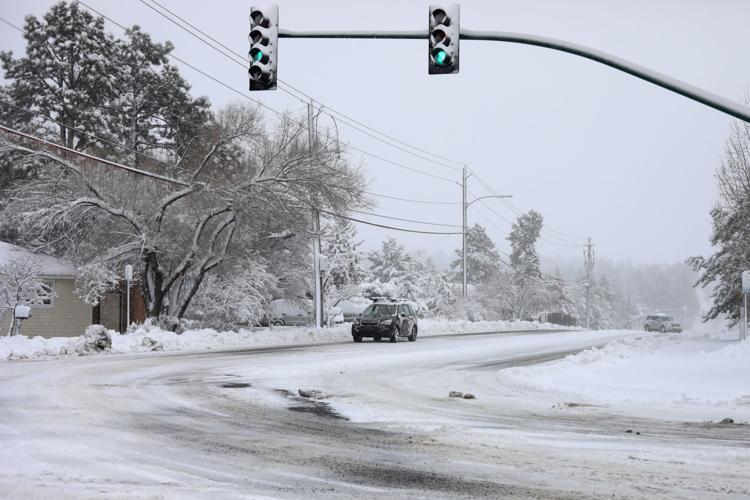 Several other state highways remains closed due to weather. These include:
• SR 87 is closed from Payson to Winslow.
• SR 89A is closed from Sedona to the I-17 junction.
• SR 260 is closed from Camp Verde to SR 87.
Real-time highway conditions are available on ADOT's Arizona Traveler Information site at az511.gov, by calling 511 and through ADOT's Twitter feed,@ArizonaDOT.
The agency stressed that even for open segments of roads and highways throughout northern Arizona, caution is important due to slippery conditions and diminished visibility.
The National Weather Service in Bellemont has another 8 to 12 inches of snow in the forecast for this afternoon, with an additional 1 to 3 inches this evening and a wind chill value as low as zero degrees and gusts up to 29 miles per hour. From there, the chance of precipitation fades until the middle of next week.
The winter storm packed an unexpected punch overnight up and down Arizona with snow, rain and even tornado warnings.
The National Weather Service in Phoenix issued two warnings between 1 a.m. and 5 a.m. Friday, when winds were as high as 70 mph in some areas.
Meteorologists say the wet and wild weather was the culmination of a strong cold front that came from California.
Residents throughout metro Phoenix have reported downed trees and minor flooding.
Firefighters had to rescue one driver who became stuck in a flooded wash.
Be the first to know
Get local news delivered to your inbox!