Readers filled our inbox this week with more than a dozen photos of scenes from around the Flagstaff area following the big snowstorm. Got pho…
The National Weather Service in Bellemont is predicting a 90% chance of snow on Friday, with accumulation between 4 and 7 inches possible betw…
Since the start of the weekend, Flagstaff received over 31 inches of snow while other parts of Coconino County received as much as 47 inches. …
A large snowstorm blanketed Flagstaff with more of the white stuff as more work was done and more fun was had.
As snow continued to fall in northern Arizona throughout Monday and into Tuesday morning, various organizations have implemented closures for …
The Arizona Department of Transportation warned of road conditions in northern Arizona that are "difficult to impossible' to traverse. State o…
The National Weather Service in Flagstaff has issued a winter weather advisory lasting from Friday at 8 p.m. through Sunday at 5 p.m. as what …
Despite temperatures in the upper to mid-50s expected through the weekend, northern Arizona could be seeing some much-needed snow next week.
It may violate some unwritten year-in-review story rule, but by far the most significant weather event in Flagstaff in 2020, with potentially …
The National Weather Service forecasts a cold front with weekend showers to hit northern Arizona starting Friday.
When Puka Lewicky walked out of her ranch home adjacent to Highway 180 to feed her Arabian horses Tuesday morning, she expected things to be c…
Coconino County's Wildfire Defense Ordinance remains in effect due to dry conditions throughout the County. The open fire ban has been in plac…
Meteorologists forecast Flagstaff and Williams will experience an early first freeze after a weekend of record-breaking heat over Labor Day weekend.
Flagstaff, like much of the West, has seen drought conditions persist or worsen in August.
If the past four days of dry heat have seemed uncharacteristic for Flagstaff and northern Arizona, it's because it has been.
It's not just you; it has been a hot the last few days in northern Arizona.
A streaking comes across the sky. Every predawn, earlier this month, it has flashed on the horizon. And now, it arrives around dusk, in the tw…
As rain graced parts of Flagstaff Friday afternoon, the National Weather Service forecast a chance of thunderstorms every day for the upcoming…
The Twisted Fire was sparked Wednesday morning and burned four miles north of Flagstaff before being contained.
The National Weather Service in Bellemont is forecasting a significant winter storm for northern Arizona later this week.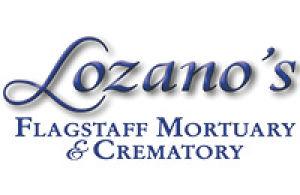 Lozano's Flagstaff Mortuary & Crematory
The National Weather Service sent out a warning to communities in and around Flagstaff on Friday, March 13.
After a few weeks of mostly dry weather, the Flagstaff area appears to be facing some showers this week.
February has been a rather warm and dry month so far, a stark difference from last year's Snowpocalypse that slammed Flagstaff with 35.9 inche…
National Weather Service officials said a large snow storm is moving across the Southwest from California, but Flagstaff will likely miss the …
Flagstaff was named the ninth sunniest city in the United States by move.org, according to a media release.
The National Weather Service in Bellemont says rain and snow showers are likely for Wednesday, particularly above 6,500 feet.
Flagstaff's record breaking snowfall last year made the National Weather Service's list of significant climate anomalies and events for 2019.