As Flagstaff's peaks have been buried in snow, Snowbowl's furriest ski patroller is prepared for a possible avalanche search and rescue on the mountain. Ava, The Avalanche Rescue Dog, trains year-round to ensure she is prepared to help rescue a buried avalanche victim and works as a symbol of safety at Snowbowl, reminding people of the importance of avalanche and general safety while recreating.
Ava's handler, Hailey Hagerty, has been patrolling for nine seasons and has been working with Ava to ensure she is capable of performing such duties. The 4-year-old dog serves as an excellent role model of what an avalanche canine should be, Hagerty said, especially being the Snowbowl's first avalanche rescue and patrol dog.
Hagerty explained that she worked to developed an avalanche dog rescue program at the resort as part of her public health capstone at Northern Arizona University after seeing how unpredictable and powerful avalanches can be. The then-trial program has now developed into a fully established training program with the Snowbowl ski patrol.
"I think a lot of people forget that we have avalanche danger, especially in a year like this," Hagerty said. "As we're coming into the storm, it is something very real, it's a thing I train a lot with Ava for."
Derik Spice, the snow safety coordinator and assistant patrol director at Snowbowl, said Ava is responsible for responding to and locating a person who has been buried in an avalanche -- whether that be within the Snowbowl ski area or in the backcountry terrain of the Kachina Peaks Wilderness.
Spice said that since Ava was 7 weeks old she has been training for her role as an avalanche patrol dog. Similar to how hunting dogs are trained to fetch birds, Ava was trained to find things hidden in the snow using her keen sense of smell. When Ava was younger, Spice explained, her training mainly consisted of finding small clothing items buried just under the surface of the snow. As she got older and more experienced, Ava graduated to locating fully submerged patrollers multiple feet below the surface during her training sessions.
Ava's training sessions are designed to simulate an avalanche rescue situation as closely as possible, Hagerty said, and typically, Ava performs with flying colors — able to locate the patroller under five minutes.
"We train her as a search-and-rescue dog specialized in finding the scent of humans buried in the snow in the rare event that there were to be an avalanche that would bury a skier or snowboarder," Hagerty said. "She could use her acute sense of smell to actually alert us humans to where that victim would be buried under the snow, and that way, we can work as a team with patrol, and patrol can help us rescue that person."
Work hard, play hard
While training for avalanche search and rescue is serious work, Hagerty said Ava finds joy in her role on the mountain.
Dogs enjoy playtime and fun, Hagerty said. So she has found ways to incorporate play and excitement into Ava's training sessions. For example, Ava's reward for finding a patroller buried in the snow is getting a big tug-of-war party. Hagerty explained that the person hidden underneath the snow has a tug toy with them, so when Ava finds them, she's greeted with some serious tug-of-war playtime.
Outside of winter, Hagerty said, Ava keeps up her training work with both obedience and different kinds of search and rescue training to ensure she is a well-rounded dog on top of being an amazing patrol dog.
"We do some search-and-rescue style drills like playing hide-and-seek games in the woods, or I will take a sweater that's scented of human and hide it in the woods and she'll go find that," Hagerty said. "Generally, once we get to winter, we really start ramping things up and making drills more challenging."
Despite the training and importance of Ava's work, Spice said, it is important to understand that just because Ava is on the mountain, one should not carry the illusion of safety from an avalanche. In the uncommon but very dangerous situation of an avalanche, Spice explained that the goal is to have Ava locate the victim and recover them alive, but that would be a rare instance.
"The reality is, I can't send Ava out into a hazardous area without doing avalanche control work," Spice said. "The sure side of hazard is that you started an avalanche, and then the terrain right next to that might be suspect. So she's a resource, but don't depend on Ava coming out because what'll happen in real life is if there is an avalanche in the inner basin, we will bomb the adjacent terrain and we might bury the victim deeper before we can even conduct an organized search."
Working alongside Ava is a team of patrollers and researchers dedicated to promoting avalanche safety, Spice explained, and these patrollers and researchers offer resources for recreationist to learn and become prepared for the potential dangers of an avalanche. He said the Snowbowl ski patrol team also operates as the search rescue for the San Fransisco Peaks, collaborating with the Kachina Peaks Avalanche Center to provide safety courses as well as updated avalanche forecasts for backcountry recreationist.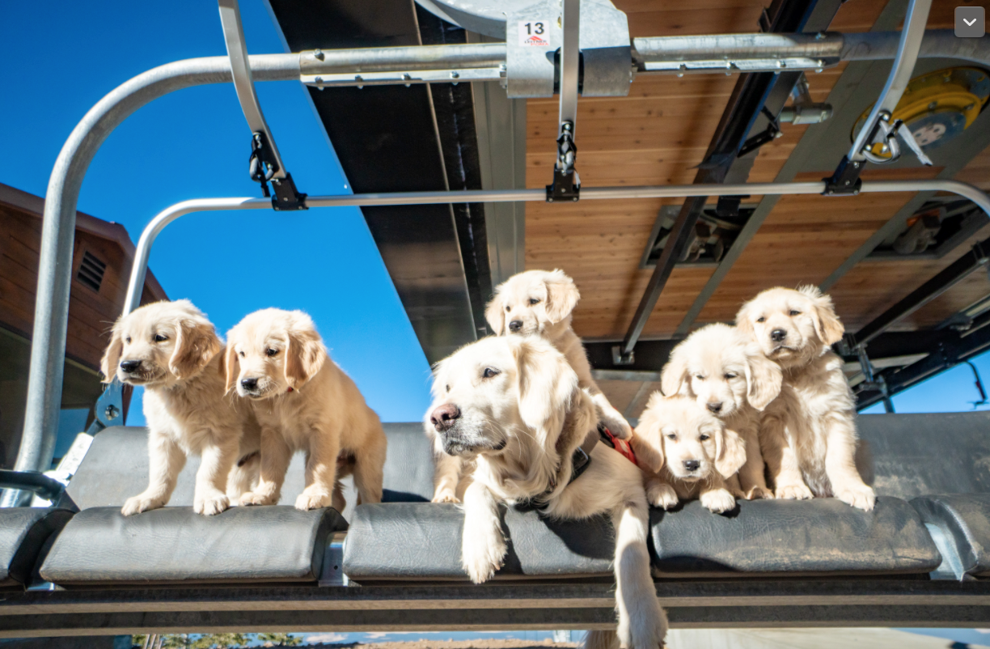 Symbol of safety
Hagerty also explained that people are encouraged to prepare for the worst by wearing a beacon, bringing probes and shovels, and making sure to stick with a buddy.
"There's this saying: 'Know before you go,'" Hagerty said. "Know the risks out there. You need to have all the equipment and have a plan before you go to prevent an avalanche from happening."
While Ava is a resource, Hagerty said she hopes there is never a need for her in an avalanche scenario. She said, ideally, preventative measures and education will keep people safe while recreating at Snowbowl or in the nearby Kachina Peaks Wilderness.
When she is not training for the worst-case scenario in an avalanche rescue, however, Ava remains a symbol of safety at Snowbowl, Hagerty explained. Ava helps encourage people to be safe from avalanche safety to riding the ski area to general health and safety.
"This year, she's helped remind people to be COVID conscious and wear masks up there," Hagerty said. "So she kind of has a multitude of roles, but her gig is mostly just working with patrol and being an icon for safety."
It is clear Ava wouldn't have it any other way, Hagerty said, and since having a litter of six puppies in fall of 2020, Ava has returned to her work with a newfound motherly pride and passion.
"This year, she is performing better than she ever has on her search drills on the ski patrol," Hagerty said. "She's very proud of her puppies and she's also very proud of her work. She's even more stoked to go to work now."
Spice and Hagerty explained that while Ava is a phenomenal solo avalanche dog, ski patrol hopes to expand the avalanche dog training program to include a team of patrol dogs.
"She's an amazing dog and hopefully, maybe in the future, we'll grow our dog program to have another dog and Ava can lead by example, and we can have more coverage through our Kachina Peaks avalanche area," Hagerty said.