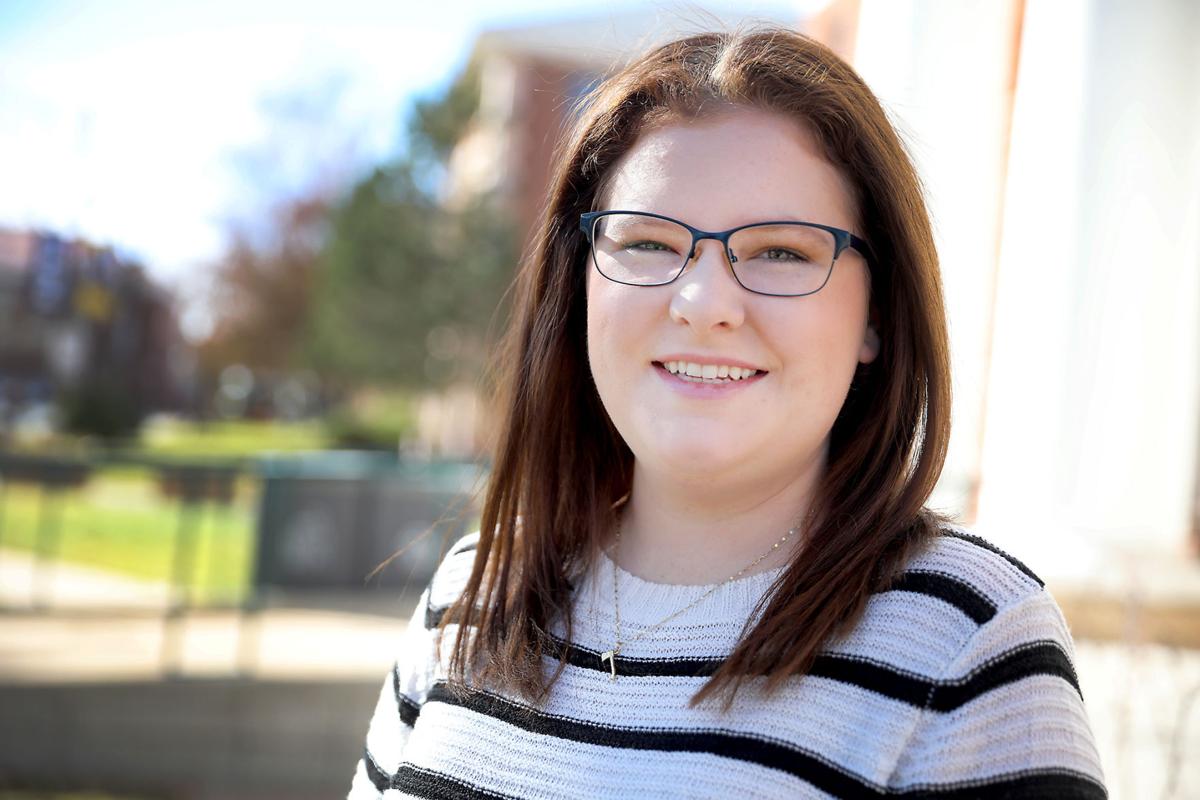 As several COVID-19 vaccines near Food and Drug Administration approval, Northern Arizona University graduate Skylar Weber is personally cheering on the Pfizer and BioNTech candidate, which she has been studying closely since early this year.
When Weber's planned internship at the University of Konstanz in Germany fell through as a result of the pandemic, the German and biomedical sciences major, who graduated this weekend, instead created a bachelor's thesis on the novel coronavirus itself.
Starting this summer, Weber, who plans to become a physician, spent more than 540 hours researching coronaviruses and SARS-CoV-2 using German and American scientific journals and newspapers, while also following the progress in the development of vaccine candidate BNT162, created by European immunotherapy company BioNTech.
The research, paired with Weber's other experiences including as an intern at the Medical Examiner's Office, won her a President's Prize, the highest honor available for NAU undergraduates.
It is coincidental that the vaccine candidate Weber selected is now one of the top contenders for first FDA authorization; Weber had simply chosen one of the few vaccines being developed in Germany.
At the time she began her research, four versions of BNT162 were in the research phase of the clinical trial process. BNT162b2 has now concluded its third phase of clinical trials, where it was 95% effective against COVID-19.
"It's been exciting because I didn't have a real rhyme or reason, so to speak, as for picking this particular candidate to follow. So while I'm not doing the physical research behind this or working with the actual vaccine candidate in the lab, watching the science unfold and the speed at which it's been happening has been so inspiring and left me in awe," Weber said. "If that becomes the vaccine that I go to the local pharmacy or the local doctor's office and get, I think that would be really cool because I'd get to say I've been reading about this vaccine since its infancy."
Weber's experience with COVID-19 did not begin with this research, though, but with her time in Konstanz, Germany, this spring, just before evacuating.
On March 19, when the U.S. Department of State issued its Global Level 4 Health Advisory, advising Americans not to travel, Weber, like other American students studying abroad, was called home, but not before she experienced the German response to its rising COVID-19 case numbers, another component of her thesis.
Weber had been in Germany for about six months taking classes at the University of Konstanz when the pandemic hit.
"They closed everything and put up all the plastic barriers and everything like that within a matter of a weekend. It was Konstanz as normal and then six days later, it was totally shut down," she said.
Residents were instructed to go into quarantine and could only be seen outside alone or with members of their household, taking short walks to get fresh air without increasing COVID-19 transmission rates.
When the State Department issued its advisory, Weber said, she had 24 hours to pack, board a train and catch a flight back to the U.S. before the train lines were shut down.
"When I flew back here, in Arizona, restaurants were still open. Everything was still open. Life was normal as usual," Weber said. "If you can imagine a wave, Germany was way further on this wave than we were at that point in time. I feel like when I took the flight and went back eight hours in real time, I actually flew back two and a half months."
The experience was jarring, she admitted, and she said she wonders what would have happened if she could have chosen to stay in Germany, which was able to reopen in May as a result of its response to the pandemic. Weber said she was concerned about the virus, but never afraid during her time in Germany because of the quick response in Europe to the pandemic.
When she returned to Arizona, the effects of culture on such responses became clear, though, as her friends were much less willing to follow health recommendations.
"My friends here back at home were like, 'Well I was told to make the best decision I can for myself, so why would I wear a mask if it doesn't benefit me?' Whereas my other friends in Germany have always been told we do all these things not only for ourselves but for our fellow neighbor, that this is something bigger than us and we're going to conquer this together," Weber said. "You see more of that over there than I did here in Arizona."
The more research Weber did on the virus, the more concerned she said she has become, especially regarding the virus's ability to be spread during its incubation period, before individuals develop symptoms — if they develop symptoms at all — as well as regarding the disbelief that is prevalent in her social circles.
"I'm human, too. I do have that 'pandemic fatigue' that is being coined. Yes, I'm tired of doing different things, but I know how important it is to do those things and I know it matters and from a public health perspective, it works. These are the things we know how to do to combat the virus in the community before it gets to the point of an individual facing ICU in the hospital, and so that kind of just keeps me going," she said.
Future physician
Because Weber's mother is a nurse, the recent NAU grad said became familiar with healthcare and medicine at a young age and knew she also wanted to enter the medical field.
Her COVID-19 research, as well as an internship she held at the Medical Examiner's Office, has only solidified her desire to become a physician, likely with a surgical specialization, and that her research on COVID-19 feels far from over as she continues to read about more developments in what scientists know about the virus.
"I have such a great appreciation for virologists and scientists and researchers working on this day in and day out, because not only is it just an always changing environment, but working for a solution to a pandemic while you're living through a pandemic, I can only imagine how crazy and stressful that could be," Weber said.
Weber plans to take the Medical College Admission Test (MCAT) in April and begin applying to medical school this summer. Until then, she hopes to gain more clinical hours, possibly as a medical scribe or by continuing her work with the Medical Examiner's Office.