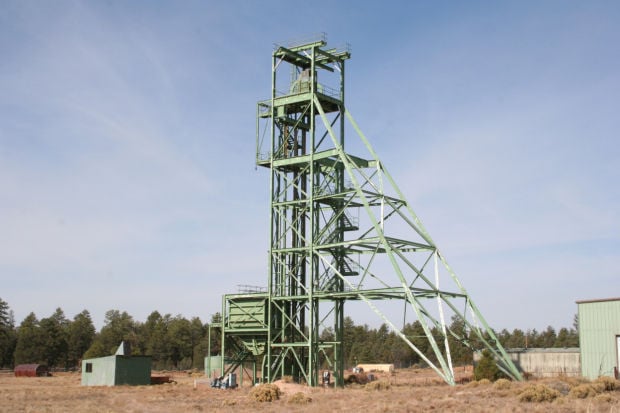 An unexpected influx of water at a uranium mine near the South Rim of the Grand Canyon has forced the mine owner to bring in evaporation devices and large water hauling trucks to keep onsite holding ponds from overflowing.
Large volumes of winter snow and rain, low seasonal evaporation rates and high initial inflows from a perched aquifer pierced by the mine shaft caused water levels in the ponds to rise, according to Energy Fuels, the mine's owner.
According to a company spokesperson, uranium concentrations in the pond water measure about 0.09 parts per million, which is three times the federal drinking water standard of 0.03 parts per million.
Environmental groups that traveled to the mine over the weekend were concerned that some of the pond water being sprayed into the air by the evaporation devices is blowing into the nearby national forest.
They also say the fact that the ponds cannot hold all the water flowing onto the mine site raises questions about the adequacy of the facility's planning and design, the company's commitment to safely dealing with water onsite and the long-term risk of the mining operation.
The Forest Service and the Arizona Department of Environmental Quality, however, have approved the company's strategies for draining its holding ponds and said they have implemented restrictions to ensure water from the mine is not being sprayed onto the national forest. Energy Fuels also collects water quality data from its holding ponds on a quarterly basis and based on information to date, ADEQ stated that it is "confident that the groundwater/aquifer is protected."
Water that is trucked offsite is being taken to Energy Fuels' White Mesa Mill in Blanding, Utah, which has also been approved by regulators.
Uranium ore production has not started on the 17-acre Canyon Mine site. Energy Fuels is still drilling the mine shaft and other ventilation shafts. Ore production could begin in June at the earliest, according to the Forest Service.