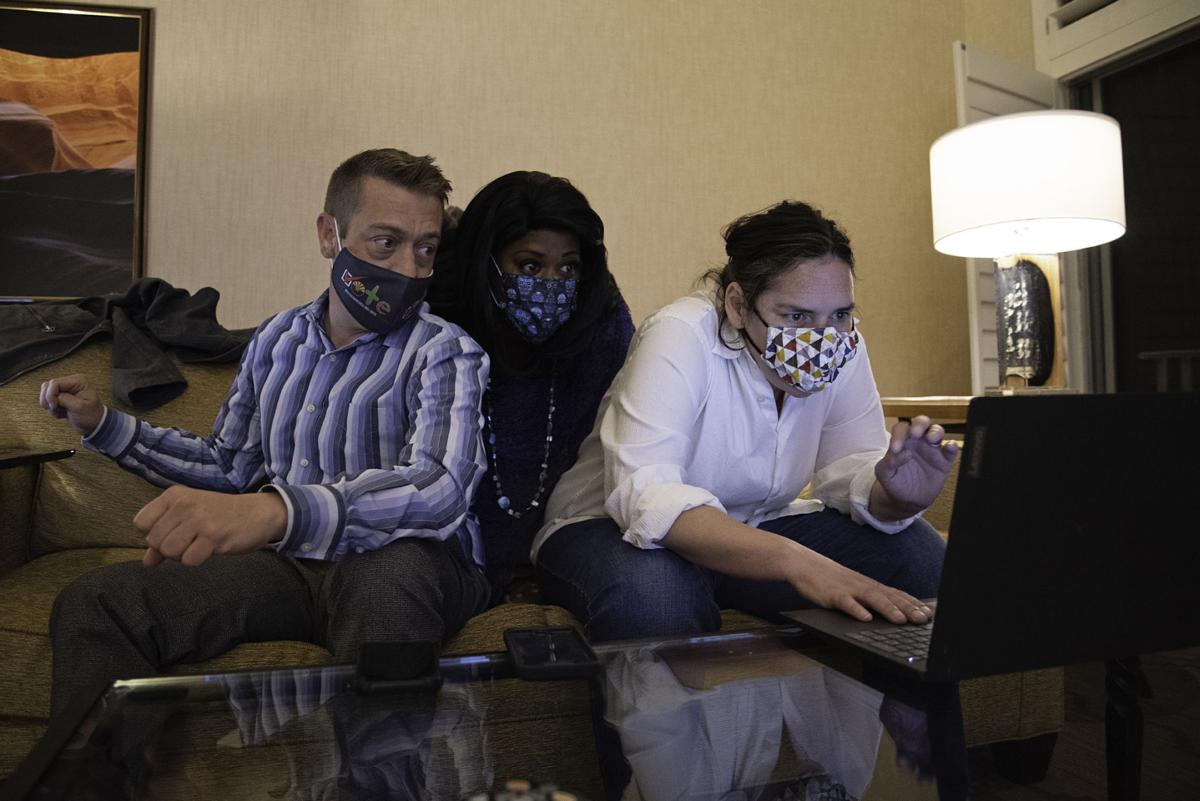 It will likely come down to the wire.
Candidates in the Flagstaff City Council and Legislative District 6 elections are expected to hold out until all the votes are counted before a decisive victory is declared. The two races match the federal tone as voters anxiously await the results of the presidential election.
Republican candidates were up in Legislative District 6 Senate and House races on Wednesday, in a surprise turnaround from the night of the election.
In the race for Flagstaff City Council, one seat went to Becky Daggett on election night while the remaining two are still up for grabs. Councilmember Jim McCarthy and community members Miranda Sweet and Anthony Garcia are all in the running, each hovering with about 17% of the vote.
In raw vote totals, that translates to McCarthy with 11,147 votes, Sweet with 11,076 votes and Garcia with 10,922 votes.
Eric Nolan and Eric Senseman were both somewhat below that in total votes with 9,107 and 7,374, respectively.
By Wednesday night, the Coconino County Recorder's office reported there were 11,250 early ballots yet to be counted. Another 1,748 ballots were awaiting additional forms of verification by voters before they can be counted.
County Recorder Patty Hansen said after election staff were working until nearly 2 a.m. on Election Day, no ballots were counted on Wednesday. Instead, Hansen said staff spent the day working to validate the 62,061 ballots that have already been tallied.
Hansen said there is no way to tell how many of those uncounted ballots may impact either the race for LD6 or city council. But Hansen said election staff will likely be counting through the weekend and well into the following week.
"Almost 13,000 ballots is a chunk for us to count," Hansen said.
No matter how quickly those early ballots are counted, final tallies won't be available until at least Nov. 10. Voters who cast provisional or conditional ballots have five business days to return to the office and certify their ballot. Without that additional verification, their ballot will not be counted.
It is not uncommon for the last seat on Council to be undetermined for days after the election and to be decided by only a handful of votes.
In 2016, for example, Councilmember Charlie Odegaard came from behind to beat out current Vice Mayor Adam Shimoni for the third seat on Council. That was finally determined just over two weeks after the election and Odegaard won by only 59 votes.
A similar story occurred in 2018 when Paul Deasy lost in the race for city council to Councilmember Regina Salas. Salas ended election night 12 votes behind Deasy, but as additional votes were counted, she took the lead. About a week after the election, Salas clinched the race with 185 more votes than Deasy.
And given that reality, Sweet was still holding her breath as even as the morning after Election Day rolled into afternoon.
"I have had people congratulating me all morning, but I'm just holding tight to see," Sweet said. "But honestly, if I were to not make it, I think Anthony Garcia would be a great candidate and do a great job with our city."
Garcia said he was shocked at how many votes he received. In fact, he congratulated both Sweet and McCarthy in a social media post on the night of the election, assuming that for him, the race was over.
"I finished stronger than I thought I was going to; I am just completely overwhelmed with the love right now," Garcia said. "Whether it's me or Miranda, and we for sure got Jim and Becky and Paul in there, these are all great candidates who are going to lead Flagstaff into a better future."
As McCarthy was eating breakfast the morning after the election and prepared to drive around town picking up his campaign signs, he seemed fairly confident in his number of votes.
So far, McCarthy has about 71 more votes than Sweet and 225 more than Garcia.
"It's interesting that I feel very new to this game, but I will be the senior councilmember, I'll be the only one there that has more than two years' experience," McCarthy said. "I've tried to do a good job and I try to be a good listener. You may not always agree with me, but I hope you understand I'm a good listener and I'm trying to do what's best for the community and I think that's why I got reelected."
Whoever ends up holding the seats on Council, nearly all the candidates said they thought the city would be well served.
Nolan said he will continue to serve on the Planning and Zoning Commission until his term ends and will remain involved in working to address the issues facing Flagstaff.
"Of course I wish the votes would have come out a little different, but I honestly feel like I gained more than I lost because of the issues I was able to get involved with more deeply and the people I was able to get to meet and know," Nolan said.
And both Nolan and Senseman predicted voters may see their names on the ballot again in the future.
"As a competitive runner I'm pretty used to not winning, so I was able to handle it just fine," Senseman said. "It was a great privilege to go through the process and I'm grateful for everything I learned."
Democrats in LD6 need to see significant gains in the incoming ballots if they want to take control of the district.
Democratic Arizona Senate candidate Felicia French's lead disappeared early Wednesday morning after more ballots rolled in throughout the four counties overnight. Rogers had surpassed French's early lead and had 53% of the vote. French currently sits 8,034 votes short with 46% of the vote.
Rogers declared her victory over French in a statement, but French said she plans to wait and watch the votes.
"I want to thank you all so much! We did it," Rogers said.
In the race for the Arizona House of Representatives, Democratic Flagstaff Mayor Coral Evans had been leading the pack last night. But her lead also slipped by morning.
Republican Rep. Walt Blackman took the lead by a significant margin, garnering 28% of the vote. Based on the current numbers, Blackman looks to be secure in a second term.
Evans has moved down to third, but is just 267 votes behind former Rep. Brenda Barton at this point. Barton has 47,071 votes with 26% of the vote, and Evans has 46,804 votes with 25% of the vote.
With ballots still being counted, the district's second seat remains up for grabs. In the district's 2018 state House election, the difference between second and third place was decided by just 577 votes.
Barton and officials from Evans' campaign told the Arizona Daily Sun Wednesday morning that every vote would need to be counted before the winner of the second seat could be determined.
"I knew it would be close," Barton said. "I worked very hard to get the message out to folks in District 6."
Katherine Yelle, Evans' campaign manager, said they were still waiting for the total incoming ballots.