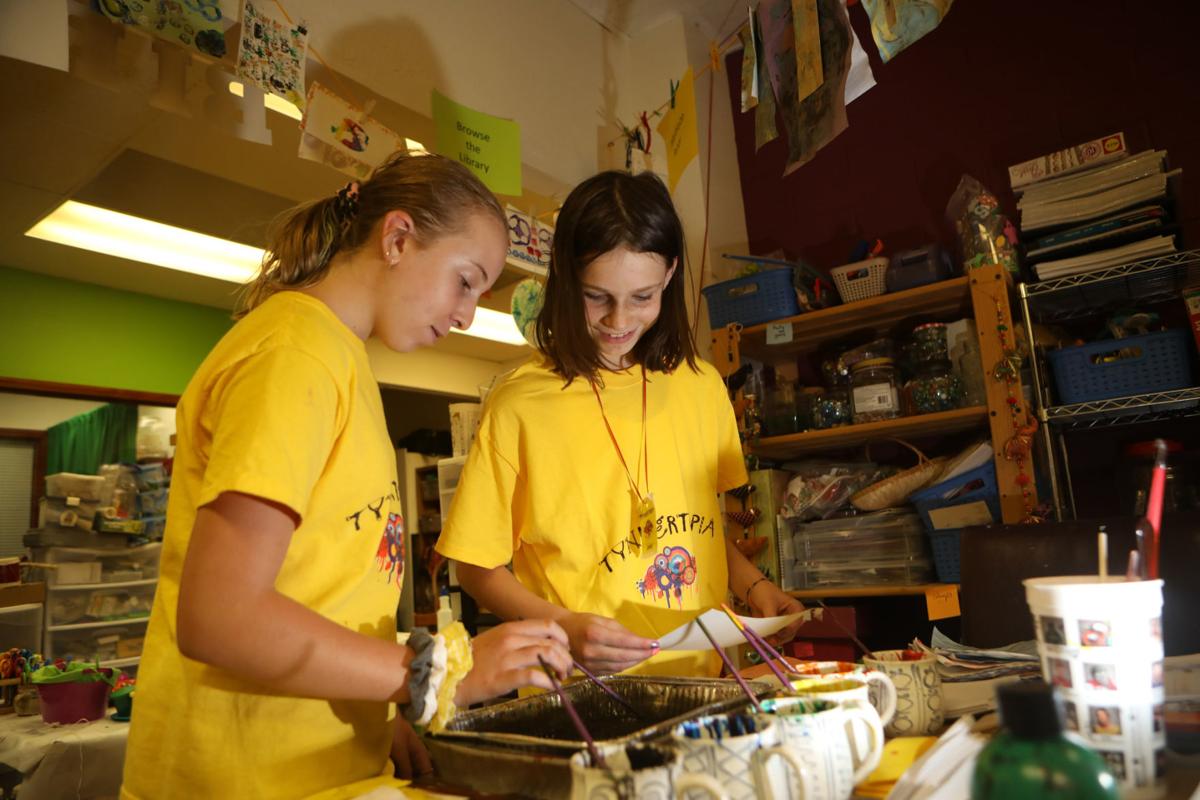 While other organizations have come and gone in the last year, Tynkertopia, the nonprofit community STEM/STEAM center at 2152 N. Fourth St., is celebrating its birthday today.
During its first year, it had more than 6,000 visits from children and families.
Though the center is still in its infant stages, founder Alice Christie said the concept behind Tynkertopia has existed since she first began teaching 54 years ago, long before many people knew what STEM or STEAM (science, technology, engineering, arts and math) education was.
It all started with a General Motors engine manual.
When teaching a high school class called "Non-College Physics," Christie realized the current lessons were not working for her students, who had a low reading level, so she threw out the textbook and replaced it with the engine manual.
"We studied physics by looking under the hoods of the engines and that's really when Tynkertopia started: a nontraditional, experiential, hands-on approach to learning," she said.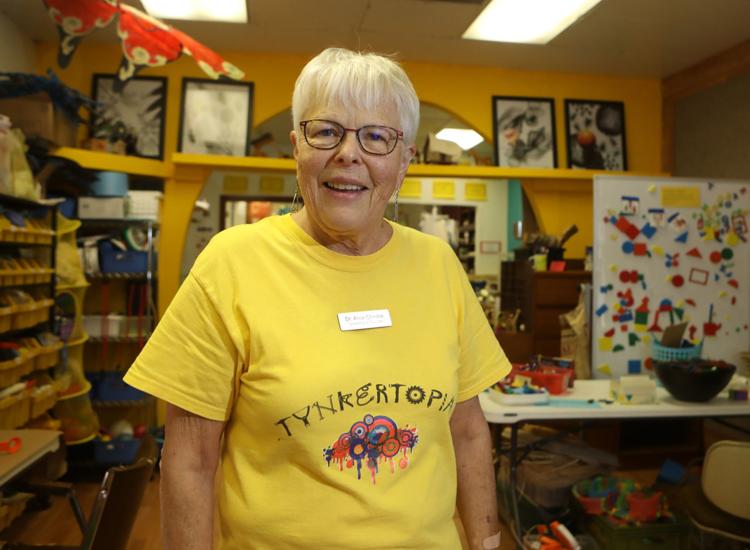 Years later, Christie brought her diverse teaching style to other schools by carrying with her a 50-pound suitcase stuffed full of activities and games to stimulate hands-on learning and creativity.
This suitcase's contents were the first to be available at Tynkertopia, a place Christie hoped would foster engaged STEAM learning in Flagstaff – especially the Sunnyside community – without stale lectures.
To further separate the center from a rigid classroom, it needed a spunky name.
"I wanted kids to be able to tinker because I think a huge amount of STEM/STEAM learning involves tinkering, which means that you don't get it right the first time," she said.
"Mistake-Driven Center," probably would not be appealing, though, she added.
Instead, Christie aimed to create a name as fun, creative and comfortable as the space itself. "When you're tinkering, you can be in utopia," she explained. Hence the alliterative "Tynkertopia" – with a 'y' for extra distinction.
The center started off with one room where Christie's suitcase materials were housed and has since expanded to fill an entire office space, using mostly Christie's own funding.
The space is a kaleidoscope of activities and creations. Each room flows into the next with open windows and doorways, connecting the STEM/STEAM Challenge Room to the Computer and Robotics Lab, the workshop and the library, among others.
The various components of STEAM coexist throughout Tynkertopia. For example, an aquaponics display (to feed plants using waste from a fish tank) sits in the window of the computer lab, while coding robots are held on the same table as a digital microscope.
Student-made signs and design sketches line the walls and tables are packed with puzzles and brainteasers while strips of marbleized paper and other paintings hang from the ceiling to dry.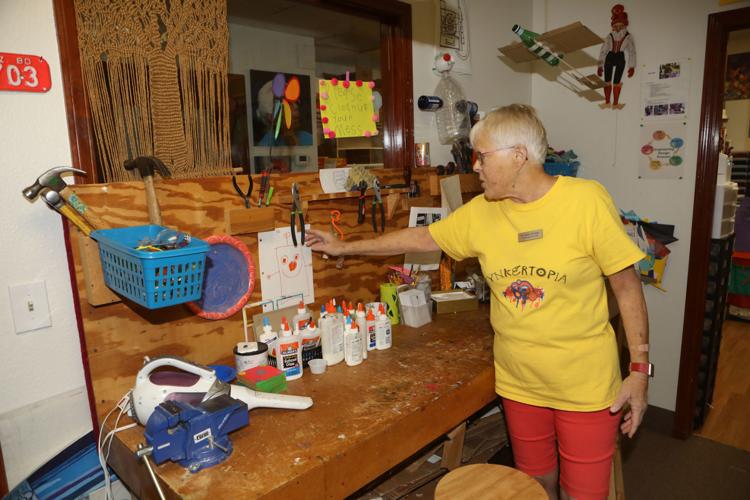 Some visitors have volunteered to leave their creations behind to fill display cases and shelves. Christie treasures the unique constructions – like packing peanut Cheetos and marshmallow-and-toothpick pyramids – as if they were trophies, knowing the story behind each and the child who made it.
One such creation, a creature with a toilet-paper-roll body, is a representation of Christie herself, complete with cotton-ball white hair and colorful pipe cleaners to represent her signature neon pink shoes.
In addition to open crafting and learning time, Christie has also gradually increased the structured programs and classes offered, including her Junior Internship Program to help young students discover their aptitudes.
Josie Drios, 12, is a current intern and plans to eventually study biochemistry, among other subjects, and travel to Mars.
"Tynkertopia is a place to learn and create the things that you imagine," she said.
A community party
To celebrate one year of tinkering, the Tynkertopia team held a community celebration Saturday where new and frequent visitors, as well as community leaders, could gather to celebrate local STEM efforts and use the space.
Brewer Balmat, 5, has become a master of marbleized painting during her time spent at Tynkertopia throughout the last year, adeptly dipping paper into paint suspended in water to create mesmerizing wave patterns in moments.
Brewer and her father, Jeff Balmat, visit the center together every Saturday morning for their "dad and daughter" time.
"It's like walking into a craft store and having free rein. There's always something to discover," Balmat said.
"They loved it right away, then they brought me, then they brought Brewer's friends," said Sunshine Coffman, Brewer's mother. "What we love about this place is that it's not all instructive. You can make anything you want, so it really allows the kids to be creative and try new things."
Other regulars like Mary Eveleth also attended the celebration Saturday.
Eveleth brings her great granddaughter, Story, 7, to Tynkertopia every Friday after she picks her up from school, while they wait for Story's parents to finish work for the day.
"It's such a fun place. Story's always got something on her mind about what she's going to make and she just goes and starts to make it and I sit and work on the puzzles or read National Geographic. If everyone wasn't so busy, we'd all be here," Eveleth said.
Flagstaff Mayor Coral Evans joined in Saturday's festivities, meeting the families who have made Tynkertopia their own.
"I look around and I just see all the future entrepreneurs that are going to be building their own businesses, doing their own things, hiring other people and I wonder what cool invention is going to come out of here," she said.
Evans has been visiting the center recently herself to learn how to make her own paper.
"I know that it's geared toward young people, but as an adult, I get inspired every time I step foot in here. It's a place where you can just be creative," she said.
Get local news delivered to your inbox!
Subscribe to our Daily Headlines newsletter.