Anyone who has teenagers knows they like to doodle, putting their artistic mark on anything and everything.
Two Flagstaff High School students in Kayley Quick's graphic design class took the habit to the next level by placing their own custom designs onto two pairs of white Vans shoes.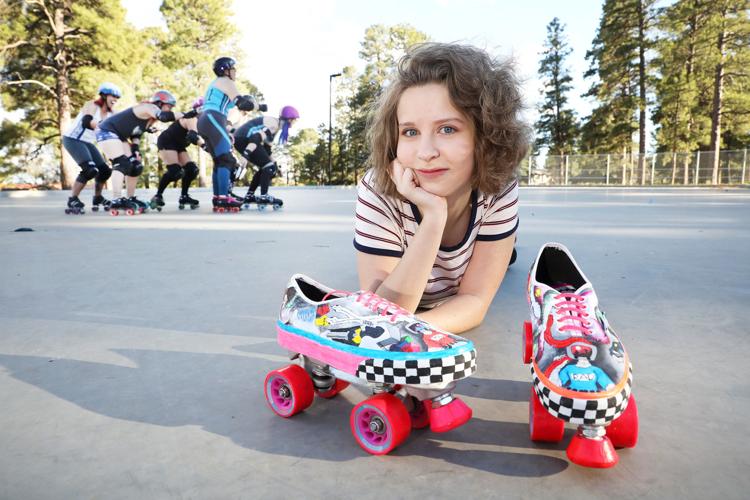 Vans, a Santa Ana, California based manufacturer of skateboarding shoes and apparel, started the design contest a decade ago. According to the company website, it has invested almost $1 million in high school art education through prize money from the competition, all the while creating a low-cost viral marketing campaign as students, their families and community members nationwide visit Vans' website to vote for their favorite shoes.
Each year, 500 schools are picked to participate in the project, with each school being sent a plain white canvas pair of Vans to decorate. One pair of shoes is designed to represent a theme of "Local Flavor" and the second an "Off The Wall" theme that reflects the culture of the company.
This year both Coconino High School and Flagstaff High School were selected. Then the shoes were decorated with the first round of student designs. Flagstaff High School was the only school in Arizona to make it through to the next round -- a smaller pool of 50 schools.
Quick ran her own competition within FHS to see who would get to design the entries for the Vans competition. Sophomores Alyssa Williams and Nicole Dougherty came up with the winning designs.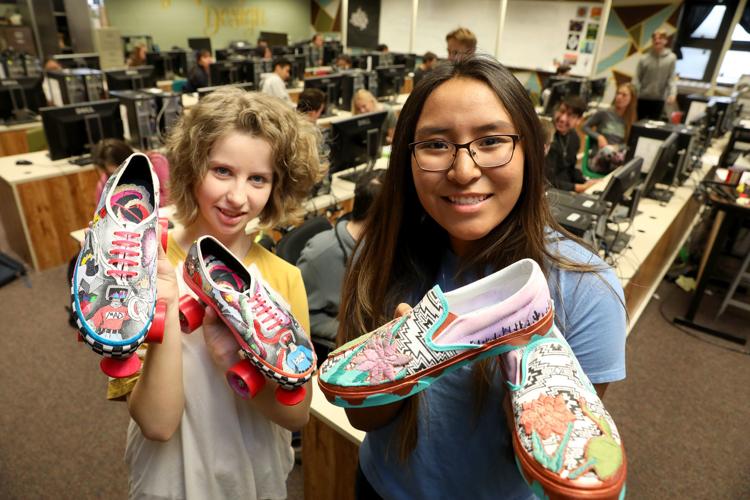 "I wanted succulence, the sunsets, plants and cultures of the state," Williams said.
Her shoes -- submitted to the "Local Flavor" design category -- feature copper colored silhouettes of the Navajo Nation's Monument Valley on the sole, Aspen trees inside the shoe and Native American pottery designs on the outside.
"We have many cultures, both Native and Mexican. The biggest Native population is Navajo and I am Navajo," Williams said. "I am of the Kiiyaa'aanii and born for the Naashst'ezhi Tabaahi clan. I have been learning the Navajo language since I was in first grade so I see myself as very traditional."
Williams said she wanted to show the state in its entirety.
"I just wanted to include everything that Arizona has to offer. I am proud of who I am and wanted to bring that side out of me to show that my culture is important and shouldn't be forgotten," Williams said.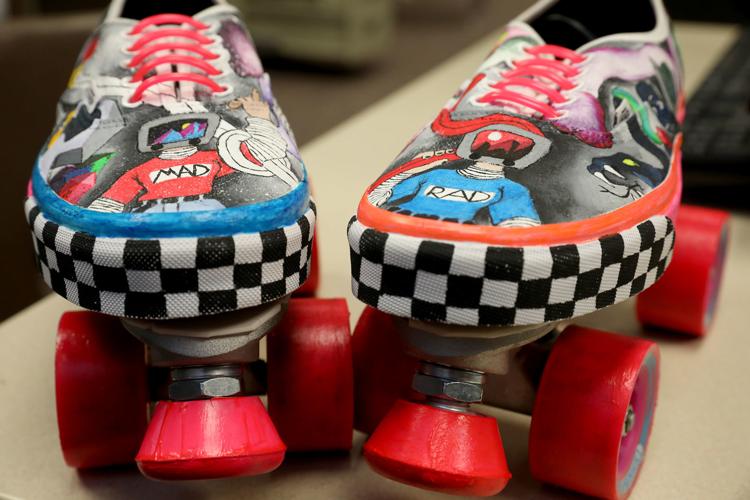 You have free articles remaining.
Register for more free articles
Stay logged in to skip the surveys
Williams hopes to use the $75,000 in prize money to help FHS; she would like to see it go toward campus beautification and more murals, she said.
In addition to a first prize sum of $75,000, the winning school will also receive a party thrown by Vans, complete with a BBQ lunch and a concert by a mystery band.
The second pair of shoes was designed by Nicole Dougherty to meet the Vans "Off The Wall" brief.
"I put on high power music and just put what was in my mind on the paper. That led to me getting chosen to do the shoe. It really came from nowhere and everywhere," Dougherty said of her design.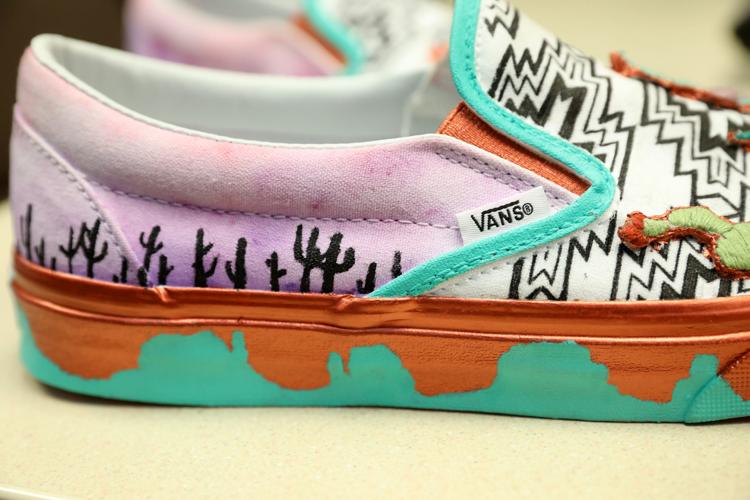 "The characters Mad and Rad are wearing outfits I've been drawing for a long time. There is a theme of space and an out-of-this-world theme  throughout the shoes with paint splatters forming stars. The design all flows from the back of the shoes with a pair of snakes that is looking at the moon and everything jumps from there. I love how everything rushes towards the front of the shoe and I have details on one shoe which reference the other shoe," she said. 
"One of the things that I notice in the contrast between Alyssa's design and mine is that hers are more pastel and soft and mine are more grungy," Dougherty said.
"I like this experience for both of us. It's a nice platform for us and, being the age that we are, we don't get the platform that older people get and this gives us the chance to show what we can do," Williams said.
That thought was mirrored by Quick.
"For me, it gives them real world opportunity and a gateway to interact with something physical," Quick said. "A lot of what we do is digital on a computer and to turn that into a physical object gives them a sense of confidence and real world connection to their creations." 
Quick said all the students who entered their designs in the local FHS contest have ended up supporting Williams and Dougherty. So has the Flagstaff community as a whole.  
"This in my opinion it will not only be a victory for my students, classroom and Flag High, but would also bring recognition to the amazing art that we have here in Flagstaff," Quick said. 
"I want to showcase how incredible my students are because I see it every day in their work ethic, their dedication and most importantly their extreme talent. I want them to be recognized for this," Quick said.
Voting is still open for the 2019 Vans Custom Culture competition. Voting ends Friday, May 3, at 6 p.m. Votes can be cast once a day at customculture.vans.com/.