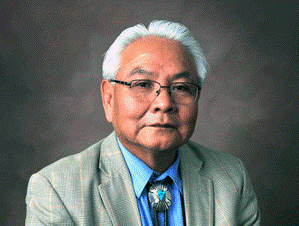 The Department of Dine' Education's Tommy Lewis, Jr., has been appointed Coconino County Superintendent of Schools to complete the term started by Risha VanderWey.
The Board of Supervisors confirmed the appointment Tuesday after three months of recruitment.
Beginning Nov. 18, Lewis will assume VanderWey's position, which she held since March 2014, for a term that ends Dec. 31, 2020. VanderWey was hired as the superintendent for Tuba City Unified School District and has been juggling both positions since August.
Lewis has lived in Flagstaff for more than 45 years and has served as the Superintendent of Schools for the Navajo Nation Department of Dine' Education since 2015, where he oversees 260 schools and 85,000 students.
According to a press release from the Department of Dine' Education, Lewis submitted his letter of resignation Oct. 24 and will retire from the department beginning Nov. 15.
Lewis is from Standing Horse, Arizona, about 80 miles east of Flagstaff, and received his bachelor's, master's and doctoral degrees from Northern Arizona University.
Previously, Lewis held positions at schools and educational institutions, including as the president of Dine' College and Northwest Indian College in Washington, for just a few years at a time.
He worked for the county in the early 2000s as the assistant superintendent of the County Accommodation School District, which he helped create. This district provides education services throughout the County such as Ponderosa High School in Flagstaff and Tse' Yaato' High School in Page.
You have free articles remaining.
"I'm going back to something that I helped create and assisted in developing," Lewis said. "I'll be in that role very comfortably knowing I've had some experience, some exposure, in how that office operates."
He added that he was pleased by the "qualified and competent" team he will be joining.
The Coconino County Education Service Agency (CCESA), operated by the Superintendent of Schools, works with public school districts to improve overall education, manage school elections and oversee tax dollars allocated to education, among other responsibilities.
Lena Fowler, Chair of the Board of Supervisors, said the board interviewed numerous "deserving" candidates for the superintendent position.
"We're happy to welcome Dr. Lewis, who brings a vast amount of experience and expertise to our county," Fowler said in a statement. "Through his leadership in education, he will help nurture the county's most valuable resource -- our children."
After reaching retirement age last month, Lewis said it's the perfect time for his return to work in Flagstaff, allowing him to skip weekly commutes to Window Rock and frequent trips between Arizona, New Mexico, Utah and Washington, D.C.
"I've been going full steam for many years. I put in 43 years of service in the education field," Lewis said. "I feel like I need to slow down and concentrate on my family and also take on a job that is within my community."
When asked if he would consider running for the position in the primary and general elections next year, Lewis said, "I guess we'll know at that time."
"I want to make a contribution to the county government, to my local community and to all the students and stakeholders," Lewis said. "They have been my focus for many years and I will continue to advocate for students at the highest level."