Last month, a large truck made the rounds of three Flagstaff breweries with an interesting delivery: water that had, not too long ago, been flowing through the city's wastewater treatment plant.
As part of a statewide challenge, the breweries — Historic, Dark Sky and Wanderlust — had signed up to craft a brew with the wastewater-turned-drinking water.
Before it landed at the breweries' doors, though, the water went through a five-step advanced purification process that removed everything from bacteria and organic compounds to pharmaceuticals, heavy metals and personal care products. Extensive testing also made sure the water met not only federal drinking water standards but also came in below federal health reference levels for dozens of other unregulated contaminants.
The end result was, as Dark Sky co-owner Nick Irvine put it, "better than what people are getting out of their tap."
"This is ridiculously pure water," he said.
The breweries released their final beers this month. They sent a sample to the statewide competition, called the AZ Pure Water Brew Challenge, but also made enough to put it on tap in their Flagstaff locations.
A few weeks after the beers' release, the Daily Sun polled brewery owners, bartenders and customers to see what people thought of the taste as well as the concept of brewing with the purified reclaimed wastewater.
In general, customers embraced the idea of craft brewers using the advanced-treated wastewater, even if their opinions were mixed about the style of the beer itself.
Brice McReynolds and his friend Dominick Lanato said they were huge fans of Wanderlust's AZ Pure Triple, a sweet and strong Belgian-style beer.
"It is a great beer and I am really enjoying it," McReynolds said. "If they hadn't told me how it was made I never would have thought it was made with former wastewater."
"It doesn't taste like pee," he said laughing. "On a serious note it is an awesome beer and it is fantastic they are doing this."
Janice Hill was more excited about the process than the beer itself.
"I trust they wouldn't be serving the beer if it was unsafe for people to drink," Hill said. "I just think the process is so amazing. Water is scarce in Arizona and I hope breweries can start doing this for all their beers."
Nathan Friedman, owner at Wanderlust, said the brewery has seen tons of people coming in specifically to try the Triple. Feedback has been "overwhelmingly positive," he said.
At Historic Brewing Company, Bert Decock described the process of brewing beer with treated wastewater inevitable as he drank the brewery's Sly Sludge American IPA.
"We live in a place where water is like gold so I see everyone brewing beer like this eventually," Decock said. "I loved the way the beer was brewed. It was a sweet IPA that tasted very good."
Nick Irvine, co-owner of Dark Sky Brewing Company said their No Reservations Berliner Weiss also received a positive reception.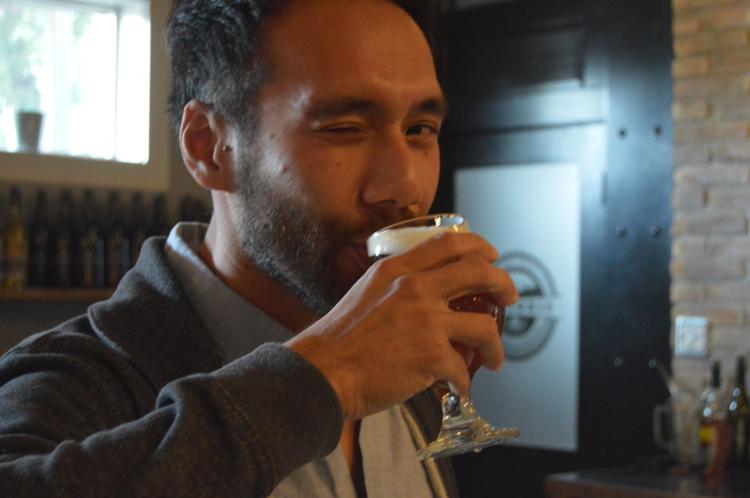 "The beer is all gone. People really loved it (very quickly) and from what I was able to gather, there were way more people excited about this effort than those having any worries," Irvine wrote in an email.
Dark Sky bartender Donnie Fox said some customers were apprehensive until he provided an explanation.
"Everyone was pretty on board, with the exception of a few people who would get weirded out at first," Fox said. "But when I gave them my spiel about the beer they were really supportive."
The idea of the AZ Pure Water Brew Challenge was to use craft beer as an avenue to engage more people in the idea of reusing wastewater for potable purposes, said Channah Rock, a water microbiologist at the University of Arizona who is leading public outreach for the challenge. As water providers have fewer and fewer options for securing sustainable water supplies to meet increasing growth, direct potable reuse has emerged as a new potential water supply.
Brewers are also a perfect match because as major water users they have a particular interest in high quality water as well as sustainable supplies.
"Water issues are always something that is on our mind in Arizona and the Southwest," said Friedman of Wanderlust.
Water that was delivered to the brewers went through a purification process that includes ultra filtration, reverse osmosis and ultraviolet disinfection.
In fact, brewers said the water is so pure that they had to add in minerals and salts to approximate the water they get from the city.
Friedman said he used the purified water as an opportunity to add in fewer minerals and brew a beer that has a flavor complemented by water with a lighter mineral profile.
Testing of the water was also extensive, with analysis that covered more than 230 constituents -- much more extensive than federal drinking water standards, which require monitoring of only 77 constituents, said Jeff Prevatt, the research and innovation manager at Pima County's wastewater reclamation department, which is involved in the challenge.
The treatment equipment is housed in a repurposed shipping container hauled to different water treatment plants around the state via semi-truck.
The truck first came to Flagstaff for a test run at the beginning of August. Only after tests of that water came back clear did the truck come back to produce water for the breweries.
Friedman added that the brewing process itself also sterilizes the water because it involves both a high-alcohol environment and boiling of the wort.
While the brew challenge is a one-time pilot program, it foreshadows work by state environmental regulators to develop rules that will allow utilities to purify and then reuse wastewater for drinking water. The state's Department of Environmental Quality came out with a draft rule this summer and Flagstaff is studying the process as an option for its long term water supply plan.
Erin Young is the water resources manager with the city of Flagstaff, and helped deliver water to the breweries. She spoke about how the brew challenge paves the way for a broader discussion about treating wastewater for drinking water reuse.
"What I like about this project is people can see that technology can do anything," Young said.