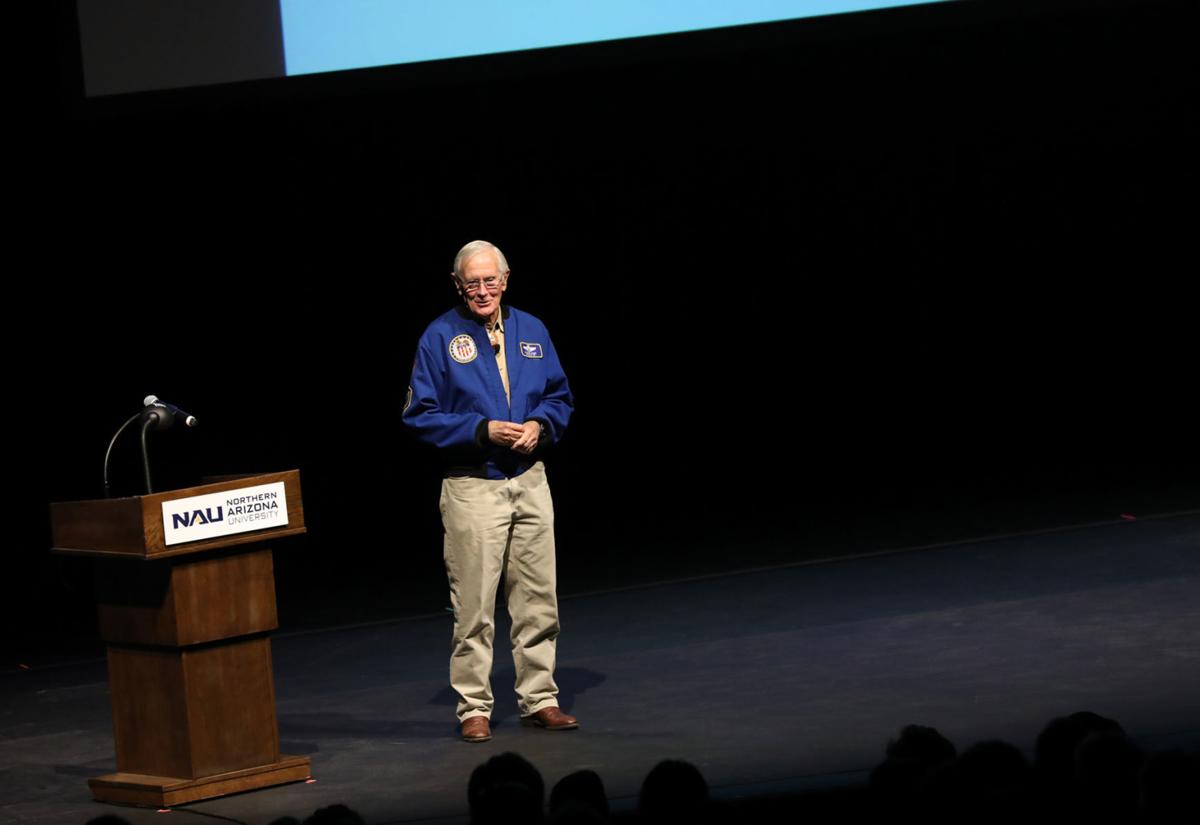 Americans heard astronaut Charlie Duke's voice before we ever saw him in space. He was on the ground inside Houston's Mission Control during the history-making Apollo 11 mission in 1969 – the mission that became the first to place men on the lunar surface.
When Neil Armstrong successfully landed the Apollo 11 spacecraft with only seconds of reserve gas to spare, the first of his legendary words from space were, "The Eagle has landed." It invoked an equally memorable response from Duke on the ground: "Roger, Tranquility. We copy you on the ground. You got a bunch of guys down here about to turn blue. We're breathing again. Thanks a lot."
It took a few more years, but Duke made history again by completing a moonwalk of his own in 1972.
In this 50th anniversary year of the world's first moonwalk, Charlie Duke kicked off Flagstaff's annual Festival of Science as the opening-night distinguished keynote speaker. He is one of only 12 astronauts to walk on the moon, and now 83 years old, is one of four remaining alive. His own space mission on Apollo 16 lasted 11 days, three of them spent on the surface of the moon. His energetic presentation filled NAU's Ardrey Auditorium and focused on the past, present and future hopes for the U.S. space program.
So memorable is the lunar legacy of northern Arizona's astronaut training that Duke, while on the moon, named a crater "Flag Crater" to memorialize his time in training in Flagstaff. Back on Earth, he fondly recalled his training more than 50 years ago including a trip to the bottom of the Grand Canyon by mule.
Today, NASA's class of 2017 astronaut candidate team (all 12 of them) train in many of the same locations as past astronauts -- the Grand Canyon, Meteor Crater and nearby volcanic fields. Duke pointed out that to become part of the team in the audience, they were selected from the 18,000 applications NASA received. (For those wondering about the odds of becoming an astronaut, that works out to a 0.00067% chance to enter just the candidate pool, and the chances of making it to space are again a fraction of that.)
While in Flagstaff, the new recruits had a chance to mingle with more seasoned veterans like Don Pettit, a NASA astronaut who in a good year, spends more than half of it on the International Space Station, and of course, Apollo 16 astronaut Charlie Duke.
Duke created his own 15-minute video presentation from archival footage to walk the audience through his moon mission, with highlights, and if you can imagine, a few lowlights. The room fell silent as footage of a fiery lunar capsule re-entering Earth's atmosphere played behind his description of being grateful that the lunar module didn't have windows so he couldn't see the fireball engulfing the craft, and erupted in laughter seeing the footage of Duke fumbling $10 million of scientific experimental equipment onto the moon's surface in full view of Mission Control's remote control cameras (thanks to low gravity, there was no damage.)
His advice for astronaut hopefuls is advice any Earth-dweller can follow: "Enjoy your experience, work hard, accomplish your dreams, and share that adventure with people." Duke's determination to be a champion for space exploration is matched by keeping things in perspective. "But don't expect it to give you complete satisfaction for the rest of your life, because it's just an experience." His message is from, well, experience: Back on Earth after his mission, the stress of his job on his wife and two young sons almost collapsed their marriage, and she turned to Christianity for solace.
As for work, Duke would forever remain grounded as only three astronauts would make another voyage on Apollo 17. The Apollo space program officially ended in 1975, and Duke retired from service that same year. Facing a career change, he did some soul searching and followed his wife Dorothy into her faith. He credits it with saving their marriage, and their ministry together is an anchor in their lives today.
As for the future of space travel, Duke has high hopes for commercial space travel and hopes to see the first flights in his lifetime. Ever the forward-thinker, he reminded the audience that work in space looks easy to observers, but the focus and the hours required to accomplish small tasks take an entire career.
To hopeful astronauts, he said, "stay focused, keep your antennas up so you can go different ways in your career." Fifty years later, he remains excited about the future of American space endeavors, and the positive impact possible for humankind.
Get local news delivered to your inbox!
Subscribe to our Daily Headlines newsletter.