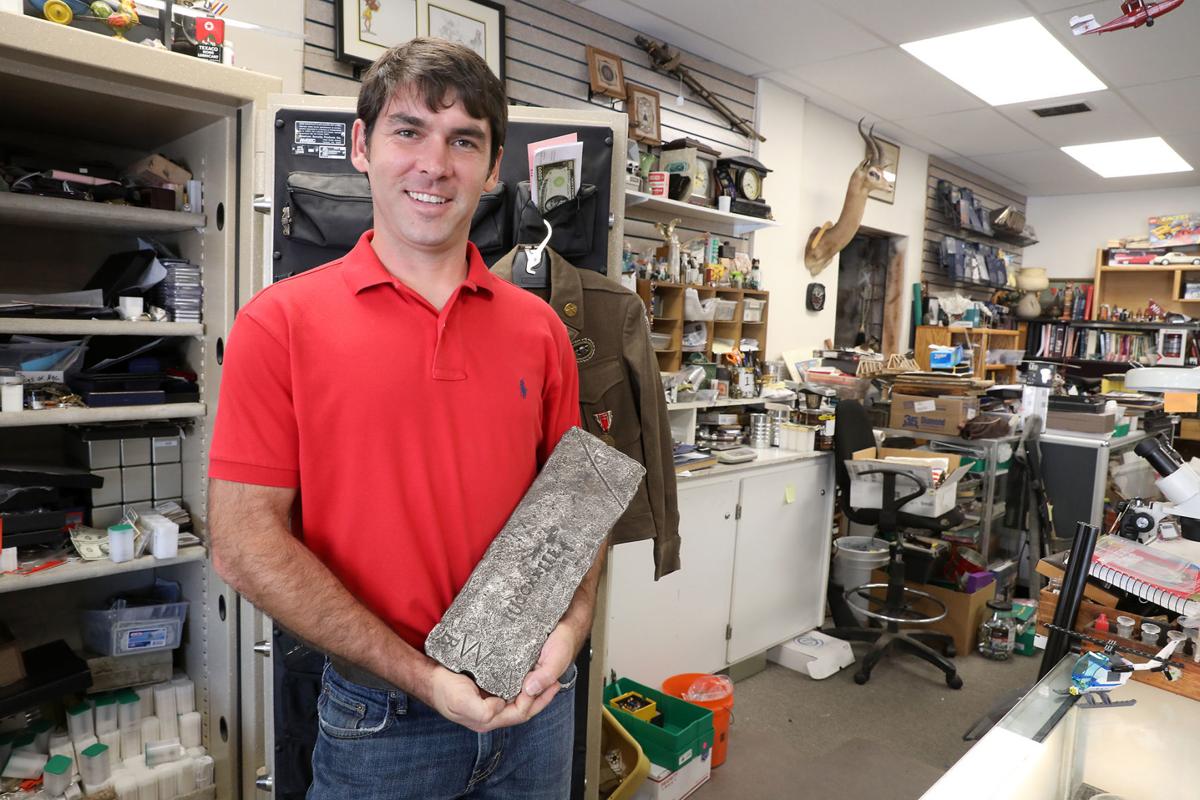 Call it a perverse point of pride, a badge of honor, or merely some personality quirk he deems self-affirming, but David Tackett revels in the fact that he's never had a job. That is, he's never worked for anyone but himself.
From fifth grade, when he started a licensed landscaping business in Scottsdale, to now, when he stands amid the organized clutter of his business, American Bullion & Coin, on Flagstaff's eastside, Tackett only has himself to hold accountable when he's having trouble with his boss. And that boss, boy, can he be a taskmaster, making him be on-call seven days a week.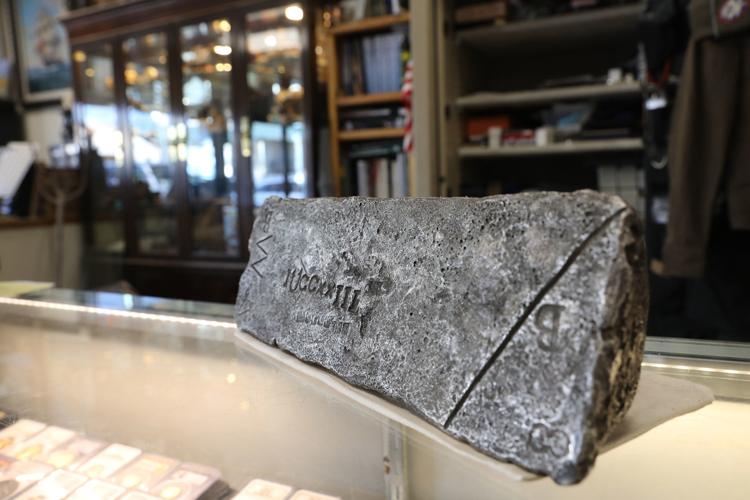 Only Tackett calls the shots. Only he pays the bills. Only he can give himself a raise, though he often just funnels profits back into the business. Only he is accountable.
"I've always just played," Tackett, 32, said. "I've played with coins and money. I've played with comic books. Played with guns. Played with motorcycles. Played with Legos, (with) artwork. I play with things. That's the key to being happy: combining your hobbies with your business. Those people that work for the weekend and don't love it? Man, I could never do that."
Well, actually, after spending nearly an hour showing a visitor the array of items on display in his shop situated in a low-slung stucco light industrial park parallel to Route 66 — and providing a sneak peek at a gun store, Flagstaff Arms Trading Post and Club, that he will open soon next door — Tackett had to correct himself.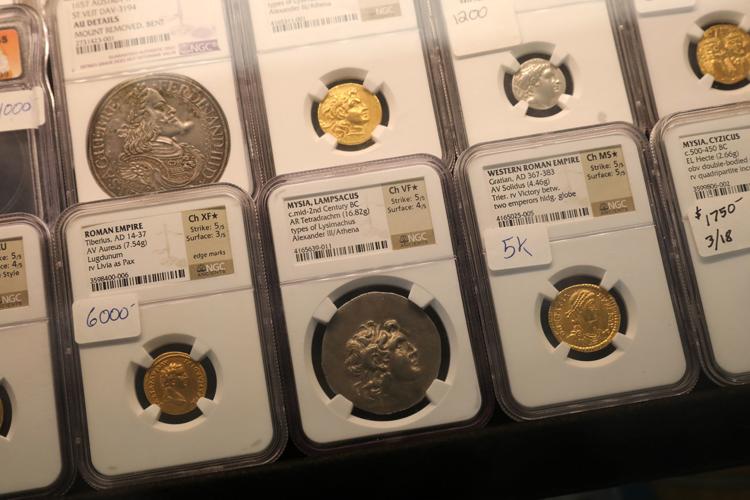 He did have a job once, a gig at a Pizza Hut when he was a Northern Arizona University undergrad in the mid-2000s. He lasted all of two weeks before being booted.
"I kept trying to improve the way they did things," he said, smiling, but not at all ruefully. "You know, streamline things. They were wasting a lot of pizza. The manager hated me."
Being self-employed, Tackett has the luxury to indulge in his many passions, most notably his lifelong quest to not only buy and sell rare coins but to delve deeply into their secret history, suss out the backstory behind a piece's often-obscure provenance, find the gem amidst the flotsam.
But his bursting-at-the-seams store is testament to his varied interests. From the front double doors to the counter near the back, customers machete through stacks of what Tackett calls "stuff," ranging from electric guitars to five-digit-priced artwork. And coins. Lots and lots of coins, the valuable stuff encased behind glass and the really valuable stuff squirreled away in a safe taller than Tackett and three times as wide.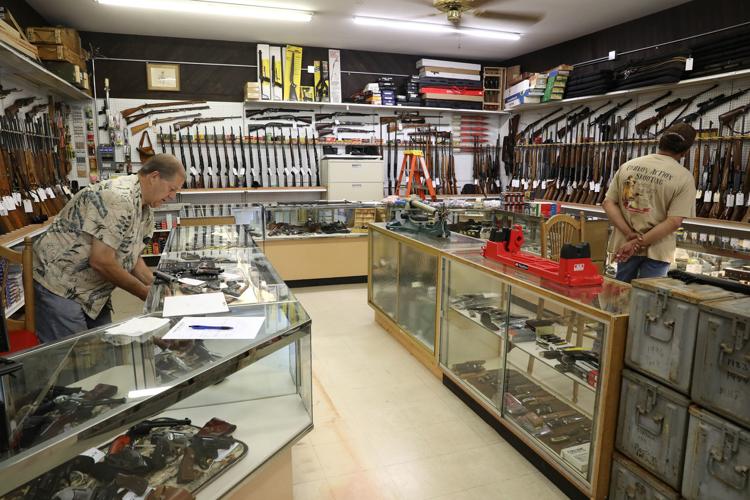 "The goal I'm attempting to portray in this space is 'cluttered-yet-interesting,'" Tackett said. "No trash. There should not be trash. But there should be interesting items everywhere for people to see."
In a way, Tackett's shop is an extension of his boyhood room, according to his father.
"You couldn't get in there without using your shoulder," Steve Tackett said of his son. "Things people would put out for the trash collector, he'd bring home and try to figure out how to sell it to make money — even if it's just a quarter."
David comes from a long line of self-employed dreamers. His grandmother, Ellie Tackett, in Alaska was a collector of many things, including airplanes. His father, too, is self-employed and has dabbled in collecting. But from an early age, David went at it with unrelenting zeal.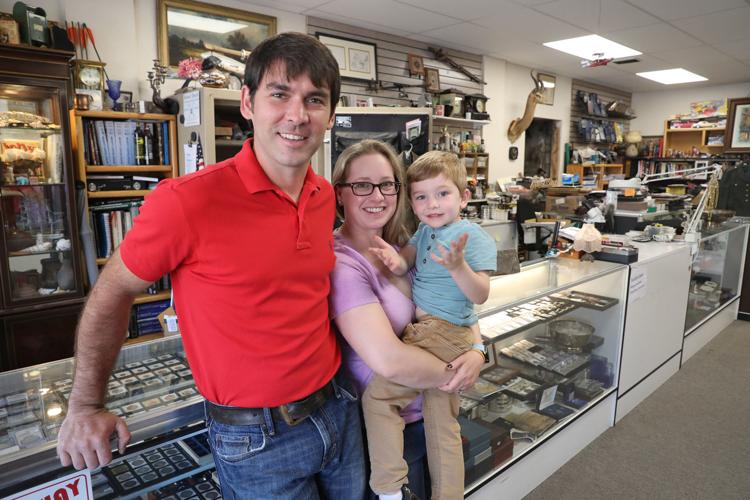 All these years later, Tackett is still at it, though now the profits come to well more than a quarter. But then again, his acquisitions are pricier, too, most items certainly not what people would discard as detritus. It's a high-risk business, dealing in coins, but Tackett said he's been able to do well enough to support his family — with a little help from profits he's made dabbling in real estate and rental properties.
At first blush, the array of items at American Bullion & Coin come off as almost pawn shop-like, but what separates Tackett's concern from the standard broker is his near obsession with all things coins, the rarer and more obscure the better.
Though he studied geology, biology and business at NAU, Tackett is something of an autodidact when it comes to the coin business. He sought out mentors earlier in his collecting career, but mostly pores over volumes of musty books on coins and their histories as well as how to identify and appraise other precious metals.
"I study everything," he said. "My 'play' was always working and learning. I taught myself how to grade diamonds and attribute them. Now, I don't even use testers. My big motto is: Learn every day. Other people aren't smarter or dumber than I; they just know different stuff. If I can't learn something from someone else, that's my problem, right?"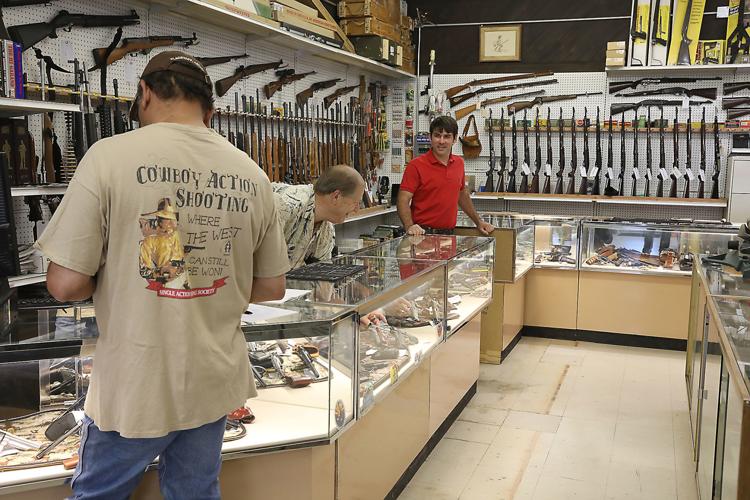 Tackett's passion translates into a kind of kinetic energy he exudes in the store. He drank from a Red Bull showing a visitor around, but, really, the caffeine jolt was not needed. Coins alone fuel Tackett's desire.
Even at 32, he comes off as boyish. A hank of his black hair falls over his forehead, and his brown eyes bulge when he tells of a new variety of an 1893 San Francisco silver dollar he researched and eventually acquired for $41,000 — though later selling at a slight loss. He said he gladly absorbed the monetary setback because it "added value to the coin community's knowledge."
Ask him how one builds up a professional coin collection business without a family steeped in wealth or hedge fund investors, and Tackett retreats back to his childhood.
"When I opened the store, I kind of cannibalized my own collection," he said. "Then you buy one collection and go from there. You get successful by educating yourself. Collecting is about the knowledge you receive more than it is actually having those things. Everyone looks at a collector and think, he's Scrooge, a guy who sits on his pile of money and doesn't give it out to anyone. But that's not the goal of a real true collector. I don't collect stuff; I collect knowledge about the stuff. When I hunt down a collection, I'm after that knowledge."
Tackett's current obsession is a 12 ½-cent token a customer brought in two months ago in a jar full of coins. Tackett examined every single coin, saw a crumbling copper token near the bottom and gave the man $100 for the jar. Since then, Tackett's been trying to determine the token's origins. He puts it under the microscope once more and reads the inscription: "Parlor Exchange. J.W., Proprietor, Flagstaff, Arizona."
He lifted his head up from the microscope.
"I've gone to everyone I can talk to, and no one knows about this one," he said, barely hiding his excitement. "But I will find out something about this coin. I will advance my knowledge."
Then he put the token back in the safe with a click of finality.
Get local news delivered to your inbox!
Subscribe to our Daily Headlines newsletter.