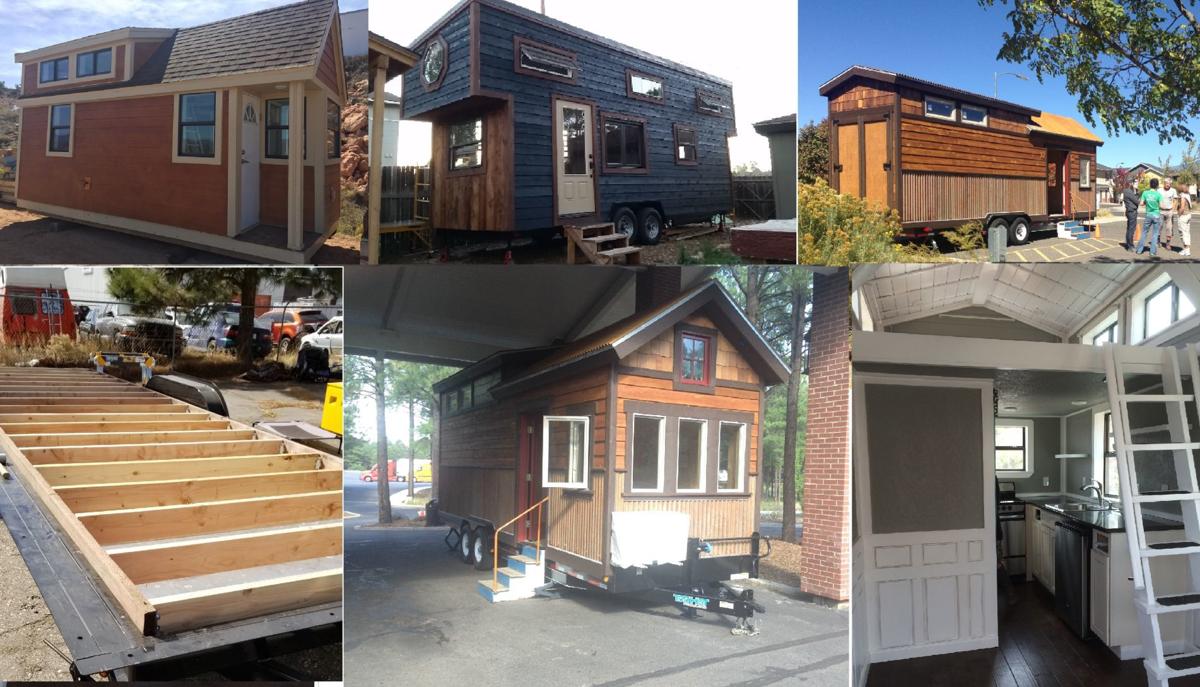 In the months since Coconino County approved rules for tiny homes, Amanda Acheson, the county's sustainable building program manager, has been contacted by "at least a couple people a day" who are interested in building or living in a tiny home.
"A lot of the people I talk to are teachers, I have worked with nurses, retirees, students and anyone who wants to live more simply," Acheson said. "These can be transitional homes, either for young people trying to transition into the housing market or people who are retiring and want to downsize."
The growing interest in tiny homes, which are generally defined as a dwelling unit smaller than 400 square feet, has also created new business opportunities for those interested in building them.
NEW BUSINESS OPPORTUNITIES
Wyatt Brown, a managing member of Flagstaff-based Density Investments, is working on a planned community of about 30 tiny homes to be built near Kachina Village. He projects the soonest he could break ground on the project would be in about a year and a half.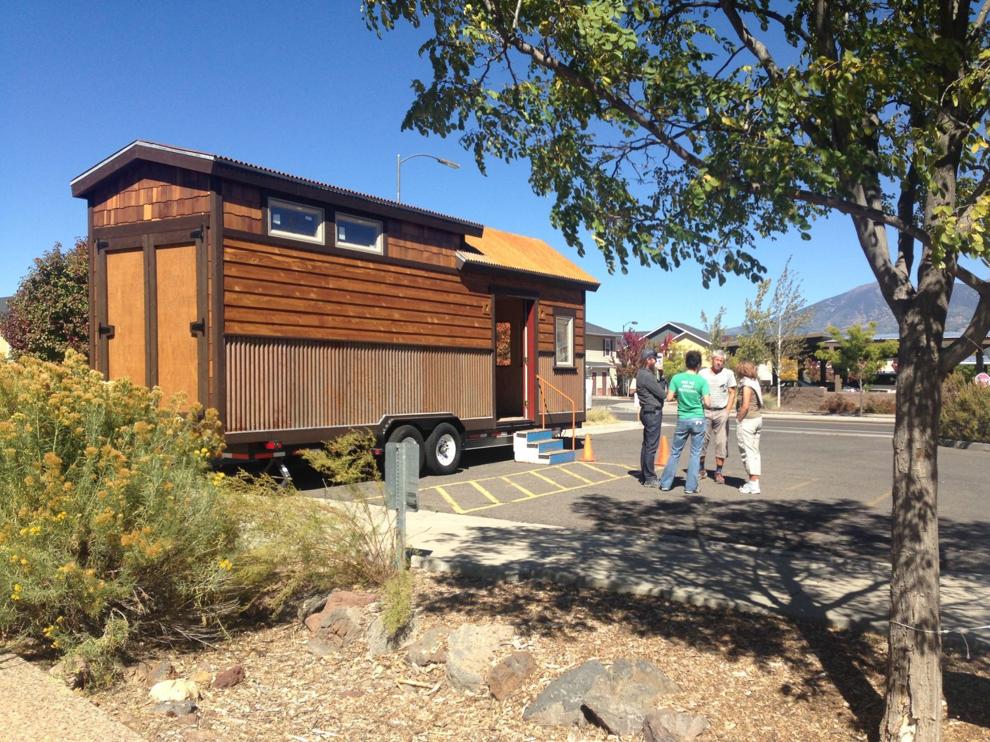 The development will be created through a method called "component building" meaning pieces of the homes will be constructed at a different location and the final structure will be built on site.
"A tiny home, even site-built, is very easy to move," he said.
Brown has been involved in tiny homes for about 15 years, he said, and his company focuses on urban infill projects and green building.
"I want to build tiny homes in Flagstaff just because it's cool," Brown said. "I think these would sell. They're cute and they're fun to live in for certain people."
Ehren Michaelis, the owner of Elevation Tiny Homes, has been involved in construction for decades and had been wanting to start building tiny houses for years before he launched his business about a month ago.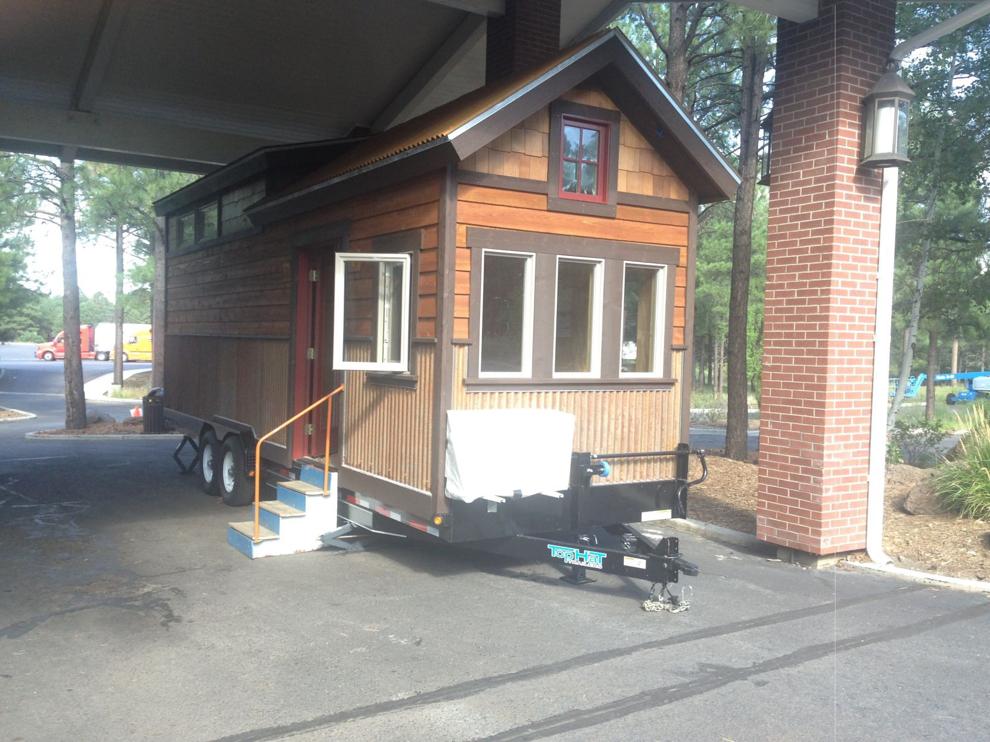 "With my construction background, I like to focus on every aspect of the build," Michaelis said. "With bigger houses, you don't really get to focus on each piece, but with a tiny home, you really have to be innovative and clever with what you need versus what you want. It's a unique design challenge."
Tiny homes can appeal to "almost anybody," Michaelis said, because they can be tailored to a person's lifestyle.
"People are starting to see that maybe the $2,000 per month, or more, mortgage isn't worth it," he said. "A house as a status symbol is changing."
Now, Michaelis is working on building a custom tiny home for a woman who is moving to Los Angeles. The home is being built to function completely off the grid and be mobile. He is using a trailer built by Iron Eagle specifically for tiny homes.
SAFETY A PRIORITY
Coconino County is one of the first jurisdictions nationwide to set up regulations specifically designed for tiny houses, which has been attractive for people looking to relocate in their tiny homes.
"A lot of the folks we are working with are coming to Coconino County and they are grateful we have a process," she said.
The homes can be built on a trailer base with wheels or on a solid foundation, but both options can come with different sets of regulations.
Prior to the permitting process, living in a tiny home could be illegal, because many did not meet building code for basic safety standards. Often, people were living in an unpermitted building because the safety standards and process did not exist.
"The goal with this was to make it so people did not have to live in fear," Acheson said. "We want people to know there is a process for living in these newer, accessible homes."
If a person comes to the county and has been living in an unpermitted tiny house, Acheson said officials from the department will do a special inspection of the home and see where it meets code and where it falls short.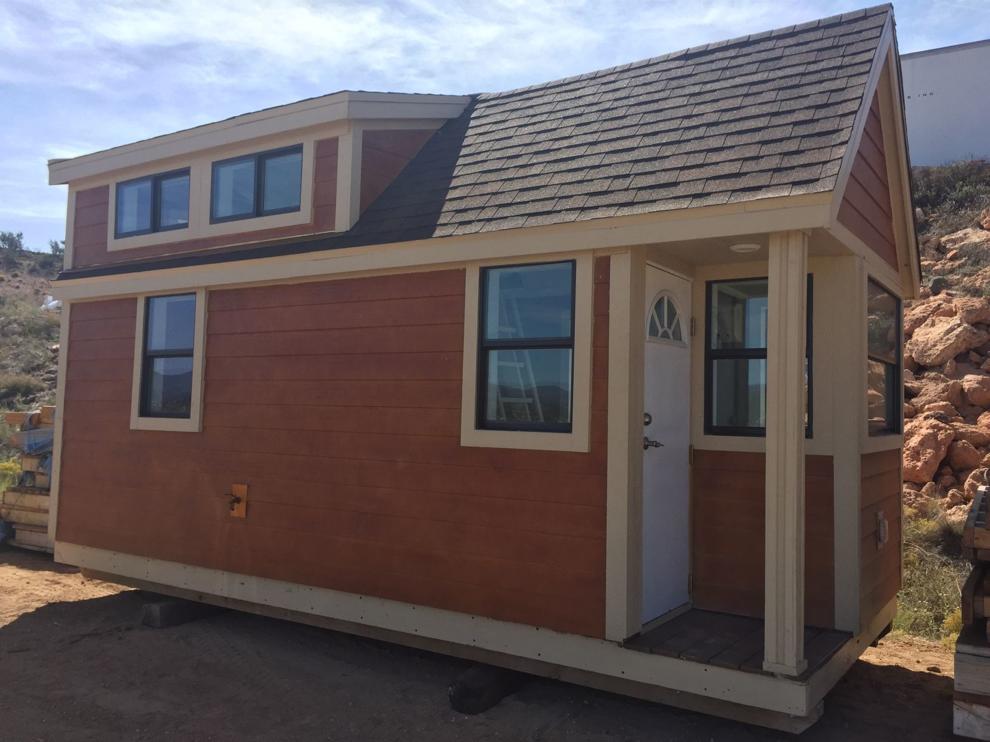 The newly adopted standards include allowing rooms as small as 65 square feet, a ceiling height as low as 6 feet four inches in all livable areas, ladders may replace stairways into loft areas. One bathroom and kitchen are still required.
Some of the common issues are ingress and egress, meaning there must be entrance and exit opportunities in case of emergency, and placement of hazards like wood stoves and electrical boxes.
One home Acheson said was inspected had a wood-burning stove placed directly in front of the electrical service box, which created a fire hazard. The owner then worked with the county to bring the home up to code.
Keeping a home, even a tiny one, up to the life safety code is crucial not only for the occupants but also for the community, because a fire in an off-grid home in the woods could create a devastating forest fire, Acheson said.
Brown said "people who skip around the code are endangering public safety" by living in unpermitted tiny homes.
The city of Flagstaff does not have specific guidelines for tiny homes.
"We have always allowed the construction of small dwelling units," city Zoning Code Manager Brian Kulina said in an email. "The problem is that when most people think of 'tiny homes,' they think of small structures that are constructed on wheels similar to what is shown on all the TV shows. The city considers those RVs or travel trailers, which are only permitted in RV parks or commercial campgrounds."
The county also requires tiny houses that are permanently on wheels to be placed in an area zoned to allow manufactured and mobile homes. Homes that are built on trailers but can have the suspension and axle components removed can go on any parcel zoned for a single family detached unit in the county.
HOUSING DIVERSITY
Increased interest and acceptance of tiny homes can promote diversity in housing choices, Acheson said, because the units do not require mortgage payments and can be made in a variety of price ranges. However, she said, the trend is so new that there is not enough data available to determine the real economic impact of the tiny house market.
Mobile homes or manufactured homes do not typically appreciate in value, she said, so it will take some time to accumulate data to see if the trend is the same for tiny homes.
"We need more housing, and we need more diversity of housing, and tiny homes can provide that," she said.
Brown said there are fixed costs for anyone building a home, tiny or not, like utility hookups, which can make the price per square foot of a tiny home higher than that of a traditional home.
"Tiny homes cost less overall, but the bang for the buck is not even close to a high density multifamily apartment," he said.
Cities should be more creative with ideas when permitting tiny homes, Michaelis said.
Rules that require a tiny home to be hooked onto a city sewer system may be outdated with technology like composting toilets and graywater recycling, he said.
"Cities have to be open to new technology," he said.
Tiny homes generally cost between $50,000 and $100,000 to create a custom dwelling, Michaelis said, which should comfort some cities about changing zoning to allow them.
"Cities are concerned that it's a trailer, or will turn into a trailer park, but if someone spends that much money, they don't want it to look trashy," he said.