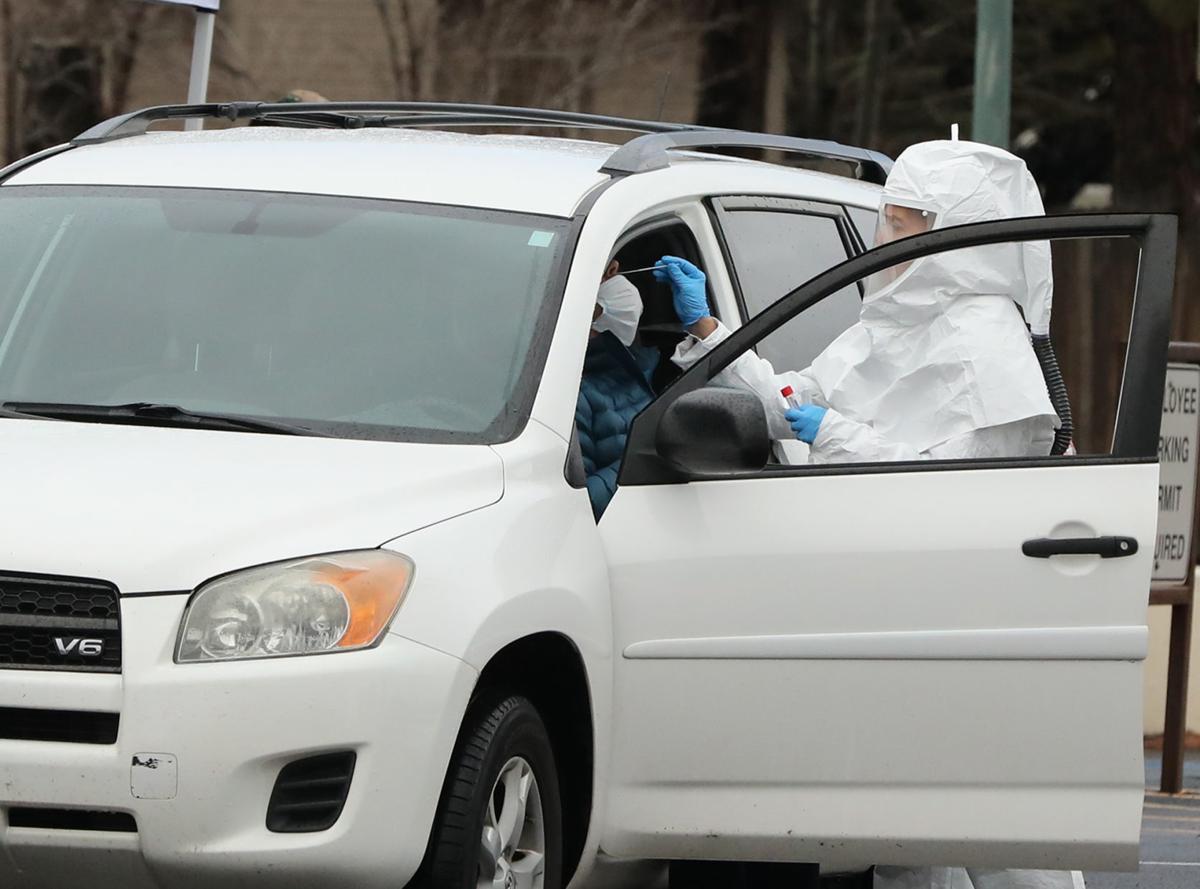 Since the beginning of the month, the number of confirmed coronavirus cases in Coconino County has increased by about 400.
At the same time, as over 3,700 additional tests have occurred, the percentage of tests coming back positive has dropped from an average of 22% in the weeks prior to May to only about 10% now.
The two numbers illustrate how the state's "testing blitz" is providing a clearer picture of the coronavirus outbreak in Coconino County, officials said Tuesday.
Every Saturday since the beginning of May, coronavirus testing has been open and available to everyone for about five hours without the need for a doctor's note.
"I would say it's been a very, very successful event and given us a better view of the virus's circulation within our community," said Coconino County Epidemiologist Matthew Maurer. "The amount of people we've been able to test, and the hard work the staff have put in and the way they've been able to get that many people through in only a five-hour time."
Maurer said as the percentage of positive cases drops, it shows the coronavirus is circulating in a smaller portion of the population than the numbers previously suggested. 
Much of that is simply because the availability of tests has changed how the statistics look.
From March 21 to the beginning of May, the county averaged about 300 tests a week and those testes were primarily available to those who had a doctors note and may have been symptomatic. During that time, about 22% of tests came back positive, Maurer said.
The number of tests increased significantly throughout the blitz to about 1,400 a week. And the rate of tests coming back positive dropped to an average of only 10%, he said.
That percentage is likely closer to the real extent of the outbreak in Coconino County.
There have been times since the testing blitz began that the number of cases returning positive results has been higher than before, but that number still makes up only a small percentage overall.
For example, Maurer pointed to last week when about 1,500 tests were conducted. Of those, 137 were positive, but that equated to only a 9% positivity rate.
And that still means the number of coronavirus cases continues to increase.
While on May 1, there were 496 confirmed cases, as of May 19 that number had grown to 896. In the three zip codes that cover Flagstaff and Northern Arizona University, the number of confirmed cases increased from about 58 to over 185.
For the time being, that elevated level of testing will continue. The State of Arizona announced last week that the blitz will remain in effect until at least the end of the month.
Despite that, Maurer said the county health department's testing location at Fort Tuthill will be closed this upcoming Saturday and on Memorial Day. But he said the site will be open again later in the week. The site will also be open to take part in the testing blitz on the following weekend on May 30.
Trish Lees, a spokesperson with Coconino County Health and Human Services, said during the blitz day on May 30, they are encouraging essential workers, and those simply returning to work as the state reopens, to come get tests.
That way, Lees said, officials may get an indication of how businesses reopening is impacting the outbreak.
"On the 30th, some [businesses] will have been open for a week or two weeks and maybe were exposed to COVID-19. That will be an opportunity for essential workers to be tested," Lees said.
That sentiment was echoed last week by Governor Doug Ducey during a call with business leaders.
"If you or any of your employees believe they've been exposed to COVID-19, please sign up for that test. That data and information helps us," Ducey said on the call.
On weekdays, testing at the site is still only available to those who have had a doctor suggest they receive a test.
Updated for correction at 10 a.m. May 20.
Updated for additional information at 12:40 p.m. on May 20. 
Concerned about COVID-19?
Sign up now to get the most recent coronavirus headlines and other important local and national news sent to your email inbox daily.