According to school letter grades released by the Arizona State Board of Education, the 2018-19 school year was one of overall balance for Flagstaff Unified School District, with three schools earning improved grades and three dropping down a letter.
For individual schools, changes spanned from less than half a percentage point to Puente de Hozho's 20.69-point increase.
DeMiguel Elementary secured an A rating this year and both Marshall Elementary and Puente de Hozho improved their scores to Bs from Cs. Kinsey Elementary and Knoles Elementary both dropped to Cs and Mount Elden Middle School's grade was reduced to a D. For the first time, the Board also ranked alternative schools like Summit High School, which was awarded a B.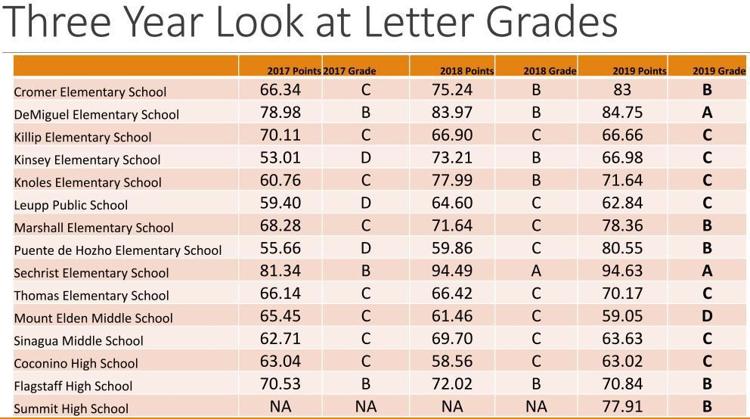 Each year, the State Board of Education measures public school achievement by assigning every school a grade from A to F. This year, A-rated schools were defined by scores of at least 84.67%, while B-rated schools scored between 72.39 and 84.66%.
In a presentation to the FUSD Governing Board Tuesday, Robert Hagstrom, FUSD director of research and assessment, explained the breakdown of what factors determine a school's grade.
For kindergarten through eighth grade, 50% of the score is based on growth, with only 30% dedicated to proficiency. In high school, proficiency has the same weight at 30%, but factors like graduation rate, dropout rates and self-reported college and career readiness also play a role. This final factor is the largest in the grading of alternative schools, alongside factors like credits earned and the number of students on track to graduate.
FUSD will not be requesting to appeal any grades this year, though district and school administrators agreed there is still work to be done to improve local public education.
DeMiguel
Though it was less than a point away from becoming an A school last year, it took an extra year for DeMiguel to shake off its B, opening it up to results-based funding.
FUSD Superintendent Mike Penca explained Tuesday that high income schools with an A rating receive $225 per student to improve school resources. (The Arizona Department of Education states low-income schools would receive $400 per student.)
Penca estimated that Sechrist Elementary, which earned its A rating last year, brought in $89,000 from this funding. DeMiguel is expected to bring in more than $100,000 from this source, if it can maintain its new score.
Though only increasing by 0.78 percentage points, one of the smaller increases in the district, DeMiguel principal Ninon Wilson attributes the school's A rating to an expanded focus on individual students and their school relationships.
"Last year we really changed it up by looking at the attributes of students and what we wanted our students to look like when they left our building and into the future," Wilson said.
From there, she said the school was able to create its new vision, including the motto, "Every student matters, every moment counts."
This ideology has become especially important in weekly grade level meetings, which were also changed for the better last year by adding a facilitator, Instructional Specialist Katie Warke, who has been helping teachers share resources and goals between grades, as well as increase collaborations between teachers from all grades.
"They're all all of our students," Warke said, explaining that fourth- and fifth-grade teachers are interested in the curriculum of younger students because it will prepare them for their classes years later.
To maintain the A through this year, Ninon says the school is piloting the Elementary Preparatory Academy, which will allow more individualized attention for students, new special education curriculum and an increased focus on improving math scores.
Puente de Hozho
For Puente de Hozho (PdH) principal Robert Kelty, the school's 20-point growth is entirely the result of its teachers, who have committed to a new style of classroom.
In the last two years, as the school pursues designation as an International Baccalaureate World School, it has moved away from direct instruction to inquiry-based classrooms, using themes from both IB and the Montessori Method of Education.
"When you have a more thoughtful and engaging curricular approach, the students are allowed to find their purpose in their education," Kelty said. "Now when you walk our hallways, it's somewhat indistinguishable between what [classroom] is single-age and what is mutli-age [Montessori-based] because we're all doing inquiry."
The school is also finalizing its IB paperwork, including a comprehensive look at its classroom content, one of the last steps before it can apply for IB authorization. Kelty hopes to have this document completed by March and the school on its way to IB status by next year.
"Hopefully by fifth grade, when a student leaves us, they are bilingual, they are proud of who they are, and they know how to accept and respect others," Kelty said.
Marshall
Like PdH, Marshall also improved from a C to a B grade, with an increase of nearly 7%.
In a written statement to the Governing Board, Principal Janelle Reasor attributed the result to changes in several systems, including new approaches to subjects like math and special education as well as professional development in a positive behavior system, among other areas.
The school also improved its staff with two new resource teachers for the special education team and a counselor.
Reasor said the school is aiming to increase expectations for all programs.
"We are savage, not average!" she said.
Cromer
Though Cromer maintained its B grade this year, it showed the most improvement behind PdH at 7.76, placing it now less than 2% away from an A rating. This increase has been a trend for the last three years at Cromer.
Like other schools, Principal Traci Elam-Gordon said the focus at Cromer has been on culture and climate, especially targeting "focus kids" who showed the potential to perform better if they had additional support.
"We asked teachers to spend 10-15 minutes every day to give them that extra attention, that separate push," Gordon said. "We really did move our SPED [special education] kids and our focus kids [up in the data]."
Though Gordon said Cromer students showed improvements overall, math scores did take a dip, so the school used its Title I funds to hire a math interventionist this year to help fill in the learning gaps.
She added that Cromer's partnership with Northern Arizona University, which allowed about 75 education students to assist in classrooms last year, plays a significant role in providing more attention to individual students because, at times, there are up to eight adults in a classroom at a time.
Improvements needed
With Kinsey and Knoles both down to Cs, school and district administrators have vowed to make efforts to improve for the coming years.
As Kinsey works to complete its magnet Program of Inquiry, teachers will be coached in the best practices for reading and math.
In his summary to the board, Knoles Principal Pete Galvan listed teacher turnover and the lack of an instructional specialist as factors in the school's grade decrease. Turnover has been less this year, though, Galvan said, and by adding a mentoring program for new teachers and an instructional specialist, he said school staff "fully expect to rebound" in their next letter grade.
By falling to a D, MEMS is required to send a written notification to the families of all students and create an improvement plan that will be shared in a public meeting. A team of MEMS staff also attended a School Improvement Process training held by the Arizona Department of Education this week.
Although the school focused on mental health following the "significant loss" of a teacher two years ago, Principal Tammy Nelson said in her summary that "staff culture is the strongest it has ever been" and the team is now working to strengthen the use of data in classrooms.
During the presentation Tuesday, Penca noted that seven FUSD schools are now either A or B schools, up from six last year.
He said continuous growth remains a district priority, so administration will be looking at the schools that improved to see how their results can be replicated in those that did not.
"We are on board with this continuous improvement journey. … We're just going to keep trying and fighting," Penca said.
Get local news delivered to your inbox!
Subscribe to our Daily Headlines newsletter.