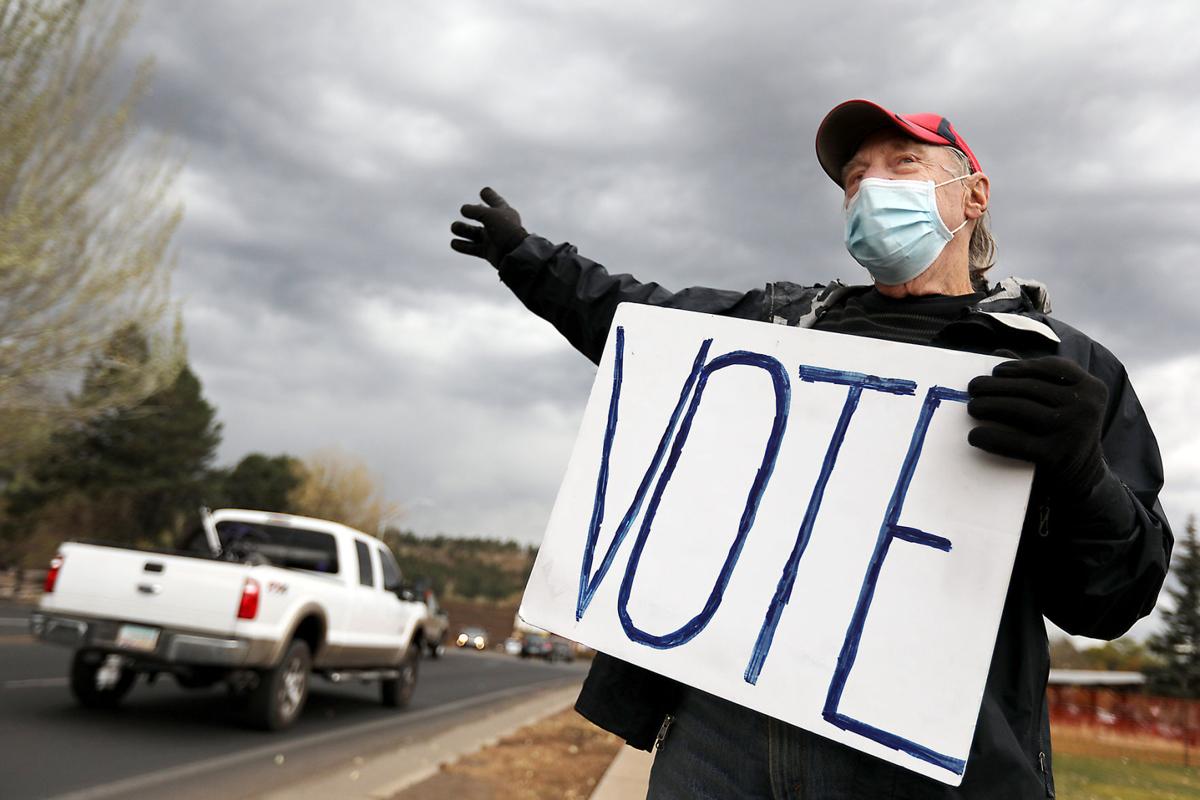 Several northern Arizona politicians have joined other state and national Republicans in casting doubt on the recent presidential election.
Rep. Walt Blackman was just reelected to his seat in the state House while Senator-elect Wendy Rogers defeated Democrat Felicia French, but that hasn't stopped either from questioning the accuracy and legitimacy of the election.
The two were also joined by Rep. Bob Thorpe, who just lost out on his bid for a seat on the Coconino County Board of Supervisors.
So far, little credible evidence has been given to support the claims of impropriety, locally and nationally.
The statements, mostly through social media, have come after President-elect Joe Biden won Arizona and ultimately the presidency -- according to calls by the multiple media outlets including the Associated Press -- over President Donald Trump.
In Arizona Biden had a strong lead in total votes on election night, largely due to early ballots, and although that lead has narrowed significantly as more votes have been counted, the former vice president so far remains ahead.
As voters see politicians making claims of voter fraud, Fred Solop, a professor of political science at Northern Arizona University, said it is important to know how rare voter fraud is in the United States.
"Repeatedly investigations reveal that there's no systematic fraud in our system, and the number of cases of fraud that have been prosecuted relative to the number of votes that have been cast is minuscule at best," Solop said. "So there's no evidence for it there. There doesn't seem to be any systematic evidence this time around."
Still, in the week following Nov. 3, Rogers has called the election a "dirty coup de tat," while Thorpe has accused Democrats of stealing the election. Thorpe also called on Gov. Doug Ducey to convene a special session of the Legislature to investigate "elections irregularities."
Many of the accusations of impropriety have been leveled at Maricopa County, where the large majority of the state's voters reside and Democratic Secretary of State Katie Hobbs.
Both Thorpe and Blackman have also promoted a now-debunked conspiracy that poll workers had purposely disenfranchised Republican voters.
"As a leader, I know we need to take a harder look at SharpieGate," Blackman said in a tweet. He added in a press release that "Every legal vote must be counted and the people of Arizona deserve a timely completion of the process."
The conspiracy posited that ballots marked with a sharpie could not be tabulated by voting machines and that poll workers had specifically given Republican voters sharpies so their votes would not be counted.
But that was shown not to be the case by state officials, including Republican State Attorney General Mark Brnovich, who tried to put the conspiracy to bed during an interview on Fox Business on Wednesday.
"We looked into that. We were able to determine that did not affect anyone's vote," Brnovich told Fox.
Brnovich also pointed to all the Republicans candidates who were either elected or reelected last week as more evidence that there was no widespread impropriety saying, "If indeed there was some great conspiracy, it apparently didn't work."
In a statement to the Arizona Daily Sun regarding allegations of fraud made by Thorpe, Blackman and Rogers, Hobbs said there has been nothing to support their claims. 
"These accusations are unfounded. Arizona election officials have been transparent throughout the entire process. Before and after each election, the Secretary of State's Office conducts logic and accuracy tests to certify election equipment. The public is welcomed to attend," Hobbs said in a statement. "It is a shame that elected officials are placing distrust in our democratic institutions with conspiracy theories."
For her part, Coconino County Recorder Patty Hansen said that during her over 30 years of experience working on elections, she has never seen elected officials themselves raise this level of doubt about an election.
"I mean, Wendy Rogers and Walt Blackman have won. Are they trying to say that their elections are not legitimate?" Hansen said. "I know it's really hard for people, especially this election that the people invested so much time in, and if you're on the losing side it's really hard to accept that the voters rejected either yourself, if you are a candidate, or if you're a volunteer that they rejected your candidate."
And Hansen said that she believes such claims can do real harm to democracy and discount the hard work of poll workers of every party who make the elections possible.
"I think it's really doing harm to make false accusations about fraud, or stealing or anything like that," Hansen said. "We have Republicans and Democrats and Independents that work on these elections, and they're dedicated people that are want to serve their community, and in my opinion, are the guardians of our democracy."