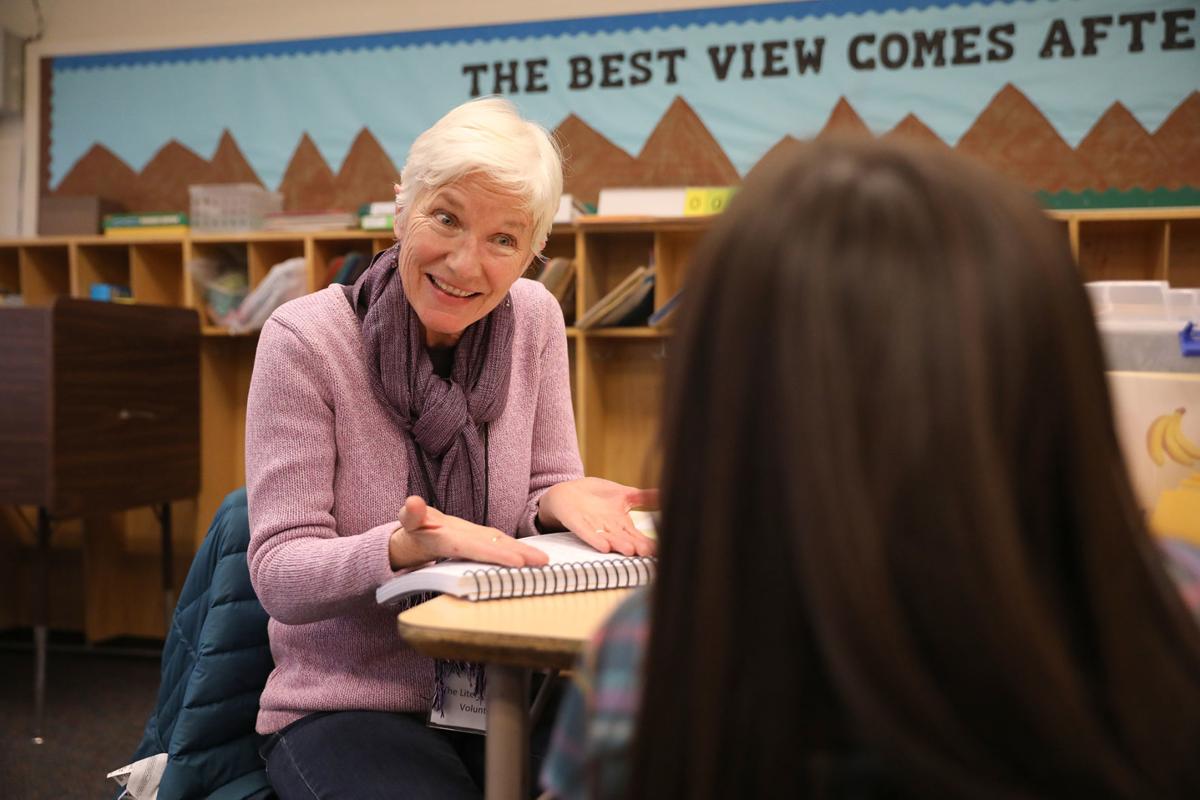 "Soc-k," a first grader at Thomas Elementary said Wednesday, punching out the final "k" sound with his fist and punctuating it with a wide grin.
Across the room, another student held both palms up: "base," she said with a small pulse of the left hand, "ball" with the right hand and finally pressing her palms together to form "baseball."
And with that, their mentors, mirroring these actions, moved to the next words on the list, helping students through different practice exercises in the 15 minutes they had together during extra instruction time at the end of the school day.
Every Monday through Thursday for the last month, this group of about 15 first-graders has met with volunteers from the Literacy Center as part of the "Raising Readers" pilot program, which uses sound-based curriculum to help students strengthen the skills they need for reading.
Each volunteer works with three students a day, helping them practice their sounds through exercises like separating out the sounds within different words, combining sounds into words and finding rhyming words. Most exercises have accompanying hand motions.
"The hand motions make it kind of fun for them and help cement it in their little brains," said volunteer Mary Poore, a retired naturopathic physician. "They're really, really good kids and they get excited about what we're doing. It's very rewarding."
Raising Readers, funded by a grant from Coconino County, is the Literacy Center's first initiative with early childhood literacy. Volunteers have committed to working with their students for the entire school year.
"Serving adults is our primary focus, but we definitely saw the need to also support our children in the community," said Dianna Sanchez, executive director of the Literacy Center.
Student participants were selected based on exam scores that suggested a need for additional support in the area of phonemic awareness: familiarity with the individual sounds that make up words. In Raising Readers, their progress is measured daily by their volunteers and is assessed at the beginning and end of the year.
"I can see progress and it's only been a few weeks," said volunteer Marilyn Schwind, a former preschool teacher. "Even at the end of the day, they're still ready to learn."
Rachel Gregory, program director at the Literacy Center, said the program is more than a grammar lesson, much like the concept of literacy itself.
"Literacy is such a broad term; to me, it means reading, writing, listening and speaking. That's pretty much everything," Gregory said.
In school settings, reading is even valuable in math, where word problems could trip up those who cannot read the prompt.
"It's a critical component that will make or break not just a student's success in school, but how much they like school, which I feel is ultimately what we want for our children: for them to love school and to love learning," Sanchez said. "And if literacy is frustrating, that's through every subject."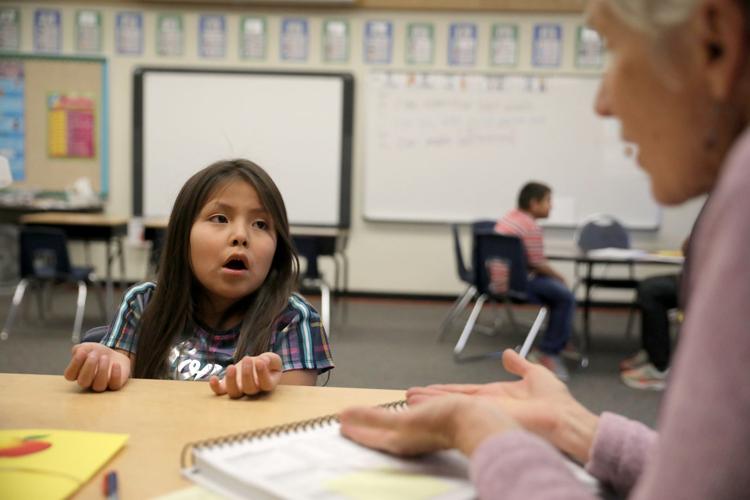 Principal Ginni Biggs said another goal of Raising Readers is to create students who not only have the ability to read, but also have the desire to do so.
"A love of reading is being instilled by the attention and the support they are getting from these one-on-one relationships [with volunteers] but also by the books that are being gifted to them through the Literacy Center," Biggs said.
At the end of each session with their volunteer, students are given a sticker. When they earn 10 stickers, they receive a free book to keep, allowing them to begin building their own libraries at home. The Literacy Center is accepting book donations to provide for these students.
"I want these children to be readers and just to help them succeed," said volunteer Jan Newton, who said she and her now-grown children have always loved reading. "I can't imagine not knowing how to read."
Before they can work with students, volunteers must attend two training sessions and submit a volunteer packet to Flagstaff Unified School District for approval.
About a third of the Raising Readers volunteers are former educators; however, they all had to learn the curriculum.
"One of the tricky things is getting familiar with the hand motions, but once you get it down, it's not difficult," Poore said.
Although the nine Raising Readers volunteers, just a sliver of nearly 200 active Literacy Center volunteers, work with three students each for 45 minutes each day, the students have two separate volunteers -- one on Monday and Wednesday and another on Tuesday and Thursday. Counterparts share notes on each student's daily progress so they know where to start the next session.
Sanchez hopes to use the program as a launching point for future childhood literacy efforts.
"If this program proves to be successful at Thomas, we hope to expand it to other FUSD schools and to continue offering this level of support for students across the district," Sanchez said.
Biggs, too, is considering expanding the program within the school, using similar curriculum and the help of Literacy Center volunteers to provide students support in other pre-reading skills like phonics, the relationship between letters of the alphabet and the sounds they make.
"There's something pretty special about getting to sit down and spend 45 minutes with a really excited 6-year-old," Biggs said. "You can see the light bulb going off and the wheels turning. You can feel the energy and the enthusiasm."
Get local news delivered to your inbox!
Subscribe to our Daily Headlines newsletter.