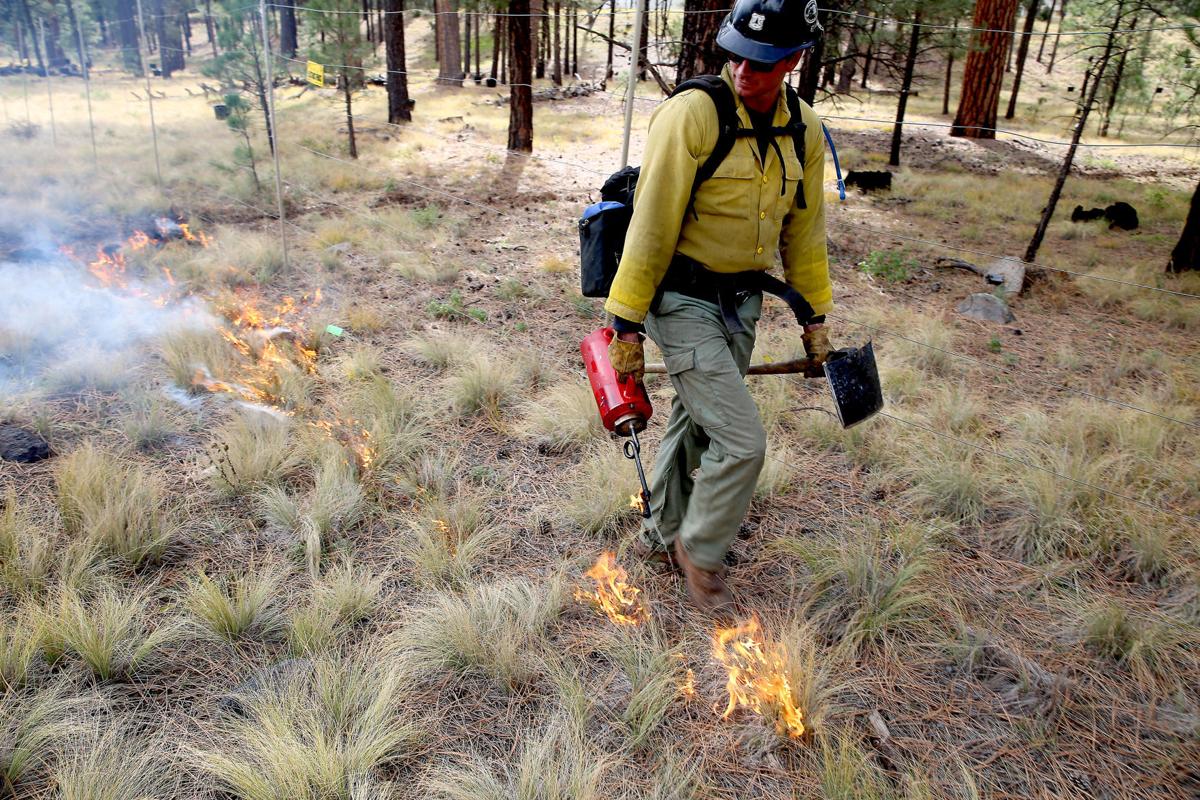 There is some good news for the outlook of ponderosa pine trees in the face of a warming climate.
That's according to a new study by researchers with the Ecological Restoration Institute at Northern Arizona University.
The paper outlines that thinning trees and using prescribed fire on ponderosa pine forests may better adapt forests to a warming and drier climate.
Researcher Michael Stoddard is the lead author of the study, which examined 20 year old experimental forests across northern and central Arizona. He said the results they discovered send an optimistic message.
"It seems like in science there's always this doom and gloom. You know, everything is: we're heading to (expletive)," Stoddard told the Arizona Daily Sun. "This is cool to see that there was a hint of hope. These trees, under these crazy climate changes, are still putting out growth. There's still certain species that are coming in the undergrowth. They're still maintaining this potential reduction in fire hazard."
The study comes as local politicians, forest managers, environmental groups and industry partners seek to move forward on the second phase of one of the largest forest restoration projects in the country.
The Four Forest Restoration Initiative hopes to treat 2.4 million acres on the Apache-Sitgreaves, Coconino, Kaibab and Tonto national forests, and the phase 2 contract on the project is expected to be awarded this summer.
Meanwhile, recent 30-year reports from the National Weather Service show average temperatures in northern Arizona have increased from their levels 30 years ago, while the average amount of precipitation is falling.
But Stoddard said they found that sections of forest that had been thinned to a high level, with as many as 70% to 80% of the trees thinned, and received at least one prescribed burn were far more resilient and healthy in the face of those changes.
Sections of the forest that went untouched by forest treatment strategies acted as their control group, he said.
In those treated sections of the forest, Stoddard described that with fewer trees, individual ponderosa pines are able to grow much larger and growth under the trees, in the form of native grasses and shrubbery, is able to come back.
That's a big difference from the dark and overgrown "dog-hair thickets" of small ponderosa that is not uncommon across much of the forests today, a result of a century of fire suppression and mismanagement.
And Stoddard said by modeling their data into the future, they show those treated forests remain resilient even as climate change continues.
"When it comes to ponderosa pine, it's a really resilient species. It's got this thick bark, it's got the long needles," Stoddard said. "And, you know, ponderosa pine's been in this area probably 10,000 years or more. So it's seen the oscillation of the climate."
Still, it's not all positive, Stoddard said. Mainly, their models still show a slow die-off of some ponderosa as a result of climate change. The die-off their models show is to a much lesser extent in treated parts of the forest then compared to untreated portions, but it is still there, he said.
The study is based on four 20-year-old experimental sections of ponderosa pine forest scattered across northern and central Arizona, including one located just outside Fort Valley.
In the late 1990s, as large and destructive forest fires started to become an increasing reality in the west, forest managers, academics and environmental groups decided to run an experiment on the best way to restore the forests.
Over several hundred acres, researchers and agencies conducted experiments in which they thinned and burned areas of forest to various degrees, while leaving other sections untouched.
Stoddard said for this study, he and others with the Ecological Restoration Institute went back to those now-20-year-old experimental forests to see how they have developed.
Fire frequency
Stoddard said they also found that somewhat infrequent treatment by managers can make a huge difference in terms of the health of the forest.
Southwestern ponderosa pine forests are accustomed to and benefit from fairly frequent but low-intensity wildfires. These fires might occur anywhere between two and 15 years, burning low to the ground and consuming pine needles, small trees and grass, but leaving the larger trees mostly untouched.
But Stoddard said they found that, once initially thinned and burned, sections of the forest could go without being touched by fire for a long time and still be much healthier than untreated parts of the forest.
"In a lot of cases, in some of the more remote areas, we didn't have more than one fire coming in. So seeing those areas still maintain that forest structure when we initially treated it, and still having those benefits, even without putting that frequent fire back in -- that was a big surprise," Stoddard said.
He said that could be good news for forest managers, who have millions of potential acres in need of treatment and limited funding and ability to do so. If forest managers are able to treat and burn a section of the forest once and then leave it for many years, that may allow for more acres to receive treatment in the long term.
In short, although fire is still a critical part of ponderosa pine forests, it may be used less frequently than historical evidence might suggest is necessary.
Stoddard said in the parts of the forest that received less fire, they also saw more regeneration of young ponderosa pines, as they were able to establish themselves in the absence of more frequent fire. And that regeneration could be helpful in countering any die-off that does occur as a result of climate change, he said.
Adrian Skabelund can be reached by phone at (928) 556-2261, by email at askabelund@azdailysun.com or on Twitter at @AdrianSkabelund.