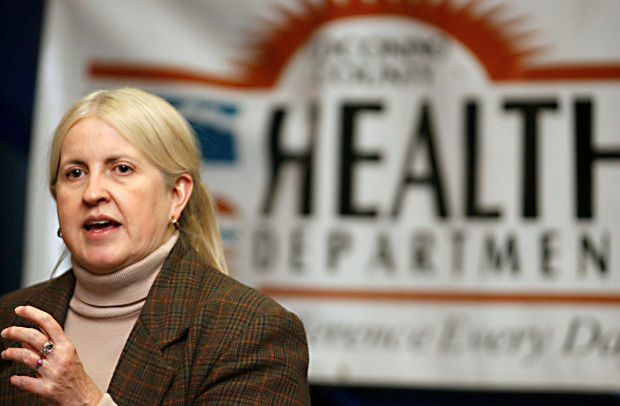 Employees who had interactions with the longtime head of Coconino County's health department reported that she not only pushed them to tears but to seek counseling and to begin taking medications as a result of her "derogatory" and "disparaging" treatment.
The complaints, detailed in a list of "performance deficiencies" in an internal county evaluation, include assertions that Barbara Worgess had violated the county's code of ethics in three ways -- including abusing public resources and disrespectful conduct.
All of this was not news to top current county officials: A former Coconino County manager expressed documented concerns to Worgess as far back as 2002.
And interviews conducted by an outside professional found then that staff had low morale, was quitting often, and was under acute stress.
Employees also filed repeated complaints with the county in 2006, 2009, 2011 and the summer of 2012.
The complaints are detailed in documents obtained by the Daily Sun under the state's Open Records Act and which top county officials acknowledge are public. They show complaints by her own staff that were made known to her through internal and outside reviews, but which she did not address to the satisfaction of the county manager's office.
Worgess began work for the county in 1998 and led the Coconino County Health Department, a $14.7 million agency responsible for overseeing infectious disease outbreaks, animal control, restaurant inspections, food-handler training, health education, smoking laws, health education, vaccinations, dentistry, medical and reproductive care for the poorest, and autopsies.
She and interim Coconino County Manager Mike Townsend signed an agreement to effectively end her employment on Sept. 25, 2012, by placing her on administrative leave with salary, a move that was not announced publicly by the county. Her resignation took effect Jan. 4, 2013.
In written documents now made public upon request of the Daily Sun, Worgess' supervisors accused her of violating the parts of the county's code of ethics requiring employees to perform official duties diligently during working hours, requiring respect for coworkers, using public funds or properties for the benefit of the public, and prohibiting insubordination.
A December 2011 review of the public health department by an outside consultant found Worgess to be "well-networked" and a "visionary" in her field, on the "cutting edge" of pilot programs in public health, "results driven" and "highly respected" by staff and her peers for her knowledge of public health issues.
She was described by staff as being accessible by phone and email and "pro-active" in heading off public health crises.
But the report also found employees saying their biggest frustrations in working in county public health were their interactions with Worgess.
Employees had complained about inconsistent treatment, moodiness, humiliation of managers and staff, poor interpersonal skills, micromanaging, lack of involvement, poor relationships with outside agencies and co-opting others' ideas back in 2002, the county noted in its documentation.
"Almost all employees" described observing Worgess "confront an employee in a harsh manner." Worgess was often absent, Worgess lacked professional courtesy during meetings -- knitting or using electronic devices, Worgess failed to follow through on projects, and had limited interaction with her staff, according to the December 2011 report by consultant Sue Sager.
She confronted employees in meetings, where she was "impatient, frustrated, demeaning and belittling in tone," and in one-on-one meetings, where she had been "accusing the employees of performance issues without getting all the facts" and "using demeaning tone and facial expressions," Sager wrote. If employees openly disagreed with Worgess, "it appeared employees were targeted ... and could do nothing correctly," Sager found.
Responding specifically to her supervisors' request that she leave a copy of her travel plans with others for "accountability, transparency and objectivity," Worgess wrote the following:
"I have never kept a secret of my travel plans (personal or professional). I have already submitted my anticipated travel schedule for calendar year 2012 ..." in an undated document between Worgess and supervisors.
But eight months later, two managers found fault with the way Worgess had managed her travel:
"Review of your travel claims over the past year by County Management found several instances of inappropriate, or at the least, questionable application of the County's policies and practices," noted Allison Eckert, an assistant county manager, and Deputy County Manager Larry Dannenfeldt, in a "notice of performance deficiencies and expectations" dated Aug. 31, 2012.
"These travel claim details, if placed on the front page of the newspaper, would not be a positive story for the County and could have significant detrimental impact to future county voter tax initiatives."
The county found unnecessary hotel stays, and "no critical oversight on your part" as to how Worgess was managing the health department's general fund.
A Daily Sun review of Worgess' travel claims showed $2,266 in travel claims for July and August 2011, stays at hotels costing as much as $222/night, and questions about why Worgess was routinely going beyond the state-set reimbursement limits for hotels.
The county also noted in August 2012, that Worgess had put other people in charge, but not reported as much to payroll, with "entire multiple weeks of your being 'on vacation' where no single day was reported to be eight full hours of vacation time."
You have free articles remaining.
The consultant's report led to an undated "action plan" in early 2012 to address complaints, including what was called "one-to-one leadership coaching for Worgess.
"I have done a lot of reflection and taken steps personally to address, stress, frustration and endless demands on my time," Worgess wrote in response, adding that she was "willing and open" to participate in coaching. "In addition, my recent injury has literally forced me to slow down, which has required me to put everything in a different perspective. And finally, I can and do learn from the strengths of the senior managers. They are an inspiration to me and I regularly find new ways to approach problems and deal with challenges. I have already seen changes I have integrated into my worklife."
The action plan, however, was followed by the August 2012 notice of deficiencies by Eckert and Dannenfeldt outlining problems "to be remedied immediately."
"As these behaviors and actions appear as continuing issues, even though you have been made specifically aware of most of them on numerous occasions, please know that the County Manager is taking a 'no tolerance' position in these issues..." they wrote.
It listed: "poor judgment in utilizing county resources," "continued inappropriate behavior and communication" and "lack of leadership support of county to outside stakeholders."
A colleague from another agency told the county manager negotiations regarding contracts providing care for local individuals who were suicidal or homicidal weren't progressing because Worgess was "obstructing positive achievement," Eckert and Dannenfeldt wrote.
They also said she had discouraged personnel from reporting problems to the county's Human Resources Department.
One point of the August 2012 review from the county manager's office faulted her for not supporting "the bold step the Board of Supervisors took in establishing" a public health district (and related property tax to raise $4 million), and "how it has saved and preserved services, not only in Public Health, but core services across the county."
"This behavior has been noted by several members of the Board of Supervisors and they have reported to County Management that they feel you are not only demonstrating a lack of support, but are also 'throwing the County and Board of Supervisors under the bus,'" Dannenfeldt and Eckert wrote.
The Coconino County Board of Supervisors voted unanimously in June 2010 to increase property taxes on homeowners by $25 for every $100,000 a home was worth (or $500 more for a $1 million business), proposing to generate nearly $4 million per year for health programs.
A roughly equivalent amount was sent from county health programs to other county departments -- meaning the new "health" tax didn't actually pay for any new health services, but rather to keep existing services amid budget cuts.
One county recommendation was that Worgess take some time to process information that is alarming before reacting.
Here's how she responded to the county on that suggestion in writing:
"When I receive alarming information from customers, employees or Senior Managers, my practice has been to first discuss with the appropriate Senior Manager, unless there is some urgency to the response and the Senior Manager is unavailable. I cannot commit to always waiting for the Senior Manager if he or she will be unavailable for a significant period of time. It is always preferable to prevent a crisis than to react to it."
Through her attorney, Worgess declined to make a statement for this story.
Records obtained by the Daily Sun in this case are covered under the Arizona Public Records Law, which reads: "... public records and other matters in the custody of any officer shall be open to inspection by any person at all times during office hours."
Any person can obtain such records; sometimes fees apply for copying.
What counts as a public record?
Generally, records agencies use to function, including e-mails, agendas, budgets, notes and other items created with your tax dollars.
More specifically, state law holds that public records are those "reasonably necessary or appropriate to maintain an accurate knowledge of their official activities and of any of their activities which are supported by monies from the state or any political subdivision of the state."