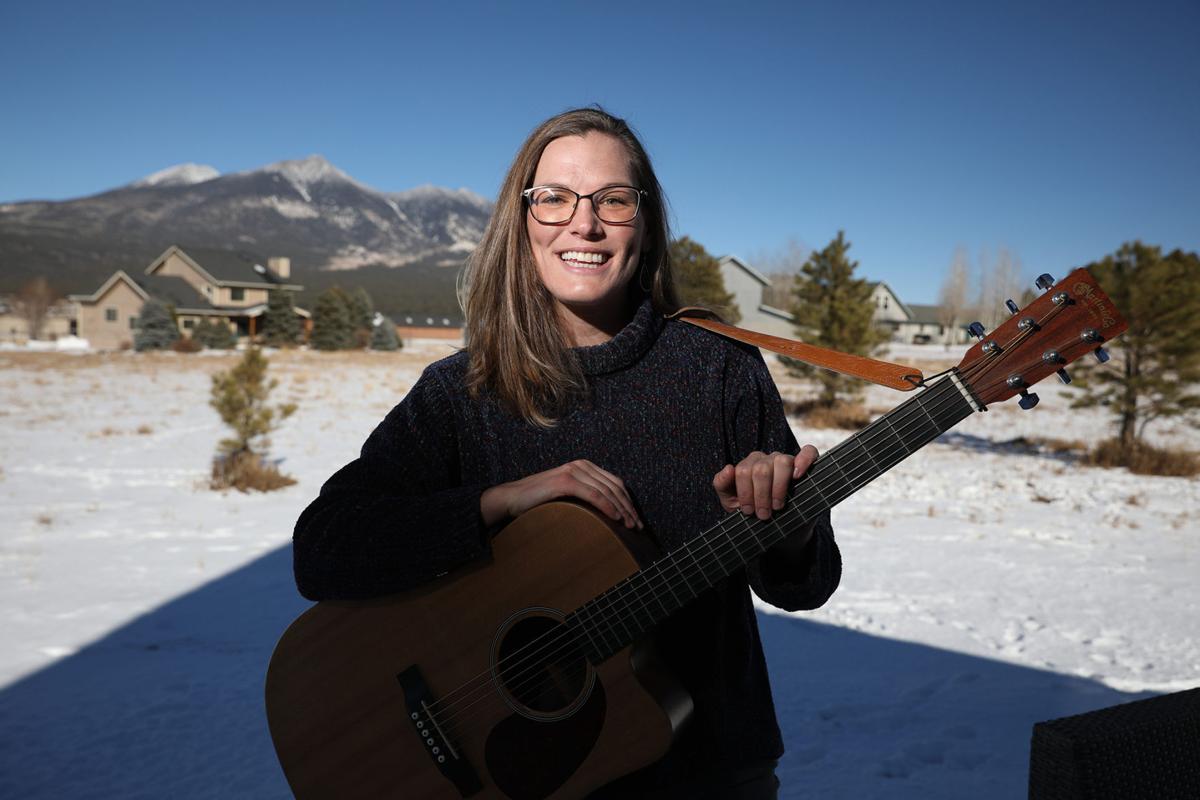 When music therapist Mary Gaughan lost her job at a Phoenix hospice company in July, she decided it was finally time to make the move to Flagstaff and start her own business.
"It was devastating at first to get laid off because it was a first experience and I never thought it would happen, but after crying for a little bit and being scared about what I was going to do, we talked about it and realized maybe this was the opportunity to move to Flagstaff being handed to us on a silver platter," Gaughan said of the discussion she had with her boyfriend that prompted their August relocation.
Just two months later, Gaughan, a board-certified music therapist and board member for the Arizona Music Therapy Association, opened Peak Music Therapy, her one-woman business through which she hopes to address the local need for music therapy. She currently has three clients, including one she works with remotely.
"I think there's such a need in this community of 60,000-plus people," Gaughan said, noting that, in her research, she discovered one other local music therapist. "There's essentially no music therapy being offered to people in need of these services up in Flagstaff. I'm just excited to have a blank slate and get out and get to know the community and work with people and hopefully make a positive impact and integrate music therapy into the community and see it grow, because I do think it is an essential service."
Gaughan is originally from Tucson and moved to Phoenix to attend Arizona State University as a music performance major in cello, until she changed paths to focus on music therapy instead to better utilize both her music and people skills. She has been practicing for five years in hospice and also has clinical experience working with children and young adults with disabilities and providing bereavement support.
"It sounds corny, but there is really something that's truly healing and magical about music. It affects us all personally in different ways. People say music is the universal language and I think that is so true -- it is a way to connect people and heal people and I've seen that time and time again," Gaughan said. "I'm excited to be able to take the reins and have my own business and be able to make it what I want, and so far I am."
Gaughan equates music therapy to more traditional therapies such as physical, speech and occupational — the only difference is that she uses music to address clients' cognitive, social and physical goals. She said, in her experience, music therapy is highly motivating for clients because it is both non-invasive and all-inclusive.
As examples, she described how she can use the steady beat of a drum to help clients work to control their gait as they walk across a room, or help to strengthen speech by singing familiar songs and gradually removing key words on her end to allow the client to fill-in-the blanks. She has also helped create songs for clients to walk them through difficult social behaviors, such as asking to use the restroom.
Sometimes, Gaughan is the one creating the music, while other times, the clients can get involved, no musical experience required. Most activities she completes with clients use percussion instruments, such as drums, shakers and bells; other times she will play the piano or guitar, allowing clients to strum while she holds the chords. She estimated that in her work with older individuals such as hospice residents, they get involved in making music about 30% of the time, while with younger clients it is closer to 60%, though she noted it depends on the individual and she gradually tries to remove herself from the music-making as clients progress.
Music therapy is particularly beneficial for people of any age who have mental health needs, developmental and learning disabilities, brain injuries and physical disabilities, Gaughan said, among other conditions. Her current clients are autistic, but her specialty lies with older adults, especially hospice residents and those with dementia, Parkinson's disease and brain injuries. She is hoping to be able to work with such individuals in Flagstaff, as well, either directly through Peak Music Therapy or through partnerships with other local therapy clinics or health care organizations.
Although Gaughan currently has just a handful of clients -- and is supplementing the business by providing guitar, cello and voice lessons -- her hope is that, if the business takes off, she may be able to someday create her own therapy clinic in Flagstaff where therapists of different types can be under one roof, even if it's a small one.
"It doesn't have to be a huge clinic, just a cute little clinic with a music therapist, occupational therapist, speech therapist and physical therapist, because I think all those therapies are needed and so important for cohesive treatment in meeting a patient's goals," Gaughan said.