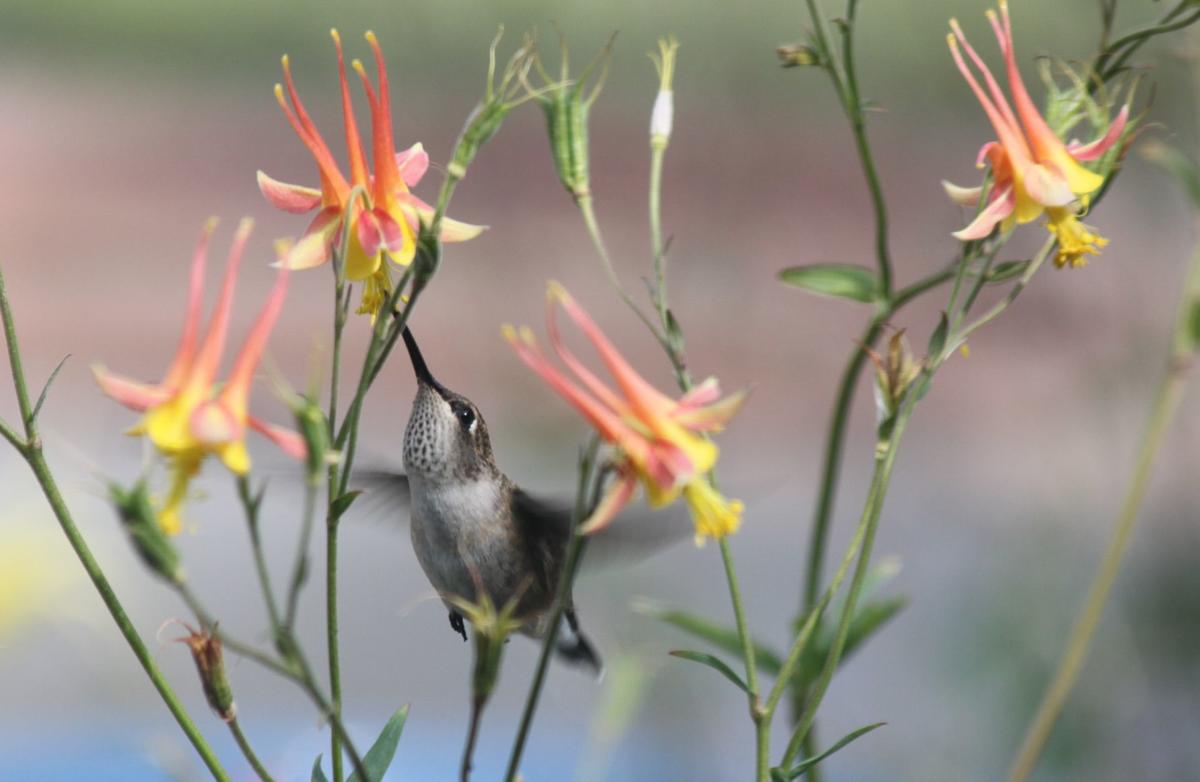 Have you ever looked upon a wildflower and wondered why that particular species is structured, colored and fragranced in its own unique way? You've likely observed that composite flowers like sunflowers and daisies have wide-open heads to facilitate access to pollen and nectar for a variety of insect pollinators. Likewise, nature designed red nectar-filled tubular flowers like Beardlip Penstemon to attract hummingbirds for pollination.
But one of my favorites, the wild columbine here in the West, had long been an enigma for me. For what purpose do they sport five delicate backward-sweeping comet-like "spurs." Why are some species red while others are yellow, or even two-toned blue? Is there a reason some columbines sport long, trailing spurs, while others have short ones? Do columbines even require a pollinator?
The genus name for columbine is Aquilegia, meaning "eagle" because to some people the spurs resemble talons. Originating in Eastern Europe and Central Asia, Aquilegia gradually worked its way over the Bering Land Bridge and into Alaska. From there, this little gem of a flower rapidly disseminated across North America while evolving new species as it encountered various climates and environments.
I've now learned quite a bit about this engaging flower. For instance, each tiny spur is filled with nectar, which serves the purpose of attracting various pollinators. Flower color factors in strongly, too. For example, the Colorado Blue Columbine thriving in North American alpine and subalpine habitats displays deep blue sepals and spurs. The purpose of this survival strategy is to attract native bees, like bumble bees, which are drawn to blue. Over thousands of years the flower drifted and spread out of the Rocky Mountains to lower altitudes, where it encountered a new pollinator, the hawk moth. This moth cannot withstand cold regions and can more easily detect lighter hues during its nighttime nectar-forays. And so, many columbines in the slightly warmer regions of the continent sport light blues and white, while the alpine and subalpine flowers remain arrayed in deep blues. The warmer region columbines went one evolutionary step further: they acquired long spurs to accommodate the long tongues of moths.
Here in Coconino County, we're all familiar with the native Golden Columbine found near streams and shady forests, and the native Red Columbine, flourishing in moist forests. Although the two-inch-long spurs of the Golden Columbine appear delicate, the flower is quite tough; my own take a beating from strong June winds in the Timberline area. The lengthy spurs are adapted to hawk-moth pollination, although mine reproduce readily with the aid of hummingbirds.
In contrast to the Golden Columbine, the Red Columbine bears smaller flowers with short spurs. Endowed with extra-sweet energy-packed nectar easily accessible by sharp bills, this species relies on hummingbirds for transfer of pollen.
If you'd like to bedeck your own landscape with this winsome wildflower, choose a semi-shady, somewhat moist plot. My own flourish in a mostly sunny pea gravel rock garden. They readily reseed themselves in the tiny crags created where a larger rock or pot meets the gravel.
Sow from fall to mid-winter. Work in a bit of soil amendment to your chosen site, scatter the seeds, and cover with a thin layer of soil not more than ½" thick. At this point, you may choose to keep the area moist until germination, and then leave them until spring, or skip the watering and leave them until spring.
Columbine seeds will likely be available at Viola's through autumn. You may obtain them free of charge at Grow Flagstaff Seed Library on 2304 N 3rd St, Flagstaff (once your columbine mature we ask that you donate a few seeds to help replenish the stock, if possible.) Plants will be available next year at both Warner's and Viola's.
Cindy Murray is a biologist, elementary tutor and Master Gardener. Gardening questions can be sent to CoconinoMasterGardeners@gmail.com or submitted to the Master Gardener Hotline: 928-773-6115.