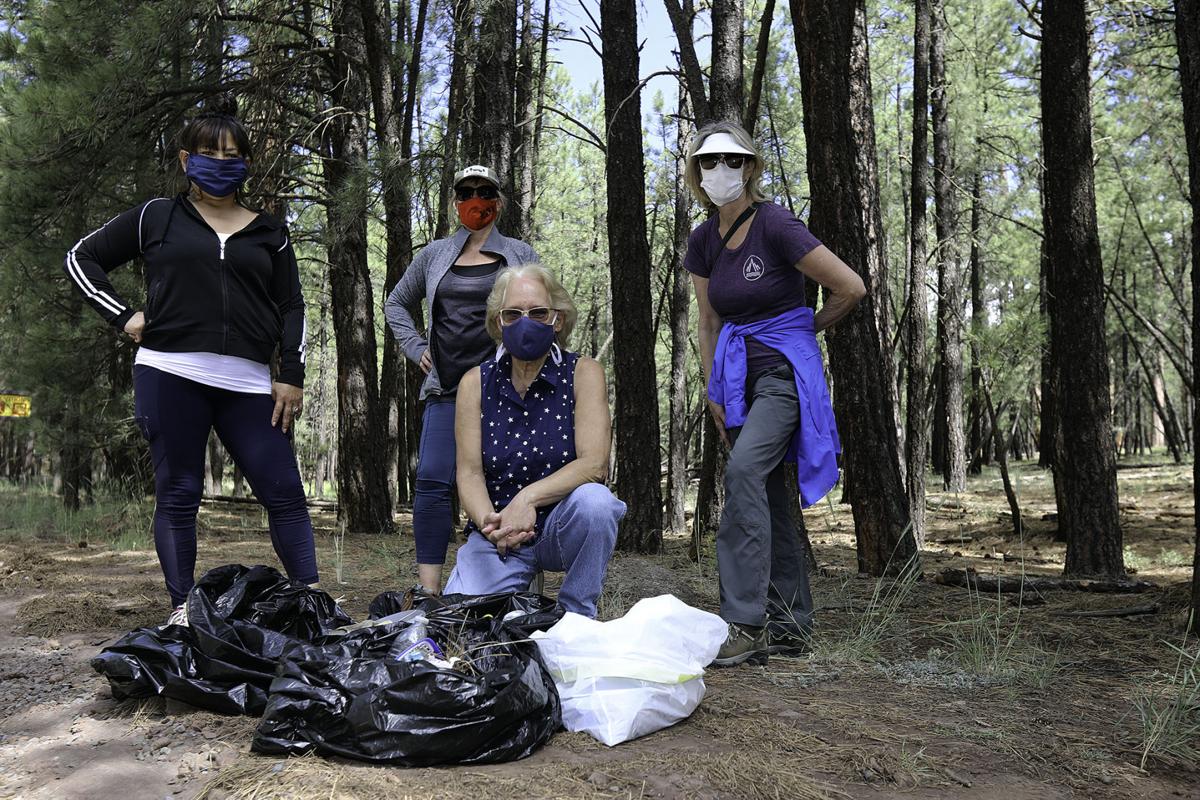 Personal pandemic rituals — yeah, we've all got them — can range from the self-indulgent to the selflessly altruistic. Whatever gets you through the day, right?
For Kathi Atkinson and a growing group of hale and hearty Flagstaff grandmothers, now numbering more than 20, their new habit bends solidly toward altruism and community betterment.
Most mornings since March, when life as we've known it was placed in suspended animation by the coronavirus, these women whose jobs have been put on hold meet at a designated trail or fire road in Flagstaff and environs, steel-reinforced trash bags in hand. Then they start hiking. And bending. And inspecting all forms of detritus littering forest roads and trails. By hike's end, usually after about two hours, they are weighted down with enough garbage to make you wonder why the public is so cavalier about trashing our natural environment.
Hey, it beats just hanging out at home, social distancing with Netflix.
"Normally," Atkinson said, "we'd all be doing something else. Like working. But in March, it was like, 'I'm not staying in this box. Let's get out for a walk.' We started walking at noon on the FUTS, picking up trash and then I got a map and said, 'Oh man.' You know, (Highway) 180 is like a feather, all these forest roads splitting off. We've got a new one next week; otherwise, we've checked out almost all of them."
Indeed, if the dirt roads snaking across the Coconino National Forest seem almost pristine these days, you have these grandmothers ("Please don't call us 'Grannies,'" member Laurese McCullough said) to thank.
There is no official membership and, likewise, no name for the group. "Garbage Grannies" is definitely out, per McCullough's admonition. So, too, is "Trail Trash Ladies"; kind of a negative connotation. Atkinson, after a hike of Forest Road 222 near Wing Mountain earlier this week, struck upon a moniker that just might stick: "Clean-Up Queens."
By whatever title, these women are having some fun. On this particular morning, Atkinson corralled three members to comb the gullies and scrub along Forest Road 222, which is a highly-used road for car campers in the summer and snow-play tourists in the winter.
Hefting the bags were Esther Aviles, a longtime Flagstaffian who works as a Reiki practitioner at the hospital cancer center; Diane DiResto, a newcomer from Pismo Beach, Calif., who is a spa manager; and McCullough, also a Central California transplant and a bookkeeper whose son works for the Forest Service in Flagstaff (and provided the trash bags for them). And then there's Atkinson, the voluble leader. She likes to refer to herself as the "Lunch Lady" at the San Francisco de Asis Catholic School but, before moving here, was a science teacher in Iowa.
Because the pandemic has kept most of the grandmotherly volunteers from plying their paying gigs, they needed to expend their boundless energy in other pursuit. Hence, the hiking and clean up duty. It's hardly a glamorous job, picking up trash; in fact, it's often seen as a punishment for low-level offenders. Yet, the Clean-Up Queens love it.
"It makes me feel like I'm doing something for the community," Aviles said. "Plus, I want to be an example for my grandkids (ages 9 and 10)."
For DiResto and McCullough, relative newcomers, participating is a way to meet new people and get to know the trails. DiResto likes to joke that she used to gaze admiringly at the ponderosa pines while walking the trails; now, she looks down and around, keeping an eagle eye out for trash.
"I hope to hike for another 20 years," DiResto said, "and I don't want to see trash. It's our way of giving back."
It can be a little depressing, though, seeing the type of garbage the heedless masses disposed of on the ground instead of receptacles. Atkinson scrunched her nose up, recalling the time she found a dirty diaper. McCullough and DiResto have wondered why so many car parts are strewn roadside — and what happened to the cars.
Opening their bags to show off their "bounty" from the FR 222 hike, the Clean-Up Queens had an array of beer and soda cans, broken glass, reams of stray paper products and slivers of plastic that Atkinson believes probably came from discarded sleds from winter snow play.
As the group made its way back to their cars, Atkinson suddenly veered off the road into the brush. She leaned in, reached down and gingerly, with two fingers only, picked up a mottled slab of cloth and dropped it into her bag.
"That looks yucky," she said. "Lord only knows what it is. Some type of glove. Ugh. But Esther, she got the real treasure today."
Protruding from Aviles' trash bag was a rusted and braided iron cord, an inch in diameter, twisted almost pretzel-like.
"It's kind of a piece of art," she said. "I was thinking, maybe, I can hang it on the wall of my patio."
Get local news delivered to your inbox!
Subscribe to our Daily Headlines newsletter.