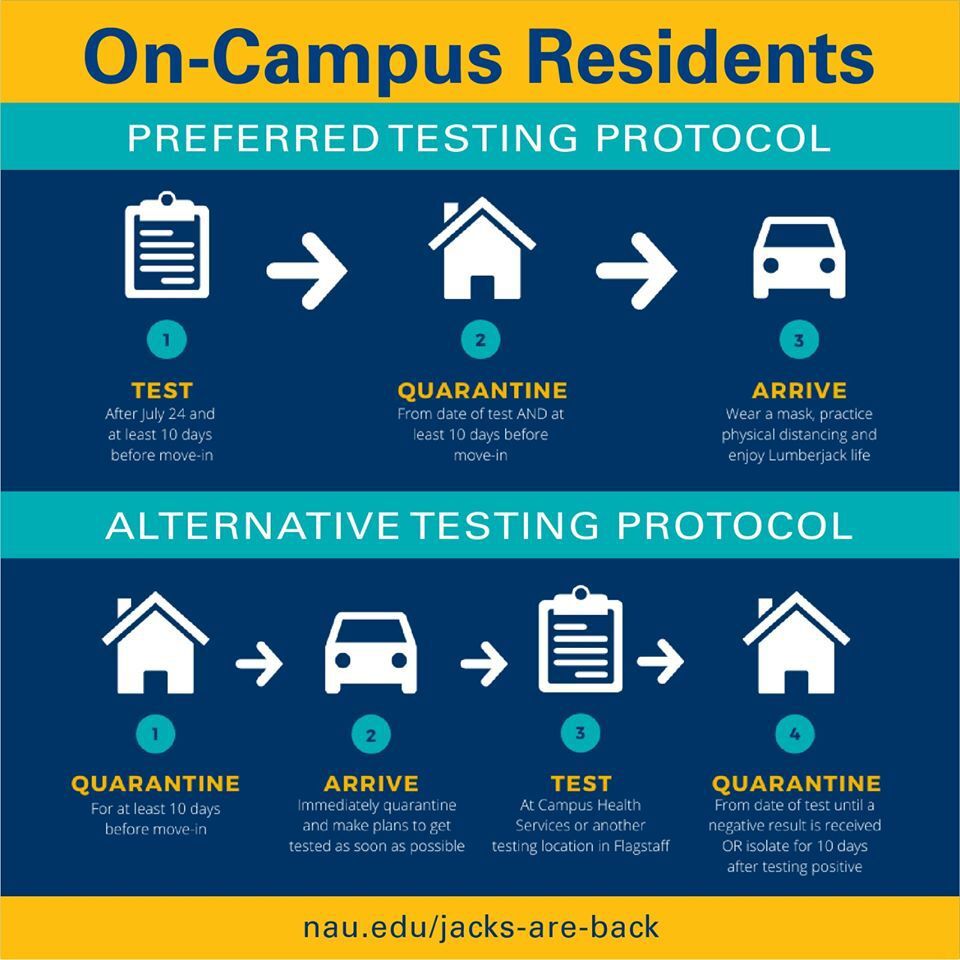 Students who will be living at Northern Arizona University in the fall are being required to receive COVID-19 testing prior to move-in as part of the school's new health and safety protocols for reopening campus.
NAU President Rita Cheng revealed the testing and quarantining requirements late last week alongside the announcement that in-person instruction would begin Aug. 31 and the student move-in process would be extended.
"The decision was made in consultation with scientific and medical experts with the goal of delivering our quality education through multiple delivery options while mitigating the COVID-19 risk to our community," Cheng said of the new testing requirement in a "Forecast from Flagstaff" video update Wednesday evening.
According to the new protocols, students will be required to receive testing and self-quarantine at least 10 days before move-in. Tests must have been completed after July 24 to be accepted.
For those unable to qualify for testing in their hometown or state, NAU is advising students to quarantine for at least 10 days before move-in, then immediately quarantine in their residence hall until they receive a negative test result from Campus Health Services or another testing location in Flagstaff.
The university is accepting both saliva and nasal swab tests but not antibody tests. Students living off-campus are being encouraged to get tested, but it is not a requirement, and individuals who will be helping students move into on-campus housing must "attest that they are symptom-free," according to NAU's testing webpage.
NAU will not be reimbursing students for the required COVID-19 testing but shared on its website that the expense can be submitted for consideration for CARES Act funding when the application becomes available in the early fall. The cost of nasal swab testing through Campus Health Services varies by insurance company, and a reduced rate is available for students whose insurance does not cover the testing.
"They're trying to be responsible to have people get COVID tests and really try to eliminate the possibility of people getting COVID, but to know that they've had this on the backburner and wait until the last minute is very frustrating because it throws a wrench in everybody's plans," said Madelynn Klein Courville, a senior criminology and criminal justice major.
Klein Courville, who will be living on campus in McKay Village this fall, said she doesn't mind having to get the test but is concerned by the limited availability of tests in Sacramento, her hometown.
She also hopes the NAU requirement will allow her to receive testing without having symptoms of COVID-19, as is sometimes required.
"But it sucks because then you know you might be taking away from people who actually have [COVID-19]," Klein Courville said.
Coconino County Epidemiologist Matthew Maurer said he could not comment on the county's level of preparation for a possible influx at its Fort Tuthill specimen collection site if students seek testing after arriving in Flagstaff. He noted, though, that the Health and Human Services Department has been assisting NAU in establishing its protocols for reopening campus.
"We look at the science behind how this virus most likely transmits and what people can do to prevent that and how that fits within the parameters of education. … We've seen how not only our education systems but systems in general throughout our communities are not equipped and not established to be able to prevent disease transmission with just our normal, daily routines of life," Maurer said.
Reporting cases
NAU is in the process of creating a portal where students can submit their test results. Those who test positive for COVID-19 will be contacted by an individual from either NAU or Coconino County for contact-tracing purposes.
Department supervisors have been advised not to inform employees if one of their co-workers has been exposed to or tested positive for COVID-19 without explicit approval from the individual who has been documented in writing. All known positive cases in employees or their close contacts — including family — will be reported internally to NAU, however.
A July 15 document describing the university's COVID-19 exposure guidelines for supervisors attributes the order not to share information in an attempt to prevent panic among employees.
"If the county knows of the positive test, they will conduct an investigation and notify those who have had close contact with the individual testing positive," the document states. "Not everyone needs to be notified if contact was casual."
Concerned about COVID-19?
Sign up now to get the most recent coronavirus headlines and other important local and national news sent to your email inbox daily.